Who is Afraid of the Ku Klux Klan?
I
This story about students at Indiana University mistaking a Dominican friar for a robed member of the Ku Klux Klan is interesting for a lot of reasons.  When I first heard it, I had to remind myself not to do the thing that I normally do and immediately launch into an internal monologue about how the kids these days are softer than baby thighs.  They are, but that will come later.  Right now, the thing to remember is that when you hear the same story told over and over again in different versions, you really ought to stop and ask "why?"
In cases where students are demanding safe spaces or restrictions on speech and expression or when professors are caught on camera calling for muscle, we can at least pretend that what we really want to talk about is speech and expression. (And I do really want to talk about speech and expression.  Just not right now.)  This instance, though, is mostly about kids being scared.  As far as I know, no one has gotten to a point of suggesting that Dominican friars should stop wearing robes and save kids from the emotional trauma of vaguely resembling some bad thing.  So why do I want to have this reaction?
Here is a good point for me to introduce what I call "the narrative." And what I mean by narrative is really just that, a story. There is a story that we tell ourselves (or at least we think that we tell ourselves) about how we relate to any particular issue. There is a narrative around sensitive kids on college campuses making ridiculous demands and, even in cases where no such demands are being made, that's the narrative that the media/blogosphere is going to deploy. Sometimes they deploy the narrative in support of sensitive students and sometimes against, but oddly enough the narrative itself is almost always the same (with minor tweaks to accommodate differing points of view).
As I said above, my immediate reaction to this story was to buy into the narrative and to make this about the kids these days. In this case, I managed to resist my first impulse and my next thought was actually whether this was a "real" story. Was this really just a Dominican friar out for a casual walk or was it some James O'Keefe wannabe trolling a college campus for hurt feelings and histrionic responses? I'm cynical and I'm suspicious, but notice that even here I'm still well within the narrative. As soon as a media narrative has the power to cause a knee-jerk reaction, it has done what it was intended to do: short-circuit your critical thinking skills and go to work on your emotions. The point of the narrative is not necessarily that we believe it, sometimes it is exactly the opposite. The point of the narrative is that we accept it. That is, even when we disagree with the narrative, we are still trapped within it, because we have accepted it as the contours of the conversation.
Let's get back to the kids these days. Like I said, they are soft.  (I'm not kidding when I tell you that I'm trapped in the narrative.)  And so, we might not be surprised with how some of them reacted to the sight, or to reports of the sight, of an unknown person walking around campus wearing a white robe.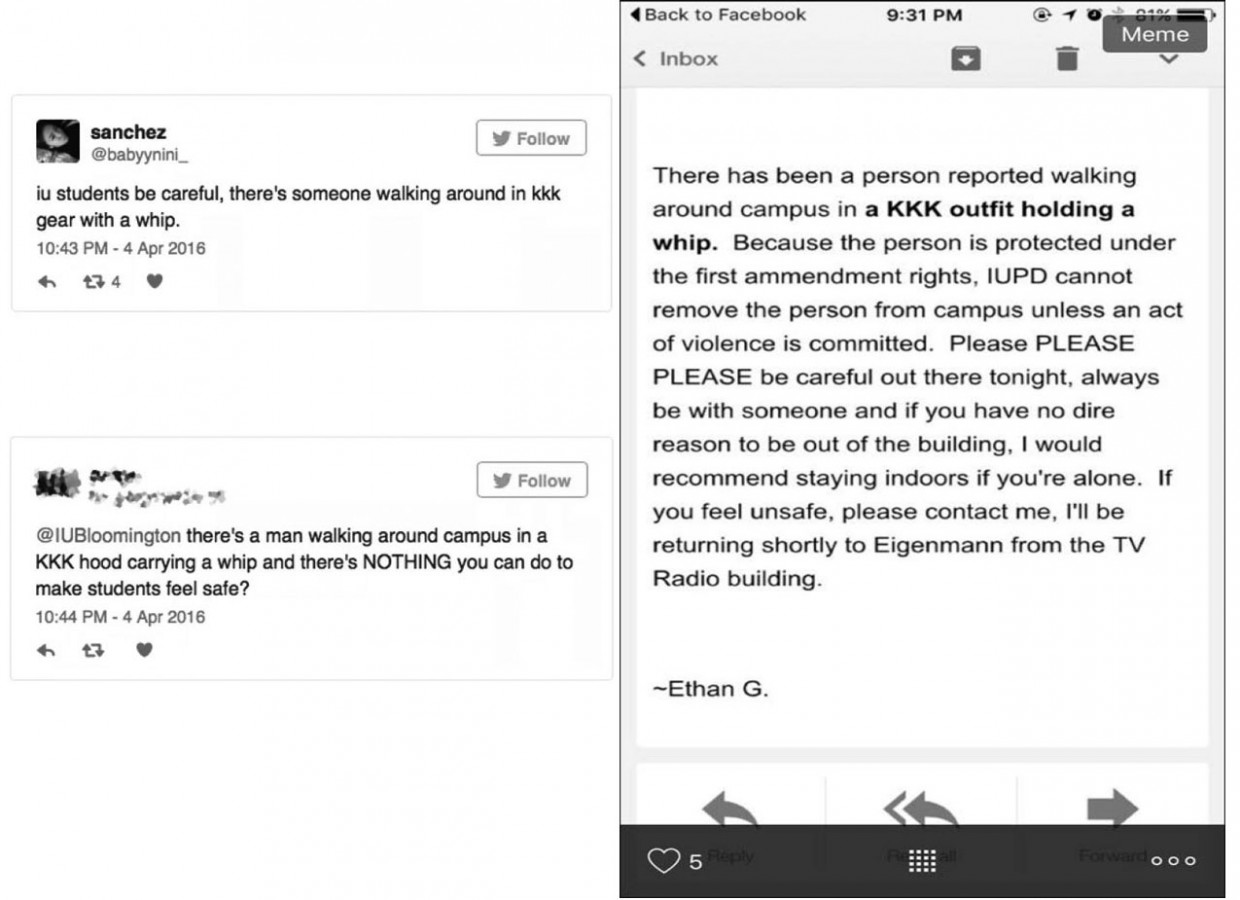 II
I'm not so surprised, but still I have to ask: why are the kids these days so skurred?
I went to college well before the advent of social media, so I cannot say exactly how such an event might have transpired twenty years ago when rumors spread by word of mouth. My best guess is that the majority of responses to the rumor of a Klansman wandering around campus would have fallen into two categories, three, if you count ambivalence. There would have been anger and there would have been amusement. There would have been people who heard about a possible Klansman and rushed out to find and confront him and there would have been people who heard about the impending confrontation and rushed out to watch. I have a hard time imagining that many people would have been scared or concerned for their safety. Even 20 years ago, the idea of the KKK was part of the past. Was America a less racist place twenty years ago? Or is the KKK today a resurgent threat?
Let's bring some data into this. The first iteration of the Klan sprang up after the Civil War as a counterinsurgency to Reconstruction. It sought to preserve the white supremacy of the antebellum South by terrorizing freed slaves and white supporters of Reconstruction. The first Klan faded away amid government prosecution, but, as luck would have it for white supremacy, Jim Crow, legal segregation, and Northern indifference came to take the Klan's place. The second, and the largest, iteration of the Klan developed towards the beginning of the 20th century and was a more explicitly populist organization, targeting not just blacks but Jews, Catholics, immigrants, etc. This second Klan was a bona fide fraternal organization with national leadership and membership rolls, which peaked somewhere around 6 million in the mid 1920s. The most current version of the Klan grew out of opposition to the civil rights movements of the post-WWII era and served the same basic function of the first iteration of the Klan: the preservation of white supremacy through means of terror. The contemporary Klan is essentially the death throes of the third Klan and now exists as a loose collection of independent chapters. The Southern Poverty Law Center puts the current Klan at somewhere between 3,000 and 5,000 members nationally.
The point of going over all this history is this: the historical Klan and the contemporary Klan are not the same thing. I mean that literally. The historical Klan were the nighttime ghost riders who might show up to firebomb your house or drag you off to face their perverted sense of vigilante justice. The contemporary Klan is largely composed of neo-nazi and skinhead groups who've adopted the regalia of the KKK in hopes of gleaning some of their white supremacist legacy. The historical Klan, in many cases, acted with impunity. The contemporary Klan is a maligned group of misfits with no political power, little acceptance by the wider white world, and under perpetual surveillance by agents of the state. The historical Klan was scary. The contemporary Klan is… well they're this:
The Absurdity Of White Supremacists
Don't get me wrong. I imagine that the contemporary Klan wants to be scary, in the same way that Kanye West wants to be relevant outside of music 1. And the contemporary Klan is involved in violence for sure, but the contemporary Klan does not have the ability to deploy terror in the same manner as the historical Klan.  And that's why I maintain that the contemporary Klan just isn't very scary.
To put this all another way, there is the idea of the Klan and the reality of the Klan. And in this case, for whatever reason, these kids were overwhelmed by the idea of the Klan to the point that they were unable to process the reality of the Klan (or in this case, the reality of a Dominican friar). And that's really odd, because if what you are scared of is being assaulted or killed in an act of extrajudicial punishment, in which the perpetrators will bear little-to-no rebuke, then you've got much more to fear from the police than from the KKK. And yet in this case, these kids had such a strong "idea of the Klan" that it sent some of them running for the protection of the police. I am not a conspiracy theorist, but I propose that this is the whole point.
III
It is entirely possible that I am idealizing my generation and their fearlessness. I likely am, but the idealization still makes a point. We wanted to be fearless. We wanted to be independent of authority figures. And even when we were neither fearless nor independent, we were wont to fake it. There was plenty of political correctness on campuses in the '90s, plenty of confrontations between factions and demands made of the administration. The big difference was that there was not the same focus on safety by students. Safety was the excuse that administrations used to impose things on us, not the excuse that we used to demand impositions from the administration.
I want you to notice something. If you accept my initial characterization of how the media narrative shapes our responses to stories about the kids these days, then you ought to notice that the Tweets in question sound awfully similar. Let me put this in the clearest way possible. You know all those alarmist broadcast news teases that people like to joke about?
The Absurdity Of White Supremacists
[youtube https://www.youtube.com/watch?v=lZE0wauNZY8]Well, this is not a joke, this is the world view that a not-inconsequential number of young people have internalized.  They have bought into a narrative that says not just "I can tolerate anything but the outgroup", but says that the outgroup is a threat to your health and safety. And if you see one of them, don't try to figure things out for yourself. Shelter in place and wait until we give you the all clear.
Here is where I am going to start sounding like a conspiracy theorist again. Perhaps the most important thing to understand about power is that it is slippery. It assembles and reassembles opportunistically. As soon as you've nailed down a particular locus of power, chances are that it's packed up some time ago and moved on. The Ku Klux Klan used to be a very potent symbol of white supremacy in this country. Today, the Klan is a shell and white supremacy has moved on to assert itself in other institutions. Understanding how this works is important. And yet, many of our anti-racist and anti-white supremacist narratives are completely oblivious to this, instead choosing to fight old battles over symbols, which has the effect of keeping those symbols relevant for much longer than they otherwise might.
I get that much of this is done in good faith. Lots of people believe that the best way to overcome social ills is through collective action. But when this sort of activism has the end result of making people more beholden to the thing it is fighting against, you really ought to stop and go… At the very least, question the narrative. Why do so many of the kids these days seem to be more crippled by racism or sexism or homophobia, even as racism and sexism and homophobia has less and less of a hold 2? Here is a similar question: if the point of feminism is to make women more independent of male judgment, why do a bunch of self-identified feminists so bothered by the idea of an octogenarian white male claiming not to have been inspired by any women?  See the connection?  The answer to both of those questions is, "because that is what the narrative demands." And this isn't just about anti-racism or feminism or progressive causes in general.  Here, for example, is just one recent example of the right's most recent safety concerns. This is about how our entire political discourse has been slowly mutating into a series of competing fear narratives.  And this will not end well.
Image by Arete13
That is to say, he is relevant, but only in so far as we foolishly pay attention to anything he does outside of a music studio. The contemporary Klan is only scary in so far as we choose to be scared.