Sunday!
Remember that period where it was important to put your favorite stuff in rankings? Favorite colors, favorite songs, favorite albums, favorite movies… well, even if you didn't go through that, *I* sure as heck did.
Right smack dab in the middle of that phase, I encountered the movie that would become "My Number One Favorite Movie" and stayed there until that phase sort of petered out.
It was 1991, I was a freshman at college, far from home, in a new place… and I saw a poster for The Fisher King.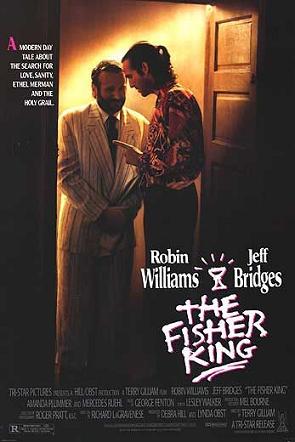 It had Robin Williams in it, I noticed, and so I took a closer look and saw that it was directed by Terry Gilliam. Wait! The Monty Python Terry Gilliam?!?!? Holy cow! I had just spent the last 3 years quoting Monty Python and now one of them made a movie!!! Then I noticed the tagline. "A modern day tale about the search for Love, Sanity, Ethel Merman, and The Holy Grail."
Okay, that's a little self-indulgent. Take Ethel Merman out and it's less "zany".
But it's Monty Python! Come on! The Holy Grail! You loved that movie!
So I went to go see it and… golly. It hit me right where I needed to be hit at that moment. The brief synopsis is that Jeff Bridges plays a shock jock whose show gave advice to a deranged listener who went on to commit a multiple murder/suicide against the yuppie patrons of a yuppie bar. Robin Williams plays the crazy homeless guy who, we discover, was married to one of the people who got shot in that particular incident. Mercedes Ruehl plays the long-suffering girlfriend of the rock bottom former shock jock. Amanda Plummer plays the love interest of the poor, crazy homeless guy.
The movie has long monologues, delusions, meditations on all kinds of things such as homelessness, mental illness, and romance in general that, now, I understand are pretty facile but, at the time, hit me right in the "I'm 19 And This Is Deep" feels… but, on the surface, it's a story about sad people who are broken pretty badly and how forgiveness plays a small role in their mending.
In the same way that Monty Python was a group of medieval scholars who took some pretty interesting philosophical inquiries and turned them into comedy sketches, Terry Gilliam takes these tools and says "well, let's try to tell a much more serious story". So there are knights, there is a Holy Grail, there are visual metaphors out the yin-yang, and some small beautiful moments (such as a big dance number in Grand Central Station).
There are things about the movie that I would have gotten into yelling matches defending 25 years ago that, now, I suppose I can only shrug and make weak statements about what they were going for and the importance of looking at intention when it comes to judging people for insensitivity (seriously, some of the takes on homelessness and mental illness have me now saying "WHAT THE HECK?!?"), but if you can get past that (and, yeah, some of the somewhat retrograde assumptions about romantic relationships), you might find a couple bites of red meat in there.
Certainly enough to see how a 19 year old might spend the next decade saying "dude, this is totally my favorite movie".
So… what was your favorite movie?
(Featured Image is "Edison's Telephonoscope" by George du Maurier from Punch Almanack for 1879)