The Church Has Shifted from Religious Outreach to Religious Profit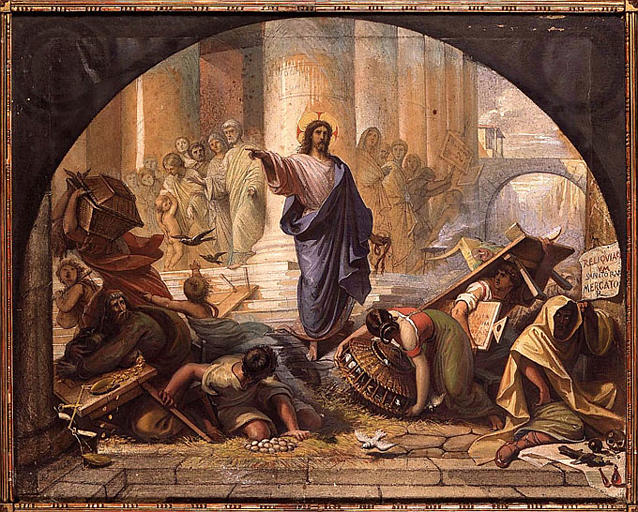 Recently I purchased tickets to attend a comedy show at a church. It was weird. I didn't want to go, but I did. We did. My wife and I joined some friends and had a good time, but I betrayed my instincts for the sake of a good time. I was uncertain of the motives behind this event designed for Christians. The bottom line was that this was a for-profit comedy show facilitated at a house of worship for the primary purpose of personal financial gains by the comedian putting on the show.
12 And Jesus went into the temple of God, and cast out all them that sold and bought in the temple, and overthrew the tables of the moneychangers, and the seats of them that sold doves, 13 And said unto them, It is written, My house shall be called the house of prayer; but ye have made it a den of thieves.  (Matthew 21:12-13 KJV)
There is a long history within myself to question one's motives of achieving a profit on church property.  I don't find it appropriate or biblical for any justification of such actions.
I entered this particular evening with a predetermined outlook of how I would interpret the performance based solely on the choice of venue, and for the fact that tickets ranged from $25 to $75. Yes, you read that right – $75! The heels on my feet were already beginning to dig deep into the ground as I considered going to this event knowing the huge amount of profit that would take place. The math speaks for itself. Let's assume that the only tickets purchased were $25 ones.  Next let's estimate roughly 1,000 people were in attendance at my event which puts the conservative estimated amount of USD collected at the door nearly $25,000. Multiply that by this particular comedian's 60 stop tour this year and you are left with a rough estimate of about $1.5 million from just ticket sales.
Keep in mind that this particular hypothetical math equation does not include the higher, more glamorous ticket option or the merchandise for sale that was heavily promoted before, during, and after the event inside the church.
The doors to the show opened 45 minutes prior to any of the jokes, so I was able to do all this math in my head before I even laughed at the first bad one. As I considered the comedian's net income for 2016 from ticket sales alone, I began to realize several other uncomfortable facts that related in some way.
How much is this church charging him to hold this event here?  If the justification were that its existence was to spread the love of Jesus then why would they even feel the need to charge the comedian for entertainment in Jesus's name?
Why is the pastor of this church testing out his Sunday morning jokes on us during the pre-show?  Why did someone just say "I like our pastor, he's really funny"?
Let's be real, if you were to name one thing you like about your pastor and you choose the word "funny" then you have missed the meaning of church all together. Another thing to keep in mind would be that the definition of funny does not include utilizing a politicized talking point as a means to evoke laughter.  In my opinion, that is never an appropriate choice by any pastor of any church.  This is true especially if that talking point was an informative statement of where the restrooms were located followed by a loosely, but intentionally dangled, punch line that there were "no gender neutral" restrooms within the building. That statement got the loudest laughter, cheers, and applause throughout the entire night. My wife and I were presumably the only ones not contributing to that feat.
During the time we spent waiting while already seated, my eyes kept scanning from one stranger to another.  One was in an aisle searching for any empty seat, another one standing in the balcony – I observed him staring at his iPhone.  I wondered what each of these strangers' stories were and how they could justify this act of robbery within a house of worship.
At one point I looked at my phone to check the time. It had only been 20 minutes which meant there was going to be at least another 25 more minutes of my judgment upon the situation.
I switched gears. I started looking around at the church and the facilities that made up this house of worship. It really was an impressive building with state of the art audio and visual equipment,  moveable stage lighting, oversized foyer area, massive balcony, theater style seats that would make any movie theater envious, and speakers hung from the ceiling that any new indie band would trade their entire vinyl collection for. I had never been inside this church before, and to put it bluntly – I was initially impressed but soon after was disappointed. I began to realize that I have a developing resentment toward churches that spend more money on their equipment and facilities than those that live on the poorer end of town do on their own homes. This is not what a church was meant to be. This was not how we were meant to utilize the house of worship.
Spend more money on outreach and less on facilities.
I glanced back down at my phone. It was 5 minutes until showtime. Luckily for us they had some video footage playing on the dual screens up front to serve as a distraction for my brain until the moment the comedian took the stage.  Unfortunately the video distraction seemed to be advertisements for merchandise for sale in the lobby. THERE'S A MERCH TABLE?! Where am I? At a rock show? I thought this was the Lord's house? A place to worship God.
At this point my thoughts came full circle. Initially, I had a difficult time justifying buying tickets to see a Christian comedian at a church. Later, I had a difficult time with the amount of money that it seemed this comedian would be making this year while performing at churches. Afterward, I was having a difficult time hearing people on the stage of the church during the course of the evening as they gave their sales pitch for the merchandise out in the lobby.
Now it's 7:03p. Lights go down. Showtime.