She Is Bad At This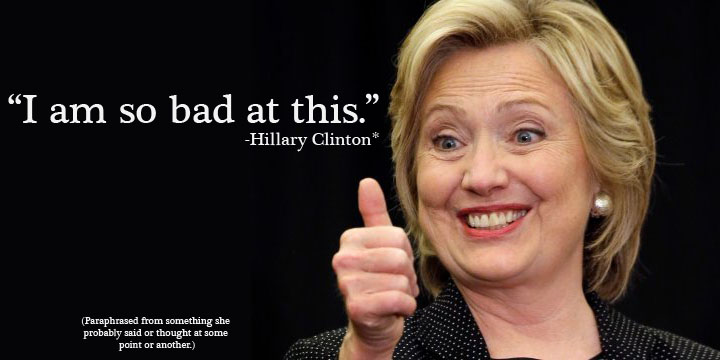 Hillary Clinton Struggles to Find Footing in Unusual Race
For now, her aides appear to be throwing ideas against a wall to see what sticks, including trying out different monikers after the Democratic National Committee's "Dangerous Donald" flopped. An internal favorite is "Poor Donald," with its implication that Mr. Trump, famously defensive about his net worth, is not nearly as wealthy as he lets on.
Let us count the ways that this is stupid:
1. It's not catchy at all. It has no rhythm. Even if this were the appropriate avenue of attack, there are better options: Deadbeat Donald, Default Donald.
2. It could have an achingly condescending tone. I'm not against condescension if it riles Trump up and can be pulled off, but I'm not seeing it here. It plays as much into her weakness as his. Oh, Donald, poor dear.
3.
Clinton campaign using "poor" as an insult would be annoying if it weren't a perfect encapsulation of everything wrong with the Democrats.

— Ryan Noonan (@noonanville) May 29, 2016
4. As Vikram pointed out, this leads to a discussion over whether Trump is worth $x-billion or $y-billion, which is not necessarily a conversation that Trump minds having.
I understand that these things are often trial balloons, but the fact that this made it as far as it did and became any sort of "internal favorite" suggests that we are doomed. And that Hillary Clinton is bad at this, and/or hires people who are bad at this.