Really Uncompelling Broadcasting
So my colleague and I were out trying to track down a client and we stopped off at a local restaurant for some lunch. We bellied up to the bar and ordered our food.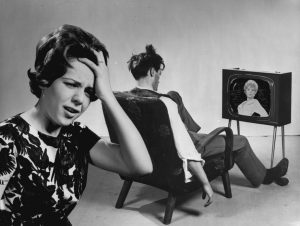 That was when we noticed the NFL Super Bowl Venue Selection Committee Meeting on the TV. This may not have been the precise actual name of the entity that was in session. But, there it was on the TV, live and in high-definition color. Picture a large room in a hotel or convention center somewhere, with a bunch of old white dudes, with a handful of white women and black dudes, in suits, sitting in very comfortable-looking chairs along long folding injection-molded banquet tables, all with their tablets or other electronic gadgets and variously binders and loose paper notes propped up in front of them, mostly sort of talking to each other while they stared at their screens or got up to drop off ballots at the head table. Periodically, the NFL Commissioner took a podium and announced the results of the various votes.
This riveting action was interspersed with shots of other groups of mostly older mostly white mostly dudes sitting around other hotel conference rooms decorated blandly but for either a single football helmet (for Atlanta and Miami) and jerseys (for Los Angeles), with the ones from Atlanta, Miami 1 South Florida, and Los Angeles variously standing up and patting one another on the back as their venues were awarded future Super Bowls through 2021.
This was not compelling television. It was dull, dull, dull. Yet we watched it.
I was reminded of a time way back in law school when my then-roommate found C-SPAN video of then-Vice President Al Gore doing a demonstration of this new thing called the "internet," which consisted of a camera pointed at Gore sitting in front of a computer, typing. Occasionally he'd say, "Oh, look, here's a fellow from Kansas City, Missouri! He wants to trade recipes for making barbecue ribs with me." But Gore was mostly silent as he typed, staring blankly at the computer screen and very occasionally smirking. To recap: Al Gore, typing. For an hour.
And yet we watched it.
What's the least compelling television that you've watched for a longer-than-you-really-want-to-admit period of time?
Image by Tyne & Wear Archives & Museums