Controversy Is Good For Business
I have learned this year, through Youtube videos, tweets, and breathless fanboy commentary, that male nerds my age have a great affinity for Ghostbusters. I don't share their attraction; a fine little movie but not one that fascinated me as a child. I am not entirely sure I have even seen the second film, although screenshots online look familiar. Consequently, I had little interest in the forthcoming remake featuring an all female cast. It did seem like the entire premise was crafted to generate chatter around yet another Hollywood rehash no one was clamoring for, but since it would star very solid comedians, I assumed Ghostbuster fans would embrace another go at this "beloved" franchise.
I assumed wrong.
The Ghostbusters trailer is the most disliked movie trailer on Youtube with countless commenters remarking on its perceived poor quality. Yet, a portion of the anger against the film seemed to have to do with the film's female leads. Writing for The Atlantic, David Sims argued:
Embedded in all of these preemptive and logically flimsy complaints is an obvious subtext: that the issue of appearance matters more than actual quality, and that the idea of a female cast taking up the mantle of a very male film series is just somehow wrong. The 1984 Ghostbusters is indeed a memorable touchstone of the era, an endlessly rewatchable sci-fi comedy that similar films should strive to imitate. Its 1989 sequel, however, is not worth defending, and efforts to make a third film sputtered out over creative differences and star Bill Murray's outspoken disinterest in every script he was presented with. In short, it's exactly the kind of franchise film studios look to revive: a well-remembered product that for one reason or another has fallen dormant.

Unlike many Hollywood reboots, Feig's revival actually offers something different from what came before it. The prospect of a large-scale genre film starring only women (with men such as Thor's Chris Hemsworth in supporting roles) was shocking enough that it prompted the announcement of an all-male Ghostbusters remake starring Channing Tatum last year. It seemed the film was intended as a kind of counter-balance to Feig's film, but the idea was eventually scrapped because of its sheer irrelevance, as was any talk of a "Ghostbusters cinematic universe."
Perhaps not surprisingly, Donald Trump even chimed in on the "controversy."
[youtube https://www.youtube.com/watch?v=clGuYPcim-g&w=420&h=315]
A few weeks prior, Old Navy released a routine print ad featuring a multiracial family as its models. As expected, racist alt-right trolls descended on the ad and its creators as a manifestation of "white genocide." In response, multi-racial couples posted pictures of their families and gave the proverbial middle finger to the trolls, including John McCain's son.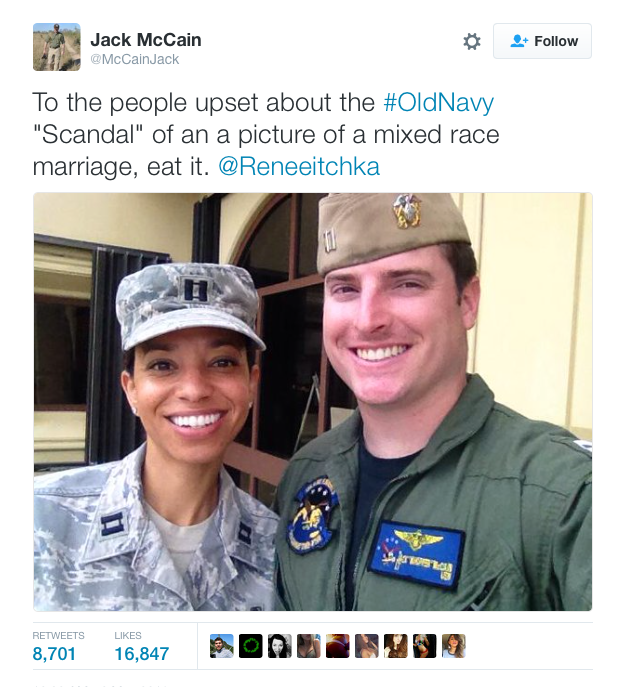 It was a nice, if small, show of resistance to crass racists. Having a mixed race household, my wife and I toyed with the idea of joining in with other multi-ethnic families online. It may be a cliché, but Internet trolling is no match for actual love. It can be helpful to remind the world of that, even in the cesspool known as Twitter.
We opted to not join the meme. Not because we are ashamed of our family and our cultural backgrounds: far from it. Rather, I did not want to celebrate our family under the banner of a corporation (one with a troubled labor record at that). What is abundantly apparent in both the Ghostbusters and Old Navy "controversies" is the way it benefits the corporation and its product. Ruth Graham rightly observed the following:
Old Navy apparently didn't orchestrate the fuss—it wasn't a full ad campaign, just a photo—but they were happy to take advantage of the attention. "We are a brand with a proud history of championing diversity and inclusion," Old Navy spokeswoman Debbie Felix said in a statement. "At Old Navy, everyone is welcome." The sale announcement was retweeted more than 7,000 times, compared to the usual 10 or 20 for other tweets from the account. Jack McCain's response, which handily included the hashtag #OldNavy, was even more popular.

By now, this is a familiar template: 1. Brand implicitly endorses a mainstream progressive cause. 2. Small band of monsters reacts predictably. 3. Right-thinking Americans rush to embrace and defend the brand. Sometimes the backlash comes from stray jackasses on social media, other times from organizations such as the conservative media watchdog organization One Million Moms, whose recent efforts have included protesting Campbell's Soup and Chobani ads for featuring gay couples. No matter how the fracas plays out, everybody wins in the end: The trolls get attention, responders get the warm and fuzzy pleasure of combating hate, and the brand comes out looking like a crusader for justice.
Having now met some prominent alt-right trolls in person, it's clear that many of its adherents are driven by the attention they get for their comments online. They get to "be someone" for making anti-Semitic and racist tweets at celebrities and corporations while then having said tweets end up in major publications. At the same time, right-minded individuals get to feel heroic taking on these trolls. All the while, a corporation is receiving invaluable free advertising and exposure, increasing their brand identification with a larger audience. I would be flabbergasted if marketing departments were not fully aware of how irate denunciation of their ads actually helps spread their product to audiences beyond its preliminary target market.
It's understandable to stand up against misogynistic or racist individuals online; I am not in favor of simply ignoring them outright. I have spent the last few months writing about the alt-right to better understand and then confront the movement, but let's avoid being pawns in a corporate marketing campaign. Big businesses are not champions of social justice, just clever exploiters of the public's values.