Linky Friday #167: God & Superman
Religion:
[R1] The Bible, it turns out, was written
a long time ago
.
[R2] The gender gap in religious attendance is falling. If it's related to women in the workplace, it seems that the lag is far for it.
[R3] This is kind of cool: Zoroastrianism is making a comeback in Kurdistan.
[R4] Rev Erik Parker attacks the question of getting sheep back into the flock. His soccer team analogy is pretty solid.
[R5] What's good for the goose is good for the gander, I suppose: Satanic book passed around in Colorado schools.
[R6] This is an interesting niche: Paul Midden counsels priests who fall in love.
[R7] The quest of the GOP to corner the Jewish vote seems to be run into the problem that most Jews are not religious in any conservative-friendly since. Orthodox Jews are, and they tend Republican. We'll, uhhh, have to see if that holds.
Money:
[M1] Adam Ozimek links for four studies that he says should have higher
minimum wage advocates nervous
.
[M2] Kathryn Edin, who lived on two dollars a day, is interviewed in Christianity Today.
[M3] It really does seem like one of the three most important things about Universal Basic Income is the extent to which we can expect the poor to mind their money carefully… and what we do if they don't.
[M4] Reportedly, Iron Man would have had a female villain but for concerns over toy sales.
[M5] Vaclav Smil argues that advanced economies can't leave manufacturing behind. He seems to be sort of arguing that we can't because manufacturing employment is helpfully labor-inefficient, though.
[M6] Everything we ever wanted to know about whether and how money makes us happy.
Education:
[E1] Gotta give these youngsters
credit for ingenuity
. The commercial at the bottom is kind of goofy, though. (And aren't such jammers supposed to be illegal?)
[E2] The LDS Church and BYU is working to address the tech gender gap.
[E3] Excellent!
[E4] In an "advice for the privileged" sort of way, this actually seems to largely be good advice.
[E5] From the Daily Nebraskan, an interesting article on young people making the transition from home school to college. Also, homeschooling for heathens.
[E6] While schools move ever towards being luxury resorts, some students are practicing financial responsibility of mediocrity!
Nature:
[N1] Doug Bandow argues that if we want to save the elephants, we should
sell ivory
.
[N2] As someone I know put it, why are people so good at doing nothing when they should do something and doing something when they should do nothing? I understand the park's position on the matter, but any chance we could set up an adoption agency? We might need one for baby seals, too.
[N3] Some of those cute animal photographs you see have kind of a dark background.
[N4] The designer of the labradoodle would like to apologize. Meanwhile, in Japan…
[N5] It's hard to label the breed of dogs that end up at shelters, but it looks like they need to think twice before going with "pit bull."
[N6] The meanest dogs live in Texas.
Comics:
[C1] Jaime Weinman makes as strong a case for
continuity in comic books
as possible. While I lament a lot of trend in comics, moving away from feverish devotion to continuity is a development I consider positive. And while I get the argument here, I still think the
overwhelming complexity of comic book storylines
has over the long run done the industry a lot of harm, and I think the stories are a mixed bag.
[C2] According to this article, women comprise 53% of comic book readers. Which is interesting! I'm curious how much of that would actually have to do with DC and Marvel putting women front and center, and how much of it is the rapid growth of non-superhero fare that appeals to women. (Also, not to nitpick, but Marvel's Captain Marvel has been bouncing back and forth between male and female for decades.)
[C3] This piece is so, amazing, ridiculously backwards. The Daredevil TV series costume is okay, and the movie one is terrible. Aaron K defends the infamous Armored Daredevil costume. Though not perfect, I actually thought it was pretty great and a step up from the typical costume. On the other hand, I think the first Jean-Paul Valley Batman costume was superior to Bruce Wayne's in every way, but at the same time it just wouldn't have worked as a permanent costume. Maybe Armored Daredevil couldn't work, either.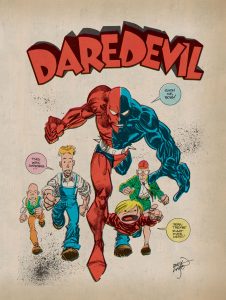 [C4] Comic Book Resources has a list of the worst alternate costumes of DC's major characters. I actually think that the first Jean Paul Valley costume (pic) was quite good, even if it wouldn't have worked when Bruce Wayne took back the cape and cowl.
[C5] Umapagan Ampikaipakan argues that superheroes are such an American concept that they shouldn't worry about being multicultural. Nancy Bulalacao strongly disagrees. I agree more with the latter and think that Ampikakaipakan misunderstands the concept of American.
[C6] In case you missed it (this is an old one that slipped through the cracks): Alan Moore, grand innovator of superhero fiction, came to believe that they are a cultural catastophe.