"Captain America: Civil War" Movie Review
Warning: I'm going to kick things off with spoilers.  If you haven't seen "Captain America: Civil War" and you're sensitive to those, come back after you've checked out the film.
At the heart of "Captain America: Civil War," Anthony and Joe Russo's follow-up to "The Winter Solider," is the relationship between Steve Rogers as Cap (Chris Evans) and Tony Stark as Iron Man (Robert Downey Jr.). Between them is Bucky Barnes (Sebastian Stan) — Captain America's WWII buddy, robotically enhanced and fighting demons from his days as a brainwashed super assassin.  Being that this is a Marvel Studios production, it's telling that the greatest physical damage sustained by the three combatants when they come to blows is the destruction of Bucky's mechanical arm.  Now, I'm not the type who needs a high body count to be enthralled.  But I do like stakes, and many choices in "Civil War" undermine them.
The film opens in earnest with an operation where Captain America and a small team, which includes Black Widow (Scarlett Johansson) and Falcon (Anthony Mackie), are trying to thwart a terrorist group from procuring a biological weapon in Lagos.  Though the Avengers successfully stop the bad guys, they cause a lot of collateral damage.  The United Nations wants the superheroes regulated, causing a rift between Captain America and Iron Man and setting up the primary dilemma of the film.  It's not in Steve to act at someone else's whim.  He worries that the UN might send the Avengers somewhere they shouldn't be or not send them somewhere they should.  Tony, wrestling demons of his own, believes that the group wields too much power to go without oversight.
There is a nefarious presence pulling strings behind the scenes: Zemo (Daniel Brühl).  As far as motivations go, his are pretty standard.  He lost his family during the events of "Age of Ultron" — more collateral damage — and he wants to see the Avengers suffer.  An empire destroyed from outside can rebuild, but one destroyed from within?  He frames Bucky for a bombing at a conference, which exacerbates tensions within the group.  I appreciated that Zemo's objective wasn't so lofty as world domination.  It's far more personal and sinister.  Brühl's soulful performance goes a long way toward imbuing this baddie with some humanity.
The Russo brothers are collaborating with "The Winter Solider" screenwriters again, Christopher Markus and Stephen McFeely.  There's a lot of table setting to be done.  Old characters to re-introduce, new characters to bring into the fold.  The newcomers are Black Panther (Chadwick Boseman) and Spider-Man (Tom Holland).  The former is steeped in pathos, and the latter is brimming with personality.  Both contribute to the film's thematic quilt: patches of responsibility and duty and the intersection between justice and revenge.  Both left me very excited for their solo ventures in the coming years.  After all, isn't that a major goal for these Marvel films — getting you pumped for the next one?
All the placemat-shuffling shows.  I felt the film's length, a Hulk-sized two and a half hours. There's bloat to be sure.  For example, the set piece in Lagos is impressively staged but overlong given the payoff.  Once the film finds its trajectory — when the villain's plans become clearer and the battle lines are drawn — it (mostly) soars.  There's a massive, knock down, drag out fight at an airport where Iron Man and his team attempt to bring in Captain America and company.  The quips fly as fast and hard as the punches, and each character — and there are a lot of them — gets a moment to shine.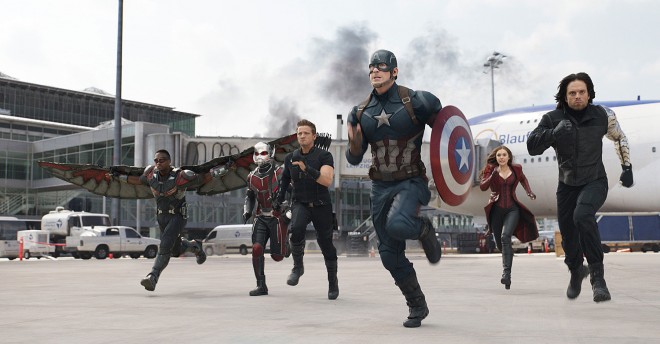 And then we come to the climactic slugfest with Cap and Bucky on one side and Iron Man on the other.  We learn that Bucky, while brainwashed, was responsible for the murder of Tony's parents years ago.  And Cap knew about it.  Emotionally loaded, the fight pays off on multiple films worth of characterization and setup.
And yet…
Nothing sticks in these movies.  Tony's longtime friend, James Rhodes (or War Machine if you prefer, played by Don Cheadle), is seriously injured during the airport throwdown.  We're told he may never walk again, but by the end of the film, he's got high-tech leg braces courtesy of Tony Stark.  The airport itself — evacuated or not, our heroes have no qualms about tearing it a new runway or two.  Many of Avengers are arrested after the battle, and then Cap rescues them from prison during the closing moments of the film.  He also writes an apology to Tony, and we're meant to infer that their relationship will be fine.
Why embark on this grand shared universe experiment if you're not going to move the ball down the field?  The answer, obviously, is to not rock the boat.  Got to please the bean counters, and these films are nothing if not cash cows.  I really enjoyed "Civil War" for its colorful characters (new and old), snappy back and forth and exciting action sequences.  I just wish that for a film about consequences, this one had some.  Everything feels safe or easily replaced.
Like a mechanical arm.
If you'd like to see me discuss Marvel's "The Avengers" with a couple friends, click here.