"Green Room" Movie Review
"There is no terror in the bang, only in anticipation of it."  As I sweated my way through "Green Room," I thought of that line from Alfred Hitchcock.  It's one I suspect director and screenwriter Jeremy Saulnier took to heart.  There's plenty of grisly imagery in the film, but I almost welcomed the violence and splatter, because the build up was so excruciating.  It felt like a fever breaking.
"Green Room" is a siege drama that pits a punk band called Ain't Rights against neo-Nazi skinheads.  In it, the band performs a gig at a remote location wherein they, quite by accident, discover a dead body.  A recently murdered body to be exact.  As you can imagine, someone inclined to murder isn't going to have qualms about doing it again if they're caught.  So the band hunkers down in their — wait for it — green room, which forces the hand of some bald baddies to resolve this problem quickly, maintaining a timeline that won't look fishy to police.  Blade and gunplay ensue.
The escalation to the first real on-screen violence is particularly armrest-shredding.  Tight, dingy spaces.  High levels of uncertainty.  A gun, and you know what Chekhov said about them.  Eric Edelstein plays a bouncer, his resolve and looming form broadcast that nothing about this ordeal is going to be easy.
As he demonstrated in his previous film, "Blue Ruin," Saulnier has a real gift for visual storytelling.  This film opens on the band waking up after a night's sleep in their van.  Okay, that tells you something.  One of the members looks out the window.  Oh shit.  Cut outside to a high angle shot of the van in a corn field, a path cut clean through from the road to the vehicle.  That tells you something else.
The band mates are likeable even as they're siphoning gas from another automobile, which is a testament to the cast — Callum Turner as Tiger, Joe Cole as Reece, and most recognizable, Alia Shawkat ("Arrested Development") as Sam and Anton Yelchin ("Star Trek") as Pat.  Imogen Poots plays a mysterious young woman named Amber.  The use of familiar faces provides a nice bit of tension once things get messy, as you hope for our characters to make it out alive.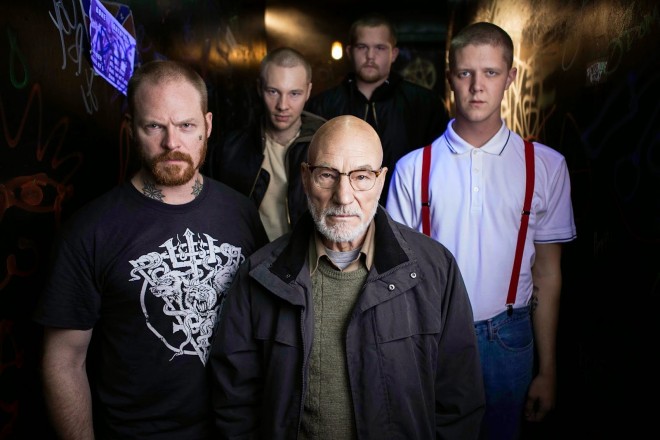 Not so likable: the neo-Nazis.  Patrick Stewart plays their leader, Darcy, and the owner of the club where the band performs.  Captain Jean-Luc Picard and Professor X, this man is not.  Stewart imbues the part with the same sense of leadership and pragmatism you expect from him, which makes the character doubly frightening.  This is a man who doesn't intimidate by shouting and flailing around, but rather with a hushed voice and calm demeanor.
I'm a big fan of Saulnier's "Blue Ruin," especially for its smart and savvy deconstruction of the revenge film.  "Green Room" feels slighter by comparison but no less well crafted.  There's a lot to admire here – from the performances to the visual storytelling to the unbearable suspense.  If only that bomb would explode sooner rather than later.