Two Hamiltons For A Tubman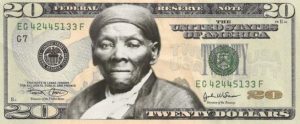 Seems like we were just talking about this not very long ago. We're not going to replace Alexander Hamilton's profile on the $10 bill. A certain popular Broadway musical (recently featured as our sidebar musical selection, coincidentally) seems to have seen to that.
Instead, the Treasury Department has let it be known that Andrew Jackson's image will be removed from future $20 bills, to be replaced by the image of Harriet Tubman.
With this move, the Obama Administration announces that the founder of the modern Democratic Party will no longer appear on one of the most frequently-used pieces of currency, to be replaced by a Republican who made her mark on history by using a gun for its violence-deterring abilities. And there's people who say bipartisanship is dead.
Well, I say, Tubman was a badass and a true American hero for both her moral and her physical bravery. I'm well pleased with this announcement. Public honors of this nature shift to reflect contemporary understandings of the past and people from our history who we deem worthy of admiration. Andrew Jackson's star has fallen dramatically, and Harriet Tubman — liberator of slaves, civil war hero, and personification of the national conscience — strikes me as an American eminently worthy of honor.
Your mileage may vary, and that's what the comments section is for.