Marilynne Robinson and the Absence of a Religious Left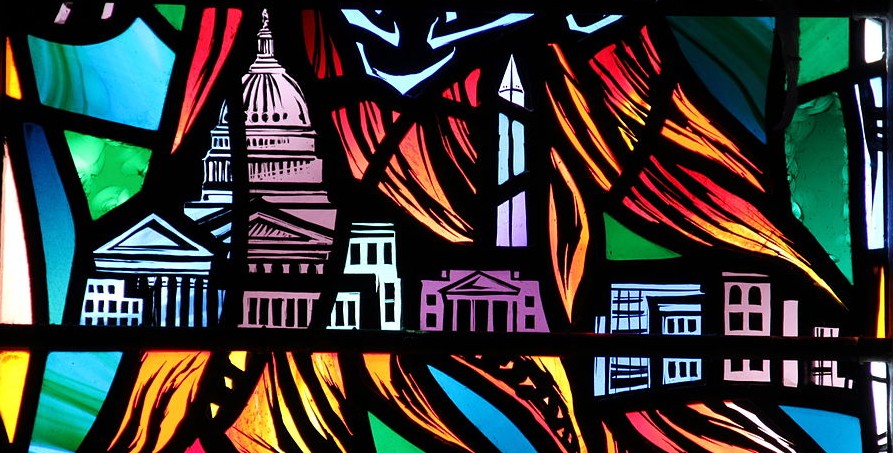 The first thing you need to know about Marilynne Robinson the essayist is that she is not Marilynne Robinson the novelist.  As it strives to approach human souls and the demands of doubt that grace, predestination, and the possibility of free will place on the human mind and self—that is, the soul—the spirit and prose of her fiction is always generous yet honest.  The essay, by contrast, sharpens her prose toward weaponry more than beauty.  In The Givenness of Things, released in October of last year, Robinson takes aim at her intellectual opponents and slips in the knife with a polite, Midwestern smile.
The effect startles when her focus is limited strictly (or even primarily) to contemporary politics.  Here, her wisdom is merely conventional, or what passes for conventional on university campuses.  As her generosity evaporates, her tone verges on the mean-spirited, accusing the American right, in effect, of clinging bitterly to their guns and their religion—a surprising move, given that she clings quite lovingly to her own religion and writes with more understanding than any of her contemporaries about the dignity of "small" lives in middle America.  Such passages are marked by their infelicity, the over-reliance on and over-use of freshman English sentence construction: "It seems [to me]," "It is interesting [that]," "It is important [to note]."  Where generosity departs, so, it seems, does her muse.  (I suspect that they are coterminous.)
Yet her alignment of conventional campus progressivism with what is, in essence, a work of Christian apologetics is markedly unconventional and precisely why the argumentative turn of her last three volumes of non-fiction is notable.  "I had always thought that the one thing I could assume about my country," Robinson writes, "was that it was generous.  Instinctively and reflexively generous. … [O]ur saving grace was always generosity, material and, often, intellectual and spiritual.  To the extent that we have realized or even aspired to democracy, we have made a generous estimate of the integrity and good will of people in general, and a generous reckoning of their just deserts."  This generosity, rapidly evaporating, was largely the work of religious liberalism—not always, but frequently, in the form of a Religious Left.
For Robinson, liberalism denotes neither individualism nor left-of-center policy preferences.  In rooting its definition in nineteenth- and twentieth-century thought, we err.  Mill and Friedman looked to Smith and Locke—who in turn, she argues, looked to the King James Bible, where "liberalism," rightly understood, emerges as generosity.  On the left and the right, she sees the ideology of the individual, of the impermanent demands of fad and the economics of identity; anti-humanism all around.  It is no surprise that her discussion of rights-based politics comes in an essay titled "Fear":
Our first loyalty in this country is to the Constitution, so if the case can be made that any part of the Bill of Rights, for heaven's sake, is under threat, then the whole edifice is imperiled.  And what is a patriot to do in the face of such peril?  Carry, as they say, just to assert the right.
Her point here is not that rights do not matter, or that the Bill of Rights is silly, but that a politics defined entirely by the talk of rights—by the talk, that is, of me and mine—and that does not consider the for what good of those rights is one that will live in perpetual fear.
Generosity insists that we are obligated toward one another, as neighbors, as fellow citizens, as fellow humans—and that the fulfillment of these obligations establishes the foundations of the good society.  The Bill of Rights, we might say, exists because it enables Americans to be generous.  Robinson's politics may be progressive, but she is old-fashioned in this way.  She believes in definite as well as indefinite pronouns, in the simultaneity of subjectivity and objective truths, in the existence of goodness, good, and the good.
On these terms, the boiler-plate politics of the first half of The Givenness of Things give way to an elegant defense of faith.  "I have spent all this time clearing the ground," she writes after 221 pages, "so that I can say, and be understood to mean, without reservation, that I believe in a divine Creation, and in the Incarnation, the Crucifixion, the Resurrection, the Holy Spirit, and the life to come.  I take the Christian mythos to be a special revelation of a general truth, that truth being the ontological centrality of humankind in the created order, with its theological corollary, the profound and unique sacredness of human beings as such.  The arbitrariness of our circumstance frees me to say that the Arbiter of our being might well act toward us freely, break in on us, present us with radical Truth in forms and figures we can radically comprehend."
The hallmark of this belief—and of the religious mind as distinguished from the certainty of the economic and/or Darwinian mind—is doubt.  Doubt is a religious necessity because the possibility of doubt comes from the possibility of sin, of truly erring, from the recognition that "We alone among the animals can sin . . . Or, to put it another way—we are the only creatures who are, in principle if seldom in fact, morally competent.  Responsible, or at least answerable."  Religion teaches good, which teaches its obverse, sin, which teaches doubt, which teaches grace, which teaches generosity.
But the religious right and the religious left alike have abdicated this responsibility.  The Givenness of Things is, in many ways, an apologia targeting the American left, a reminder that Christianity is not synonymous with the Republican Party, an invitation to see progressivism's secular certitudes for what they are, another faith founded on a leap, and to consider whether there might not be room again for the doubt and generosity of liberalism rightly—religiously—understood.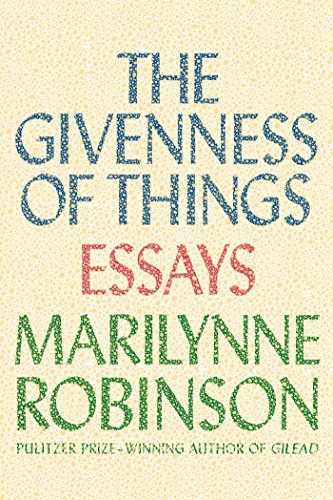 Where The Givenness of Things calls on (otherwise secular) progressives to remember liberalism and humanism, the polemically-titled When I Was a Child I Read Books (2012) targets Robinson's co-religionists.  Liberal and conservative Christians, she holds, have made parallel errors of judgment in their shared rejection of the figure of Moses and the meaning and importance of the Old Testament.  In their turn toward the politics of austerity, politically conservative Christians have merely accepted the ahistorical depiction of Puritan colonists as severe killjoys, true believers who saw no room for doubt alongside belief.  In focusing on the Bible as a compendium of Don'ts for constructing a good society, the religious right has come to ignore the true purpose of the Old Testament, "a model for true social justice and an ethos to support it."
Yet one suspects that Robinson never had high expectations for the Christian right to begin with.  Her deeper frustrations are with her fellows on the Christian left, which, openly sharing the views of the Old Testament she attributes to the right, has not merely abandoned it, but repudiated it.  In doing so, it has turned its back on the single best model for its societal vision—the articulation, through the figure of Moses, of the ethos that can guide a living politics, rather than that, through Jesus, which subverts a broken one.
She pulls no punches:
 [T]o reject it [the Old Testament] is one thing, to denounce it is another, and to misrepresent it in the course of denouncing it is another still. … Since Friedrich Nietzsche seems to be on every curriculum, unshakably canonized for all his deadness, whiteness, and maleness, I need only mention his familiar theory that Judeo-Christianity was foisted on Europeans by vengeful Jews.  I have never seen anyone else even speculate as to how it has come about that we consider ourselves victimized for having made inappropriate use of someone else's scriptures.  Yet this sense of victimization is everywhere — it is even proposed in certain of these books that the Old Testament predisposed us to genocide.
The Christian Left does not merely disown the Old Testament and the intellectual framework it offers, but blames it for the failings of its own cultures, its own adherents, its own (to quote another of Robinson's titles) "absence of mind"—and in so doing joins a long and disreputable tradition of Christian (and pre- and post-Christian) anti-Judaism.
As an outsider to this intra-familial argument, I nodded along.  When the Christian Left, after all, blames theological conservatism and/or opposition to particular political policies on Leviticus alone, either ignoring or rendering somehow pre-Christian the influence of Paul, claiming  that such opposition is as ridiculous as not eating shellfish, or not wearing garments of mixed wool and linen—well, as someone who avoids both treyf and shaatnez, I hear the venomous spitting of the word Pharisee and shudder.  Robinson's critique is not quite Emmanuel Levinas' lament that "the Pharisee is absent," but she shares his desire for "a religion for adults" founded on the very difficulty of a freedom aligned toward covenantal ends.  This means, in practical terms, not rejecting the vision of Moses (which entails, to her mind, rejecting the vision of Jesus), but in the difficult examination of the ways in which the enactment of the society it calls for in the twenty-first century might require a different articulation of generosity toward sexual minorities.  To do otherwise is to prefer the easy way, that pretends to skirt doubt, and ultimately weakens the faith.
A purely secular left—or a Christian left that abandons Jesus' indebtedness to Moses to enshrine him as a pure iconoclast—possesses, she writes, only "virtue of the kind Jesus described as tithing mint and cumin—a devoting of much attention to minor things."  On, in essence, the self in isolation rather than the self in community—a defining solipsism found across the political spectrum.  This is the attitude, like the foisting of blame onto Moses and his five books, that "displaces ethical responsibility away from Christianity or modern civilization" and "excuse[s] oneself and one's own from ethical responsibility by any means at all."  What are all these modern rights, all these American freedoms for?  If they are not for the fulfillment of the Mosaic imperative to "open wide thy hand"—what Robinson calls "the absolute biblical imperative of respectful generosity"—then they are for nothing at all.
At a time when the right preaches libertarianism and the left liberation, when both revel in a shared animosity toward the burdens of obligation and the voters of both parties are driven by fear of having become the "losers" of the twenty-first century's zero-sum civilization games, it is easy to imagine Robinson alone in the wilderness, an idealist.  But Robinson's fiction is characterized by both grace and realism—and, she asserts, so is her biblically- and Christianity-inspired vision.  Far from fantasy, grace, the final essay of The Givenness of Things argues, "is a higher realism, an ethics of truth," the most genuinely radical alternative to capitalist individualism and its Marxist/socialist inversions that "can only marvel that we are not quite as grasping as everyone else."  Well, not quite everyone else, she continues, laying out with care the corrective offered by grace, by Moses, by Jesus, by a politics of biblically-infused generosity.  I will step back and offer her the last words:
Well, not the people we know, really, but those hordes out beyond somewhere who collectively exude this toxic atmosphere.  Those nameless wage-fallen others who somehow make Wall Street Wall Street and are overweight besides.  Truly, I am sick to death of presumptive contempt of the only human souls most of us will ever have any meaningful relationship with, who offer the only experience of life in the world that most of us will ever have occasion to ponder seriously, that is, respectfully and compassionately, that is, with grace.