Alcohol, Politics, and Washington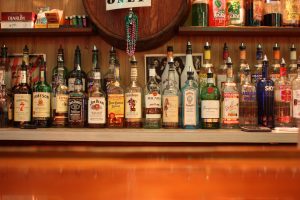 In an exchange of memos with his foreign minister in 1771, Frederick the Great discussed the qualities his emissaries to Britain might need. A distinct sense of dignity, partiality toward good dress and aristocratic bearing were of course a necessity – but a more blunt final memo said they needed to appoint as ambassador, "..[a] good debauchee who should preferably be able to drink wine better than the English and who, having imbibed, would spill no secrets that need not be spilled, and spill no draught that need not be wasted." 1
The deployment of wine, spirits, and other drinkable intoxicants is a long-honored and respected tradition among diplomats and high level negotiators in the political arena. In 1716, British diplomat James Stanhope put together a meeting in Hanover with thirteen diplomatic dinner guests in order to secure a more stable Anglo-French alliance (never an easy task). According to records, more than seventy bottles of wine were served. Meanwhile, unbeknownst to the dinner guests, a sober, plainly dressed man in the far corner, who easily could have been confused for a servant, was none other than the personal representative of the French King (Louis XV), one Cardinal Guillaume Dubois, without his regal dressing, taking lucid notes on any information he was able to gather from the inebriated, loose-lipped dignitaries, so that he and Stanhope could use this information as leverage in the future.
The smoothing balm over a gritty conversation, which liquor provides, used to be a more obvious staple – today more hidden (image is everything), but still prevalent. More than a few loyal operatives slip a flask to their boss immediately prior to a big televised debate for the ostensible purpose of calming nerves. Operatives are known to hit the hotel bars frequently during travel (some mistakenly using the campaign credit card). Politics is after all the sport of smooth-talking and glad-handing, so one could be forgiven for suspecting the profession to be the natural territory of social animals and extroverts. But the draw of the modern political career is not just personality driven, it's policy driven, attracting a wide range of good-intentioned, introverted people looking to make their mark on the world in a meaningful way.
I know this because I used to be one of them – working in an office on K Street and an apartment close to a Metro stop, I had the privilege of living the wildest dreams of the politically inclined introvert for more than five years.
With a guttural fear of small-talk, and a bone-marrow-deep feeling of social inadequacy and awkwardness, there is only one tried-and-true mechanism of smoothing out the goosebumps and anxiety: cold, sweet, liquor. Whether the drink of choice is a smooth southern whiskey, or a dry gin and tonic garnished with a lime (a personal favorite), the open bars of Washington's networking events are the secret to success for more than a few young and brave souls.
Anyone who has ever lived in Washington knows how isolating life in the city can be without intentionally reaching out to connect with others and building relationships. It takes effort. As social interactions have moved behind walls and onto social networks, it is no longer normal to go meet someone at the park, or to chat up a stranger on the Metro. You'll commit the sin of interrupting their third reading of All Too Human. We all get funneled whether intentionally or accidentally into Adams Morgan or Logan Circle (or more recently on the U-Street corridor) for Friday and Saturday evenings in order to feel alive and to escape the pressures of whatever Very Serious Work we accomplished during the week. In Washington, a town brimming with ambitious young people out to meet other ambitious young people, liquor makes the clock tick and the day bearable. What does this look like over the long run? One friend put it to me this way: "I've definitely gotten job offers while drunk."
When the State Department decided to market American talent to the world, to prove America was more than "Mickey Mouse and chewing gum", they brought in cultural and literary icons like Louis Armstrong and William Faulkner to join delegations to foreign capitols. Faulkner was prone to particularly dislike these excursions and drank perhaps more heavily than he would at home. Specific rules were developed, such as placing pretty ladies in the front row of his audience so he would continue to pay attention, and to have a minder for his liquor to ensure he did not drink too quickly. Despite this diligent attention, the U.S. Ambassador to Japan once demanded that Faulkner be put "on the next plane back to the States." But the funny thing was – the Japanese entirely understood! His hosts for these cultural trips seemed to already be intimately aware of what a bore these meetings could be, and even tolerated "when he went off completely, and was not communicable again…" It seems that inebriation is something of a universal language, and the Japanese found it somewhat endearing.
The role of alcohol in the world of politics might seem unsurprising to the old-dogs who are familiar with the time when it was not unusual to have a couple glasses of scotch during the office workday. From playboy-statesmen like Charlie Wilson to demagogues like Joe McCarthy, those who imbibe can often thrive despite perhaps having one or two drinks too many. The flasks now outnumber the bottles, and the bottom desk drawers are used far more than the mini-bar. Offering a drink is still a great way to begin a warm conversation about a tough issue, and getting a guest to their third or fourth drink can often be an efficient way of softening the hard lines.
The establishments in Washington are legendary. Justice William O. Douglas would walk from the Supreme Court building down to the Hawk & Dove to chat up the bartender and complain about the intransigence of his colleagues, while a few stools over a raging debate between committee staffers would steam onward about the Vietnam War. On some weekends Tip O'Neill would cover the tab for any of his office staff who wanted to join him there after session let out. At the Tune Inn on Pennsylvania Avenue (complete with all the taxidermy you will ever need to see in your life), someone could probably go and label each of the tables by which famous piece of legislation was hammered out at them over beer and chips. (One persistent legend is that Representative Dan Rostenkowski once literally arm-wrestled a House colleague here on a bet to secure a vote for his 1986 tax reform bill.) Finally, there is the Round Robin, where both Walt Whitman and Mark Twain have stopped by to wet their whistle at least once, as well as probably every President since William McKinley.
I think perhaps my recent move from Washington has been a reward to my liver over the past few months. But there's something about the culture I appreciate. A sense of vivaciousness, even playfulness, in the loose-tie-and-loose-lips gossip-crazed world of the district. Knowing when the ice clinks into the glass that your conversation is going to be about something more substantive than your usual dive bar fare.
Truth be told: I miss it.
Tess Kovach is a banker in Fairfield, CT, and former government relations professional. She is the author of a poetry book entitled A Pumpkin in the Midnight, available on Amazon.com. Follow her at @KStreetHipster.
Images by bikingbettie
and scragz