Respect Whose Authority?
I have a problem with authority.
Not that I think it's admirable to be a 40-year old version of Holden Caufield, but I've never been good at handling the self-seriousness and meagerness of a good many authority figures I've encountered, nor had much patience for their petty games. Maybe it's more accurate to say that I'm not good with arbitrary authority.
Recently, I've risked getting in trouble at work for two violations of protocol that strike me as trifles. In the first place, I've been forgetting to bring my digitized ID badge that lets me into the buildings that I clean when I arrive at 6 a.m. This sounds important, however we also bring keys, which we pick up at 6 and return at 2:30, that also give access to the buildings. So, I just use the keys. Many of us do. The university doesn't like this practice because the cards allow them to monitor who goes where; students use them as well. I suppose the idea is to prevent theft. But, of course, it's also recorded who has what keys, so this extra security measure seems redundant: simply another layer of surveillance.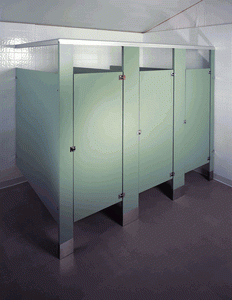 My second violation is even more serious. The next time you enter a public washroom, take a moment to consider the large partition dividers between the stalls. Often, they're made of aluminum. In our washrooms, they are plastic laminate. As you might imagine, motes of dust often fall and remain along the top rim. You might have noticed this upper lip was dusty and recoiled in disgust, but more likely you did not run your finger along the top of that rim because no one does ever. Except for one of our cleaning inspectors, a man I will call "Reggie", who runs a white-gloved finger along those rims to see if there's any dust. We have two inspectors in our section. The first one is always happy with my work. Reggie was added as a second inspector last year for reasons I will explain in a moment. The other day, he found dust on one of my partition dividers and was very upset and assigned me to clean a set of banisters for four hours. As soon as he left, I did too.
The partition rim rule is a bit like the famous "no brown M&M's" clause on the Van Halen tour rider. In reality, no one has ever complained that they went into a clean washroom and found dust on the rim, but the rule exists so that the inspector can make sure we're paying attention. More specifically, the rule exists so that the inspector can assert his authority. In Reggie's case, this is particularly important because some of the full time workers refuse to interact with him, particularly the women. As incredible as this might seem, he has twenty-one complaints of sexual harassment of female workers and one complaint of physically assaulting a female worker. And so, he was removed from his job as night shift supervisor and made a day shift supervisor.
The union made a stink about this, of course, and actually got a story about it into the local paper – something of a miracle considering how beholden our local newspaper is to the university, which is the most powerful institution in the city. The students were generally indifferent, although one did write an article in the student newspaper, in which she quoted a university spokesperson who claimed that Reggie was fired and never coming back. He was, in fact, given a brief vacation and moved to a different shift. Otherwise, the students and professors were unconcerned.
Some friends have commented how startling it is that a university, a "bastion of political correctness," would employ a sexual harasser. But there is a wide gulf between the academic community and the "help". It does stick in my craw a bit when I clean offices with signs on the door reading "A feminist professor works here. Violence against women is unacceptable," I must admit. And the mid-50s immigrant woman who Reggie used force with in order to get her to work faster died of cancer last year, basically ending the court case. The university flew the flags at half-mast.
Some of my co-workers have suggested that Reggie gets a pass because he's an African immigrant. I suspect it's more likely because he's in with a particularly cliquish circle that forms our upper administrative class. Others have suggested that the complaints might be the cleaners' way of resisting his rigid, often arbitrary, authority. I don't buy this at all because the second time I met him, Reggie was talking about which of the cleaners were "his girls" and which ones weren't among his favorites, and I was recalling the lunch I'd recently eaten. This brings us to the issue of authority.
---
The term originates not in Greek, but in the Latin auctoritas, which is the quality of an auctor, a person who either originates something or his descendant that continues and strengthens it. So, the first progenitor of a family is an auctor and his oldest living descendant carries on his auctoritas. Romulus was the auctor of Rome. A priest can be said to have auctoritas, as can a parent. In the case of the Roman Senate, Theodor Momsen described auctoritas as something more than advice, but less than command.
In English, the word also conveys the idea of potentas, the right to issue lawful commands. The Roman Emperor, for instance, had both auctoritas and potentas. Authority figures generally have the right to be obeyed, but not in everything. An authority figure is a vessel of authority. This is someone wise enough to convey rules and standards, if just through their example. Think of a Scoutmaster or a parent. Or just think of an umpire who is in a "position of authority" but maintains their individual authority by issuing rulings within certain limits. An umpire has no authority to tell a player to start eating a vegetarian diet, for example.
Many thinkers claimed there has been a "crisis of authority" in American culture, starting in the late 60s and early 70s. Stanley Milgram's "Obedience to Authority" (1974), for instance, critiqued that sort of obedience as being prone to manipulation. Milligram, famously, had test subjects administer "electric shocks", at the prompting of an authority figure, to "students" who got test questions wrong. Milgram found that many of the subjects accepted the command to give shocks past the point in which they believed themselves to be inflicting serious pain. In his book, Milgram compared this to soldiers who accept the authority of their commanding officers to kill. And it seems as if many protesters of the 60s "New Left" associated all forms of authority as of a sort with the military command to kill.
E.D. Watt makes the point, in contrast to Milgram, that "Where authority means a right to be obeyed, such a right cannot be thought of except in association with the limits proper to it." It is as easy to lose authority as to maintain it. Ultimately, authority is drawn from something larger than the individual, a greater body of knowledge or tradition that the individual has absorbed and embodies, or fails to. What I find quite often in the work I've done is that individuals who have no particular personal authority will be put into positions of authority by virtue of time served, and try to maintain those positions through the exercise of power. While authority gives them a certain right to be obeyed, it does not give them power, which conservatives in particular have argued is at odds with authority. We forget this because of how many authority figures have used power as a corrective for their own lack of authority. Nevertheless, power enervates authority.
Conversely, the absence of authority breeds power. Such was the conservative argument: when a culture loses commanding structures of authority, power invariably rushes into the void. Such cultural crises are important because it's far better to be guided by authority than ruled by power. One has to wonder what cultural conservatives make of Donald Trump, a man whose supporters claim for him an authenticity derived from having no respect for, and thus embodying no, structures of authority that might inhibit him, an argument strangely evocative of the New Left in the 60s.
Finally, there is reason to believe that obedience to legitimate authority can be elevating. I often recall, during my years spent teaching, the feeling I had that the students sought out an authority figure whether or not I wanted to be one. The great novelist Thomas Wolfe once described his basic story line as being about an individual dealing with the loneliness and lost quality of existence by searching for a second father. Henry Adams talked about signposts along the road that offer guidance, which strikes me as something more useful than limiting. While we ultimately come to find authority within ourselves, I think too much emphasis can be placed upon this sort of self-reliance, which easily tips over into making our will into our authority and our obsessions into our guide.
But, of course, we're not living in a village with elders anymore. Most of us will live our lives governed by and working in large, hierarchical structures in which authority is derived from things, such as degrees, certifications, or inherited wealth, that are largely removed from personal experience or bodies of tradition. It seems more the luck of the draw now whether or not we wind up with authority figures who inspire any sort of respect or obedience. Instead of taking persons who have inspired respect by their embodiment of authority and placing them in leadership positions so that the respect grows from the person and adheres to the title, more often organizations elevate persons into leadership positions because they have been particularly obedient in lower ranks and expect respect to grow from the title and adhere to the person.
When it does not, and when we find ourselves ruled by people like "Reggie" or many (most?) of our political leaders, it is hard not to feel like we're being paid to watch a tedious play with a terrible actor in the lead role and asked to fake applause.