Polish-Chrome Cyborg America's Freudian Ego-Ideal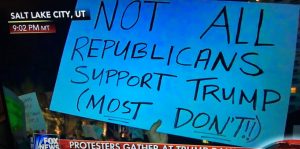 I once sort of dated a girl named Dharla. I say "sort of" because we were never officially a couple. We sort of danced around it and one another for a while. Our last great chance ended when she announced, out of nowhere, that she was moving to Deseret. She'd asked me if I was interested in going with her and I held my laughter. Deseret? Are you kidding? Within a year I met Clancy, and Clancy was headed to Deseret, and I was headed there with her. I reached out to Dharla, who was going to be an hour away from where we were moving, to ask her about how she liked it and all of that.
I got a 16-paragraph email about Mormons. To say that she didn't like them would be an understatement. She introduced me to theories about Mormons, Freemasons, and conspiracies. I didn't understand it all, but I did understand that she really, really didn't like Mormons. Which was weird because she was such a tolerant type. I knew Mormons and the Mormons I knew were all okay people!
A year after moving there, when people would ask how I liked Deseret, I would write 14-paragraph emails about Mormons. Basically everything Dharla said, except for the Freemasons part. People would be taken aback. They knew Mormons and the Mormons they knew were all okay people!
Unless you've lived there for an extended period of time, it's really a difficult thing to describe. If you're a White Anglo-Saxon Protestant, you've likely not experienced anything like it. Being from the South, we've dealt with being surrounded by religious folks. Conservative religious folks, even. We've been on the outside looking in on mainstream society. Both of us have lived in places where whites were a minority. We'd dealt with a lot of things, but we'd never dealt with anything like Mormons in Deseret.
The thing about being a gentile in Deseret is not that you're in a minority but that you don't even have to be a minority. Their culture is so comparatively orderly and organized, they can dominate even from a position of plurality. Their cultural solidarity is so strong that it can leave Born Again Christians and avowed atheists sitting at the outside table with their own solidarity of simply not being among the Brethren. Their cultural strength is such that you can find yourself in a conversation where they are discussing how great it would be if they could start a company and hire only Mormons, and you don't say anything because participants include your boss and your boss's boss and you don't really want to make a fuss. You see a galling sense of entitlement among their men who quite evidently expect the path before them to be cleared by others.
We endured it. My wife endured being called by her first name in front of patients. We endured nearly being disinvited from a Thanksgiving dinner when the family of the invitees threatened to boycott our presence. We endured watching superior women live in deference to their inferior husbands and the inferior men around them. We endured living in only one of two parallel societies, more-or-less excluded from socializing with half of our neighbors. We endured the general acceptance of some people being superior to us by virtue of their affiliation.
There was, it should be clear, a lot not to like. There was a lot to be bitter about, both for myself and for my wife. And bitter we became. It took years before I stopped being bitter. In 2012 a part of me wanted to vote against Jon Huntsman solely because his last name was Huntsman (a Mormon name with baggage). I still talk about Mormons and Deseret in ways that make people flinch (because they know Mormons and the Mormons they know are okay people!).
But it is something that I have moved past. The funny thing is that the further away from them I get, the more of an appreciation I have for all of the things I didn't have the energy to acknowledge at the time, or couldn't acknowledge because they were so directly tied to things I hated about them. But animosity has given way to begrudging respect has given way to respect. Though I cannot and do not want to be a part of it, it's hard not to admire a lot about their values, their sense of family, and their sense of community (even if closed). Their work ethic truly is amazing. They take care of their own. They are, despite the church's ignoble history, collectively among the least racist white-dominant culture I have ever seen. I even find things to admire in their social model, even while there are other parts I cannot reconcile with.
From a distance, there is a lot to appreciate. And boy, do I appreciate the Mormons right now.
Yes Trump, I'm sure Mitt Romney is a Mormon pic.twitter.com/VCBE2x1zcv

— Nate Cohn (@Nate_Cohn) March 19, 2016
I will watch the returns in Utah with interest, just as I did Idaho. I'm hoping that Mesa may be enough to keep Trump from winning Arizona, though that is likely a futile hope. But watching the results of Idaho filled me with pride for having associated with those people I hated at the time. I always tell people that Franklin County, where Napoleon Dynamite takes place, is actually a backwood s***hole, but they're a Mormon s***hole and Trump couldn't crack 20%. Pocatello may be the armpit of Eastern Idaho, but Trump got third! Idaho Falls may be radioactive, but it's Mormon radioactive and once again Trump landed in third!
It's not all bubblegum and roses, and Ted Cruz is no peach, but I'll take it. Mormons were partial to Rubio in part because of his history with the church. But even with Rubio out they disproportionately prize order, and Trump is an Agent of Chaos. I'm tired of chaos, and so I welcome their order.
@michaelbd Yes. The Mormons are our Freudian ego-ideal, the polished-chrome cyborg America, we've been holding in store for this moment.

— Matt Feeney (@Feenmatt) March 13, 2016