A Raising of the Glass & The Changing of the Guard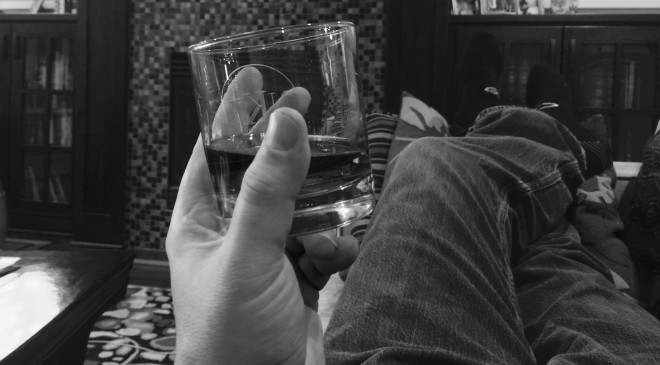 The Short Version:
As of today, the fabulous and able Burt Likko steps up as your new Editor-In-Chief for Ordinary Times.
Will Truman, in turn, will take Burt's place as Managing Editor.
Vikram Bath will remain Senior Editor. Maribou, Mike Dwyer, and Rufus F. will continue in their roles as Associate Editors. (As was noted here yesterday, CK will sadly no longer be part of our editorial team.) For now, I will continue on the editorial team in an advisory role.
Please join me in welcoming your new Ordinary Overlords!
The Very, Very Long Version That You Can Totally Skip If You Like:
Grab a chair and a drink, this is going to take a while.
I don't know how apparent this was to everyone at the time, but the truth is no one ever actually put me in charge of this site. I just kind of did it.
I had only been writing here for a couple of months, and had already fallen head over heels for the joint. At that time Erik Kain's professional writing path was leading away from this place, and Mark's law career was making it difficult for him to be around as often as he might have liked. No one else was stepping in to make command decisions or set agendas, and I worried that, if un-helmed, the ship might begin to take in water and slowly sink. And so I thought, well, why not me.
Why not indeed?
Some leaders are chosen, some have their command thrust upon them from above. I basically ended up in charge because no one ever bothered to stop me. Looking back, it's a wonder Erik didn't toss me out on my ear for my impertinence. He probably should have. Instead, he spent the next four years giving me nothing but encouragement, wisdom, and sage advice. I had neither experience nor expertise to exchange for his confidence. All I ever really had to give was my love for this place. And so it is that I have spent the past four years pouring my heart, tears, sweat, and blood into a complicated matrix of WordPress subroutines.
And I tell you this today not as a confessional; not as a sharing of old war stories; not as a back-patting fable of bootstrap-pulling. Rather, it's the best way I can think of to communicate that being Editor-In-Chief for Ordinary Times has never been a job or a hobby for me. It's been something more profound, more primal. I did not create OT, but believe me when I tell you I have the same attachment to it that I do my children. Stepping away from this position literally makes my heart hurt. But… well, it's time.
For those curious about such things, there are three reasons why I am stepping down. The first is that I believe that all community projects like OT need to kill their leaders from time to time in order to stay vibrant and relevant. One of my universal recommendations for the non-profit boards I consult with is to never let an executive director stay for more than four or five years. New leaders bring new blood, new energy, new visions, and new urgency. And for the life of me, I can't think of anyone who is better suited to lead this site into its next incarnation than Burt Likko.
Burt is going to be fishing amazing as Editor-In-Chief. Not that I need to tell you this. You know him. You know I'm right.
The second reason is the day's irritating habit of only ever having twenty-four hours. I'm getting commissioned to do more and more pieces these days, and those editors have all these crazy, wacky ideas about deadlines and word count and stuff. And that limitation of time is of course a two-way street. This site deserves someone at the helm that has more time than I have to give right now.
The third reason is the upcoming Ordinary Times podcast. I've been wanting to launch one for a a few years now. My idea has been to create a podcast that's a sister product to the blog/magazine, one that has different content and draws on different sources than the OT mothership. I've already started putting together a team to work on it, with the hopes that we can will launch Season One mid- or late summer.
  *      *      *
Allow me, if you will, one tiny moment of waxing poetic as I head out to pasture, and the sharing of my sole Ordinary conceit: On a site of debaters, I have always been first and foremost a teller of stories. It's hard to remember now, but this quality (shortcoming?) was once semi-heretical on this site.
I had only been writing here for a couple of months when I decided to write about my late parents' second date. It was their story, not mine, but it was a damn good one even before I thought to write it down. Still, we almost didn't publish it. After all, it violated what were at the time the site's unwritten laws about what a post should be. It wasn't an argument and it wasn't intended to start one; worse, it didn't even pretend to be Socratic or objective. We took a leap and published it anyway, and were surprised when it quickly became the site's most read post by no small margin.
Looking back, I believe that post changed this site, if only ever so slightly. I think its success gave all of us permission to begin telling our own stories. The political and cultural arguments still sat front and center, of course, but more and more those bread and butter posts were accented by writers' attempts to find new and different voices. The story of my parents' second date was soon surpassed — in page hits, popularity, and quality of writing — by two fantastic pieces from Russell and Sam. And while Russell and Sam's posts were nothing like mine (or each other's), all three had one thing in common: They were completely unlike anything the site had ever published before.
For better and for worse, and to the degree that I have left any at all, I believe this is the one single fingerprint I have left on this site: People telling stories.
  *      *      *
I know that this isn't goodbye. I will still write for OT and hang out in the threads. But it still feels like goodbye as I write these words. And because it feels like goodbye, I need to take the opportunity to voice some well-deserved gratitude.
First off, I want to thank my editorial team — Burt, Will, CK, Vikram, Maribou, Mike, and Rufus — who continue to give shockingly large chunks of their personal time to make this site work. This place would have been shuttered long ago if not for the efforts of everyone who pedals the swan's legs under the water. That they make everything on the surface look automatic and effortless is a testament to both their skill and their dedication.
Thanks as well to all of those who have poured their intellect and their souls into words for all to read. I truly believe that an inordinate and improbable number of the best writers on the Internet have at one time or another written for this site. Some are still here, some have gone on to regular paying gigs, and still others have put away the pen altogether. But wherever they are doing now, it matters not. Their ideas, words, and personalities still echo through every page here. To everyone who has written here for any stretch of time, let me say that I feel privileged to have witnessed your talent first hand.
I especially want to thank Erik Kain, who for reasons I will never fully comprehend agreed once-upon-a-time ago to be a mentor for someone who had no business thinking he deserved to be here. There is no question in my mind: Were it not for Erik Kain, I would not be a writer today, professional or otherwise.
Thanks, E.D.
Mostly, though, I want to thank the readers and the community of Ordinary Times. You have done more than simply help me become a better writer. You have helped me become a better thinker, a better man. This is going to sound like a corny applause line, so let me state emphatically up front that it is nothing but sincere: I love you all dearly, from the bottom of my withered, twisted, tiny, little heart. Overseeing this rickety joint for y'all this past four years has been the best time of my life.
So, not goodbye. Not yet. Rather, as my great-grandmother would have me say: Till gcasfar le chéile sinn arís, mo chairde.
Peace.
[Image: Me, sipping some fine Bulleit Rye on my couch.]