How Lincoln Received the Nomination
How Lincoln Received the Nomination—When the news of Lincoln's nomination reached Springfield, his friends were greatly excited, and hastened to inform "Old Abe" of it. He could not be found at his office or at home, but after some minutes the messenger discovered him out in a field with a parcel of boys, having a pleasant game of town ball. All his comrades immediately threw up their hats and commenced to hurrah. Abe grinned considerably, scratched his head and said, "Go on boys; don't let such nonsense spoil a good game." The boys did go on with their bawling, but not with the game of ball.
The above account was widely printed in newspaper in June of 1860. Here is a later version of the same story, this time from America's National Game, Albert Spalding's book from 1911:
It is recorded that in the year 1860, when the Committee of the Chicago Convention which nominated Abraham Lincoln for the Presidency visited his home at Springfield, Illinois, to notify him formally of the event, the messenger sent to apprise him of the coming of the visitors found the great leader out on the commons, engaged in a game of Base Ball. Information of the arrival of the party was imparted to Mr. Lincoln on the ball field.

"Tell the gentlemen," he said, "that I am glad to know of their coming; but they'll have to wait a few minutes till I make another base hit."
complete with illustration: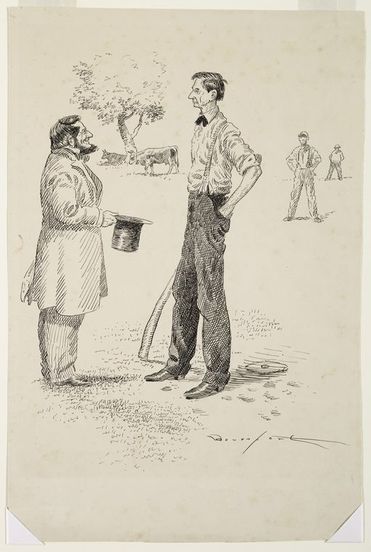 I am enchanted by this story: not only because it involves baseball, but because it is a beautiful example of Political Bullshit–from Honest Abe's campaign, no less!.
First, we have to look at what was "town ball," which Spalding later improved to "Base Ball." It simply was a regional term for baseball. "Town ball" was the normal name for the game in Pennsylvania and the Ohio River Valley and the South. "Base ball" was the normal name in New York state and the Great Lakes region, and shared linguistic space with "round ball" in New England. Today we call the game "baseball" because the modern form is the direct descendant of the version played in New York City in the 1840s. Had the version played in Philadelphia prevailed we would call it "townball" and I would be writing essays explaining what the obscure term "base ball" meant.
The New York version had begun spreading across the country by 1860, but outside of its home region it was mostly played in the large cities. Out in the sticks in places like Springfield, Illinois, the traditional local versions still prevailed. So when the newspaper piece from 1860 has Lincoln playing "town ball" this is not the bullshit element. Spalding spread that around because by 1911 "town ball" was an obscure term, and because he wanted to link Organized Baseball in its glory to The Great Emancipator.
The idea of Lincoln playing town ball is not implausible. After Lincoln's assassination, William Herndon, his law partner, gathered accounts of his life from the people who had known him. This was in turn used as source material for Herndon's biography of Lincoln. These accounts were saved, and have been published in a modern scholarly edition. They include reports of Lincoln's athleticism and enjoyment of sport. So if someone makes an otherwise credible claim that Lincoln played town ball, the claim in not implausible on its face. There is an account from 1900 by Frank Blair, grandson of Lincoln's Postmaster General Montgomery Blair, 1 recounting how Lincoln would visit Blair's country estate in Silver Spring:
We boys, for hours at a time, played "town ball" on the vast lawn, and Mr. Lincoln would join ardently in the sport. I remember vividly how he ran with the children; how long were his strides, and how far his coat-tails stuck out behind, and how we tried to hit him with the ball, as he ran the bases. He entered into the spirit of the play as completely as any of us, and we invariably hailed his coming with delight.
This smells of having been improved some, but I don't reject the notion that Lincoln would unwind by playing ball with kids.
The reason I write that the nomination story was Political Bullshit is that we know how Lincoln spent that day. There are several accounts recorded in Herndon's notes. Lincoln was doing pretty much what you would expect under the circumstances: hanging around the telegraph office pestering the clerk for news.
I can't prove it, but everything abut this screams that the story was planted by his campaign. It presents Lincoln not as anxiously awaiting word of his nomination, much less as having any vulgar lust for political office. He is, rather, a man of the people, spending his spare time in innocent boyish diversion. You know, just like Hillary and The Donald.
I love how this example of 1860 Political Bullshit was repurposed by Spalding a half century later as Patriotic Baseball Bullshit. This was just a few years after Spalding had "discovered," to his delight, that baseball had been invented by a future Civil War general. In both cases the lesson is clear: spending money going to a baseball game was a patriotic act. (The modern equivalent is the air force flyover and the special forces guys parachuting into center field before the game.) You can still find both stories repeated as true: gifts that keep on giving.