A Rattlesnake Solution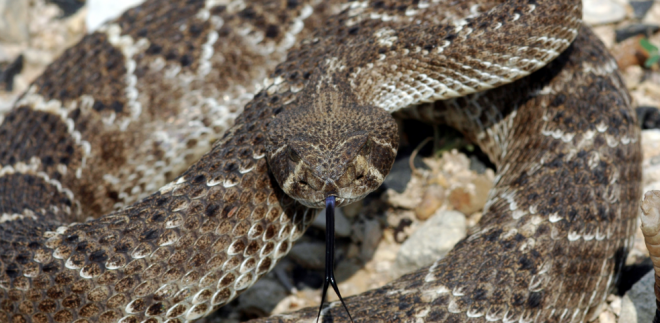 Several years ago, rich people who summered on Martha's Vineyard objected aggressively to the possibility of a wind farm being installed anywhere near their precious mansions. Electricity production is something for the poors to see, not them, and so under the guise of environmental objections, these rich people fought the proposal goldtooth-and-goldnail. The horrors of seeing some very small windmills way off in the distance was simply too overwhelming to comprehend and, as a result, very many fainting couches were fetched. Eventually, Cape Wind died. Way to go rich people.
This was wasted time though. The rich people were concerned only about themselves and their precious views of the Atlantic Ocean. How on earth could they possibly have stood around sockless in boat shoes if there were windmills anywhere within even ten miles of them? As the old saying goes, "A life spent sockless in boat shoes with windwills anywhere within even ten miles of you is a life not worth living."
With Cape Wind gone, these heroic warriors have presumably stood down, victorious and relieved that all looming threats to their very existence has receded into the distance, smaller even that those turbines would have been. Now is a time for recovery. Those deep wounds must be given time to heal. Energy must be replenished.
Now is the time to strike, and although I can think of a litany of things that I'd like to happen to this particular bunch, it seems as if the Massachusetts Division of Fisheries and Wildlife's "Bad Ideas Straight Out Of A B-Movie" Unit already has a better one: breed deadly timber rattlesnakes on an unoccupied island in the Quabbin Resevoir.
Like, literally, drop ten horny rattlesnakes onto an unoccupied island so that they can bone (?) their brains out. The resulting baby rattlesnakes will then repeat the process, until the island (Mount Zion) is just covered with deadly timber rattlesnakes, a species that has recently been in decline. The plan is essentially a recreation of Brazil's famous Holy Shit This Is A Real Island That Really Exists Island.
The response to this plan has been less than enthusiastic, either because the plan doesn't aggressively populate the island with enough snakes (snake enthusiasts are probably saying this, because they are gross people) or because there is something off-putting about the idea of an uninhabited island basically turning into something straight out of an Indiana Jones movie (everybody else IS saying this). That second part has one particular concerning element to it: Timber rattlesnakes can swim, especially in freshwater, so what is worrying people most is what happens after the orgy (a technical term used by professional herpetologists to describe snake-boning) is over.
This seems like an entirely reasonable thing to be worried about. As thoroughly documented in various documentaries, traveling snakes are among the most dangerous animals in the world. But although the herpetologist I spoke to, Beau Akonstrikter, did confirm that timber rattlesnakes could survive short swims in freshwater, he insisted that they were very unlikely to survive trips made in salt-water.
You can see where I'm going with this.
The rich people who sank Cape Wind did so because they claimed to care so much about environmental issues that they could not possibly stomach a wind farm being located nowhere near them. Residents in and around the Quabbin Resevoir are worried about these snakes and their ability to swim onto the mainland. The solution then is simple: We catapult the amorous timber rattlesnakes onto Martha's Vineyard and then lock the doors behind them. Unfortunately, those on the island will be stuck there, probably forever, and while the snakes themselves will breed themselves to supremacy, they will not be able to escape, mostly because of the saltwater, but also because nobody will ever be allowed to travel to or from the island ever again.
Everybody wins!
Well, except for the rich people who will get killed by eaten whole by the rattlesnakes. But they're the ones who loved nature so much that they stopped the construction of an entirely reasonable windfarm – surely to die by nature's most horrifying predator will be as pleasing a way to go as can be imagined. By me. Because snakes are gross. And those people are grosser.
[Image via Wikipedia.]