Idle Speculation on the Future of Media
[Content note: This post is more speculative even than my other very speculative posts. Treat with caution.]
The Littlest Bath: Daddy, where does TV come from?
Vikram: Television sets themselves are made in factories. People buy them with money. Television programming is another thing altogether.
LB: …
VB: Most things you like, you just pay for directly. If you like a bike, you pay money to buy the bike. The companies that make TV shows don't actually get paid by the people who enjoy watching the shows though. Instead, advertisements are interleaved through the show so that someone who wants to watch the show also probably sees the ads too. The companies who sponsor the ads are actually the ones who fund the production of the shows.
LB: Why would they do that?
VB: Ads are promotional content meant to get you to buy something. For example, My Little Pony might have an ad for Exxon that says Exxon gas is great with the hope that you'll be more likely to buy Exxon gas. It's Exxon's belief that funding the production of My Little Pony will make them even more money than they spend through additional gasoline sales.
LB: You don't know anything about My Little Pony, do you?
VB: No, not really.
LB: How did it get this way? Why don't we buy television shows the way we buy bicycles?
VB: Now, if you want to see something, you open up a computer, ask for it, and it's sent to you. But they only figured out how to do that effectively with video pretty when I was already an adult. In the beginning, television shows could only be broadcast through radio waves. It wasn't sent to one person. It was sent to everyone within a radio tower, and if you wanted to watch something, you had to turn on your television at the time it had been scheduled.
And in the beginning of television, there was no cost-effective way to record or distribute physical copies only to those customers who wanted it.
LB: Couldn't they have figured out another way to charge money for programming directly?
VB: Indeed, they could have. They could have sold ABC, CBS, and NBC televisions that received only ABC, CBS, and NBC programming respectively, and the cost of programming could have been incorporated into the purchase price of the television. But it didn't work out that way. Each of the broadcasting networks at the time used publicly-owned spectrum, and there have always been limits on how that spectrum can be used. One of those was that any television you could buy (that I know of) could change channels and receive programming from any available station (with ads interleaved).
LB: But eventually shows weren't only broadcast. Why did ads stay around?
VB: Indeed, cable came, and with it many changes. You paid a fixed dollar amount to a cable company, and that gave you access to a bunch of channels. But even these channels that you paid for still had ads. In fact, they often had more ads, and some of the channels were only ads.
LB: So you paid for TV that came with even more ads than regular TV?
VB: Well, my family didn't, but most that I knew did and couldn't imagine how we lived without it. As for why the cable companies couldn't charge a bit more and produce ad-free programming, I don't know why. The only thing I can guess is that it is another example of path dependence. The industry started off with ads, and it's always had ads.
There are a couple of channels like HBO and Showtime that had no ads other than ones for their own programming, so it's not like it was impossible for an ad-free model to work.
I think ESPN is likely to go this route with some of its programming. It makes more sense for them to charge for their content than for it to be bundled along with a cable subscription.
In general though, if it's video, it's got ads. Even if you bought a DVD, there would still be ads in the beginning that your DVD player was built to not allow you to skip past them.
LB: What's a DVD?
VB: Shut up.
LB: Was there anything else that was paid for by ads?
VB: Yes. A wide variety of print publications were paid for almost entirely by advertisements. Writers would write articles that people were interested in, and ads would be interleaved through the pages on which they were printed. Some publications became almost wholly ads. By that, I mean that less than 10% of the whole magazine was for the writing and photography that readers actually wanted. Even the "articles" themselves in many magazines became barely disguised plugs for products produced by their advertisers.
LB: Then what happened?
VB: The Internet. The cost of distribution (theoretically) fell to zero. Not everyone could do responsible research, but anyone could write. Ads became targeted to the person who was viewing them since users could be tracked throughout the web. If you searched on Lyme disease on a medical website, you'd later see Lyme-disease-related products on other unrelated sites.
This could have gone on forever, except a few things happened. One was that people started using mobile devices a lot more for browsing the web. When everyone was using WiFi or wired connections, they could pull up a page that was 90% ads without too much of an issue. Most people didn't have issues with hitting a cap on how much data they used.
With mobile devices, data was more expensive. There are plenty of mobile plans that only offered, say, 500 megabytes of downloads a month. This is actually a lot of information. In text, it is probably more than what I will read in my lifetime. But every click doesn't just download text. It downloads megabytes of JavaScript and ads. Much of it exists solely to support the advertisements that support the tiny amount of content you actually want.
LB: Why is that a problem?
VB: It's a problem when you're browsing on a cellular network because downloading all those ads actually costs money. The New York Times estimates that downloading the ads from a CNN.com page costs a mobile user on a typical data plan about $0.09. The editorial content that you actually want costs about $0.05.
If it costs you $0.09 to download ads from CNN.com, then you should be happier to just pay CNN the $0.09 directly to skip the ads. You're paying that $0.09 either way, why not have a better experience and retain a bit more privacy while you're at it?
LB: So why don't they do that?
VB: Several reasons. First, most people don't realize that they are paying $0.14 to pull up a URL. They are already paying their monthly bill, and using that service thereafter feels "free" even if it isn't. Second, I don't know for sure that CNN doesn't get more than $0.09 per page view from its advertisers. Third, is habits. People are allergic to paying for content–even $0.09 might turn a lot of people away.
One way around this would be for CNN to give people the option of paying $0.09 per page to not have any ads. But that brings up other issues. For one, advertisers are likely to (correctly) fear that they will no longer be showing ads to the most desirable customers. Instead, their ads will only be shown to people too cheap to come up with $0.09. Another problem is that those paying customers will themselves have to think a bit before clicking on a CNN.com link. They would have to think about whether it is worth clicking, which will lead to fewer clicks. This is all the worse if you are scrolling through a "feed" like on Facebook that has links to articles from many news sources, you are less likely to click one that you know costs $0.09.
LB: There's gotta be a way around that.
VB: There is! Typically, it's been to offer monthly plans. So, instead of charging $0.09 per page, CNN could charge $3 per month for all the clicks you want ad-free.
LB: So why don't they do that?
VB: I don't think people want CNN.com badly enough to even pay $3/month for it to be ad-free. If you want something like this to work, you have to sell ad-free access to hundreds of sites. You need to offer all the news from a bunch of different sites ad-free for $10/month.
LB: Has anyone ever done anything like that before?
VB: Yes. Spotify offers all the music you could ever want ad-free for $10 per month. Netflix offers all the video you could ever want to stream ad-free for $8 per month. Both products suffer from not having all the content everyone could want, but they show that you can sell an ad-free service for something people could get some free, ad-supported way.
LB: So why hasn't anyone done this for news yet?
VB: Someone should! 2016 might be the right time to try it. Someone could become the Netflix or Spotify of news. But they will face a lot of challenges. While CNN might be happy, their ad networks will not. These include powerful corporations like Google and Facebook. Another issue is that whoever tries this will basically be competing with ad-blocking software, which is inexpensive. I think this can be overcome. Spotify and Netflix compete with torrents, DVRs, and other ways to try to get content ad-free.
LB: Is there any other way things could end up for media companies?
VB: Yes, there are some promising experiments going on. One is Buzzfeed. Buzzfeed doesn't interleave unwanted ads into the content they have. Instead, they try to make the ads themselves appealing.
While Buzzfeed has a reputation for some really terrible work, they actually have some of the most detailed reporting on some topics. When Michael LaCour's Science article was retracted, the best reporting was found at Buzzfeed.
There are writers doing good work at Buzzfeed, and it's funded in part on the backs of stuff copy-pasted from Reddit.
Another attempt worth highlighting is Priceonomics. Priceonomics doesn't host any third-party advertising. Instead, they write interesting, informative articles, and these articles are actually themselves advertising for their own research skills. Every Priceonomics article is an advertisement for the Priceonomics research team. This is a riff off of what a lot of companies have been doing forever in the form of white papers. The difference is that what Priceonomics writes is actually interesting.
The Wirecutter and The Sweethome take a different tack. They publish lengthy, well-researched, interesting articles about products you might want to buy along with affiliate links. When I want to buy something, I'll often visit their site, search for the article about the product, pick which one I want based on their advice, and buy it through their link. Their audience are people who are already looking to buy something. When someone buys something, they get a slice of the purchase price of the product, which is far more valuable than the ad "impressions" that content providers like CNN can offer.
Last but not least are a multitude of niche companies that manage to sell subscriptions by focusing on unique worthwhile content. I'll highlight Stratechery since Ben Thompson has explained why this model works.
LB: What about those new media companies?
VB: New Media is different. They often don't have any print operations at all. But most of them still interleave ads within their content. Here is how Vox Media describes it to advertisers:
By surrounding and integrating within the content our users most anticipate and engage with, advertisers consistently see outstanding performance.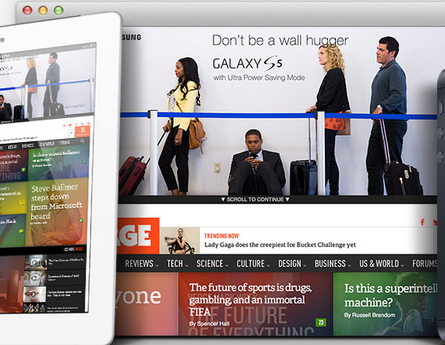 This is still "we'll put your ad next to the stuff people are actually coming to the site for." Vox is new, but they make their money in the same way as old media.
LB: Do you have any financial interest in any of the companies mentioned?
VB: No, I do not. If I have a bias, it's that I hate advertising and would like it to die.