Sunday!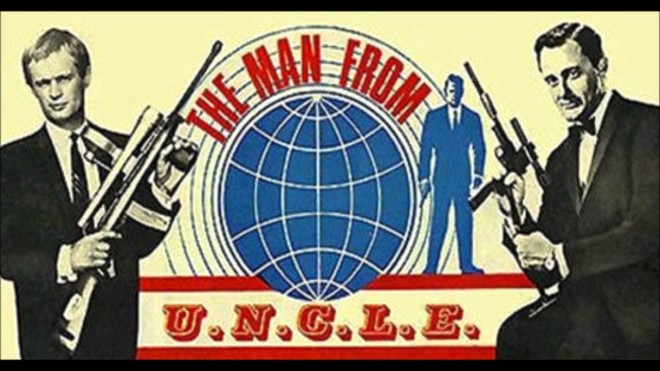 Apparently, this past summer Warner Brothers released a film version of the classic Cold War spy series, The Man from U.N.C.L.E., and no one told me. Seriously, I had no idea such a thing even existed until I found it in the rental section of the iTunes site this past week. My total lack of knowledge of the film makes me wonder, did I just somehow miss all the advertising and publicity, or did Warner Brothers decide to quietly sweep it under the rug? Because I totally would have paid to go see The Man from U.N.C.L.E. on the big screen, especially since it was written and directed by the always fun Guy Ritchie.
I was a huge fan of The Man from U.N.C.L.E. growing up. The series' main gimmick, an American and a Soviet agent working together for a common cause, appealed to my early can't-we-all-just-get-along sensibilities. It was in syndication at the time and my sister and I used to watch it together every Friday night, back-to-back with The Persuaders. 1 Bond-influenced spy shows were pretty common back then, and I watched most of them: The Prisoner, The Wild Wild West, I Spy, The Avengers, Mission Impossible, and Get Smart are just the ones I can remember off the top of my head. I loved them all equally — though, to paraphrase Orwell, some were more equal than others in this regard. One of those more equal was The Man from U.N.C.L.E. So last night, sick and bedridden, I decided to try the movie, knowing when I did I was taking something of a risk.
To the best of my faulty memory, the trend of mining long-dead television shows for Hollywood blockbuster inspiration began in the late 1980s/early 1990s. Every now and then, in those early heady years, you would hear that a beloved TV show was being re-created for the big screen, and you'd get excited. And then the movie would come out, and you'd go to see it, and it would be terrible. Eventually we all learned. Eventually when we heard a beloved classic television show was being resurrected, we would quietly groan inside and wonder how, specifically, Hollywood was going to screw it up. I say specifically because we all knew what was going to happen generally speaking: Through the process of various executive meetings, focus groups, and test-marketing, Hollywood was going to decide that what this classic and beloved series really needed was to be updated and made into something bigger, louder, and more in tune with the modern sensibilities of kids today. Thus the final product would be closer to every other bit of treacle released that same summer than it would the original work.
And so it wasn't enough to have cowboy-spy James West cunningly outwit a criminal mastermind and get out of jams where he was outnumbered three to one. Instead, we needed our 19th-century protagonist to be a cool cowboy-spy who sings hip hop and saves the planet from armies riding giant mechanical spiders. Or we would make the entire movie an over-the-top parody of the original, à la Starsky and Hutch or The Brady Bunch. Or, in the cases of SWAT, I Spy, Lost In Space, or The A-Team, we would simply make them unwatchable. Even the ones that found enough of the threads from the original to keep it somewhat true in spirit, such as JJ Abrams' Mission Impossible franchise, found that they were required to make those revamps BIGGER and LOUDER, with MORE ACTION and MORE THINGS BLOWING UP. Though not based on a television series, Ritchie's Sherlock Holmes movies fall into this last category, and so I prepared myself for a similarly styled Man from U.N.C.L.E.: fun, hopefully, but totally detached from the original.
I was wrong.
Ritchie's The Man from U.N.C.L.E. is extraordinary in its faithfulness to the original source material. It isn't a movie set in the 21st century whose characters just happen to have the names Napoleon Solo and Illya Kuryakin; it's set in the early 1960s — and everything about the movie flows from that setting. Even though they are spies in a big-budget Hollywood summer movie, none of the characters have anachronistically futuristic devices; rather, all of their "spy devices" look antique and cumbersome. For example, when one character goes to listen in on a bugged conversation, he has to take a radio receiving device the size of a suitcase within a few hundred feet of the house where the conversation is taking place in order to do so.
The plot is content to roll itself out leisurely, just like the original TV show. When Solo or Kuryakin are outnumbered, they are by a two or three to one margin, not hundreds to one. A castle-storming scene early in the film's climax — easily the most action-y part of the movie — is presented in a fast-forward, split screen montage that takes place in about a minute, rather than the 15-20 minutes Michael Bay would have given it. The scene goes out of its way to say to the audience, "We aren't going to be doing that kind of movie today."
The sex appeal that oozes through the screen is not the sex appeal of 2015 tastes, but rather relies entirely on the styles, architecture, fashions, trends, and sensibilities of 1963. Even the way the movie is shot is reminiscent of spy films of the era. In the chase scenes especially, it's hard not to think that you're watching a spy movie filmed in the 1960s, as opposed to a spy movie that just takes place in the 1960s.
The overall pastiche is a deceptively remarkable achievement, and one which I suspect will likely go under-appreciated. After all, how many people out there have, like me, been longing for a classic 60s-era spy series to be made into a movie that looked like the original genre? Not many, I would guess.
Still, even if you long for the BIGGER, and LOUDER, with MORE ACTION and MORE THINGS BLOWING UP thang, I highly recommend trying The Man from U.N.C.L.E. More than any movie based on a long-dead TV show I have ever seen, this movie captures everything that made the original a classic.
So… what are you reading and/or watching?
The Persuaders starred Tony Curtis and a pre-James Bond/post-The Saint Roger Moore as two millionaire, jet-setting playboys who travel Europe solving crimes that revolved around very rich people. Despite the wattage of its two stars, as an adult I have never encountered anyone who has heard of it, let alone seen it. One day, several years ago, I actually Googled The Persuaders to see if it was something I invented in my childhood, or a real thing. Turns out it was a real thing.