The State of the Union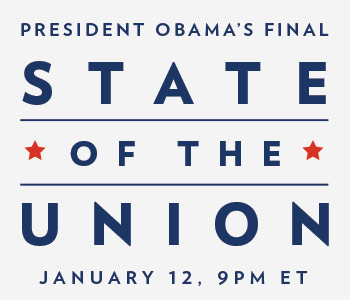 As a right-leaning political junkie, I watched last night's State of the Union waiting for the President to say something that would bother me. An hour or so later, that moment had never arrived. I knew that last night's speech would be different, both because of the buzz coming from the White House and also because I believe that most presidents have a firm grasp on the historical context they live in. This president may understand that better than most.
The speech was masterfully written. As others have already pointed out, it echoed FDR's Four Freedoms speech from the 1941 State of the Union. President Obama chose to do this by asking four questions and then answering them in turn. We can certainly critique some of the achievements he highlighted, but what struck me was that in each case his answers contained words that I felt to be universally true. Keeping that in mind, I present below President Obama's four questions and the Four Truths he answered with.
1. First, how do we give everyone a fair shot at opportunity and security in this new economy?
Anyone claiming that America's economy is in decline is peddling fiction. What is true and the reason that a lot of Americans feel anxious is that the economy has been changing in profound ways, changes that started long before the Great Recession hit and haven't let up. Today, technology doesn't just replace jobs on the assembly line, but any job where work can be automated. Companies in a global economy can locate anywhere, and face tougher competition. As a result, workers have less leverage for a raise. Companies have less loyalty to their communities. And more and more wealth and income is concentrated at the very top.
2. Second, how do we make technology work for us, and not against us especially when it comes to solving urgent challenges like climate change?
But even if the planet wasn't at stake; even if 2014 wasn't the warmest year on record until 2015 turned out even hotter, why would we want to pass up the chance for American businesses to produce and sell the energy of the future?
3. Third, how do we keep America safe and lead the world without becoming its policeman?
I told you earlier all the talk of America's economic decline is political hot air. Well, so is all the rhetoric you hear about our enemies getting stronger and America getting weaker. The United States of America is the most powerful nation on Earth. Period. It's not even close. We spend more on our military than the next eight nations combined. Our troops are the finest fighting force in the history of the world…But as we focus on destroying ISIL, over-the-top claims that this is World War III just play into their hands. Masses of fighters on the back of pickup trucks and twisted souls plotting in apartments or garages pose an enormous danger to civilians and must be stopped. But they do not threaten our national existence.
4. And finally, how can we make our politics reflect what's best in us, and not what's worst?
A better politics doesn't mean we have to agree on everything. This is a big country, with different regions and attitudes and interests. That's one of our strengths, too. Our Founders distributed power between states and branches of government, and expected us to argue, just as they did, over the size and shape of government, over commerce and foreign relations, over the meaning of liberty and the imperatives of security…But democracy does require basic bonds of trust between its citizens. It doesn't work if we think the people who disagree with us are all motivated by malice, or that our political opponents are unpatriotic. Democracy grinds to a halt without a willingness to compromise; or when even basic facts are contested, and we listen only to those who agree with us. Our public life withers when only the most extreme voices get attention. Most of all, democracy breaks down when the average person feels their voice doesn't matter; that the system is rigged in favor of the rich or the powerful or some narrow interest.
What I was finally able to admit last tonight is that while I do not agree with the President on every issue and I am certainly far from being a liberal, I do like him and I do believe he is doing what he thinks is best for this country. His willingness to say many of the things we are all thinking is something I would like to see more of – not in the Donald Trump sense, which is meant to use "truth" as a cudgel, but as an adult, talking to other adults about important things.