Broken Elephants, Part I: Donald Trump and the Triumph of the Conservative Media Machine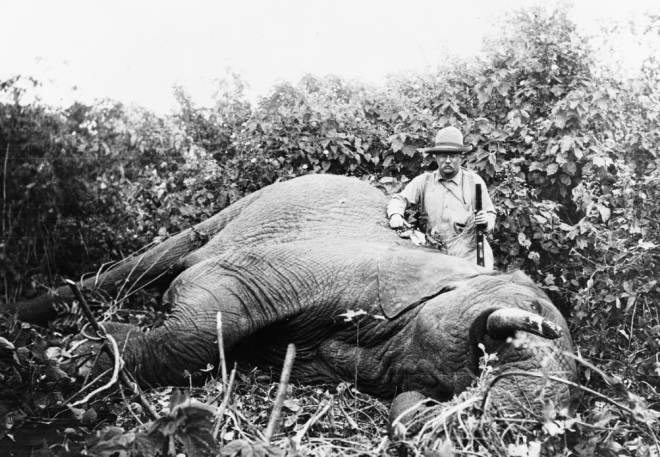 I
Consider a simple and deceptively important question:
What exactly is the Republican Party, anyway?
One possible answer to this question — more commonly held than one might expect at first blush — is that the Republican Party is a group of people very loosely bound by little more than an arbitrary shopping list of personal preferences. Per this definition, the party is a quasi-random group of men and women who collectively wish to pay less in taxes and cut some current government programs they do not feel work well, while expanding others that they feel do. (The question of which programs and by how much is largely immaterial.) Also by this definition, the party may be merely a cultural marker of those joined by a dislike of liberals and/or the Democratic Party, though the extent and the reasons for that dislike cover a near-infinite spectrum, to the point of being a near-useless distinction: Party members are simply people who prefer to use totem words such as "freedom" to underscore any given point, whether it's the "freedom" of an individual to proselytize for Christianity in a larger secular community despite that community's wishes otherwise, or the "freedom" of a larger Christian community to forbid Muslims from building houses of worship in their neighborhoods or cities.
In short, using this definition of the GOP we see a Republican Party that differs little from Comic-Con attendees: A group of hobbyists only vaguely connected to one another, each skittering about after shiny objects with little interest in doing much but satisfying one momentary craving after the next, until it's time to go home and wait for the next convention.
For the record, I do not subscribe to this definition. 1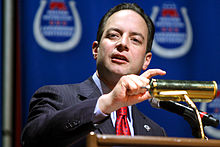 A second possible answer is that the Republican Party is an alliance of political interest groups who work together in a carefully coordinated effort to shape the present and future, using both a collective regimen and centralized strategy to achieve those ends. Under this definition, the purpose of the party would be to choose which issues it will run with nationally, and which it will limit to particular targeted localities, in order to better craft public policy to its preference and favor. The party would also provide mentoring, advertising, public relations, and financial support to those individuals it believes have the best shot at forming a local, state, or national consensus in a way that achieves the long-term goals of the alliance. Perhaps most important, it provides a disciplined hand to ensure that its elected officials govern their constituents in a manner that positively reflects and promotes the party itself.
This is the definition of the Republican Party to which I subscribe. And by this definition, there is little doubt that today's GOP is broken, perhaps irrevocably so.
Do not misunderstand. I distinguish Republicans from the Republican Party. Republicans still wield significant power. Republicans continue to win elections, though not national ones. Republicans still claim 23% of all registered voters, which in a country of over 300 million is no small thing. And in a media-soaked world where celebrity star-power trumps both substance and results, Republican luminaries are by no small measure the most visible and identifiable in all of politics. Republicans, therefore, remain a force to be reckoned with; Republicans are still relevant.
The Republican Party, however, is a very different story.
II
For those who doubt this, consider the current polls of likely Republican Primary voters. As we all know, Donald Trump leads the entire pack by a Clinton-esque margin. 2 But to focus just on Trump, I would argue, obfuscates the larger and more important story.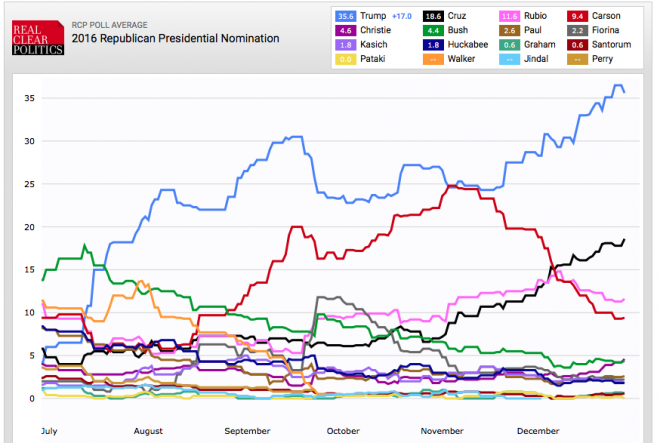 Three out of the only four candidates polling in double digits are Trump, Ted Cruz, and Ben Carson. Together, these three candidates represent slightly over 60% of all likely GOP voters. This is far more revolutionary than it seems at first blush, because these three conservatives share an unlikely (and historically unusual) common denominator: In addition to appealing to GOP voters' hostility and distrust of the Democratic Party, these candidates have also catapulted to Republican Primary success in no small part by fanning the embers of hostility and distrust of the Republican Party.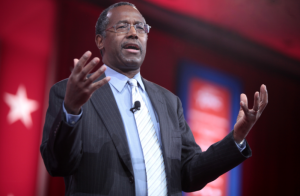 Much of Trump's appeal with the base, in fact, has come from his willingness to belittle and besmirch the GOP, its leaders, and its pundits. The same is true of Carson, who, as we shall see in the next post of this series, has been remarkably upfront that he only became member or the Republican Party to run for office. He minces no words when describing the GOP as merely the lesser of two monstrous evils. Further, both Trump and Carson have recently threatened to bolt from the GOP; more important, they have done so from a position of power. This "I-just-might-turn-my-back-on-the-Party" rhetoric isn't some sour grapes whining. It's a calculated strategy to appeal to the members of the party they're threatening to abandon. Make no mistake, that strategy is working. Indeed, the primary wellspring of their personal appeal to party members, quite astoundingly, seems to be their lack of any real connection to the GOP itself, even an ideological one.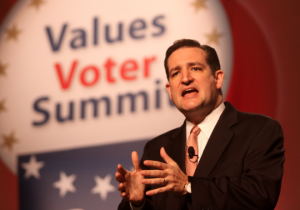 The mythic archetype of a Republican Caesar riding into Rome from the wilderness works considerably less well for Cruz, obviously, who has been the very definition of a "Washington insider" since the late 1990s. But he too has recently risen to prominence in a remarkably short period of time via a calculated thumbing of his nose at the GOP. That pretty much every Republican official in Washington and Texas can't stand the guy is the GOP's worst kept secret, and Cruz has shrewdly used that mutual disdain and distrust to his benefit. His much ballyhooed shutting down of the Federal government two years ago was just as much of a "Fish You" to the Party as it was the president, if not more so.
Now compare the poll results of Trump, Cruz and Carson to those candidates who entered the race as Republican Party banner-wavers: Jeb Bush, Rick Perry, Scott Walker, Marco Rubio, Lindsay Graham, Chris Christie, John Kasich, and George Pataki. Since July, conventional wisdom has held that the reason for Trump's success is due to this subset of Party-hardiers being too large, that it is necessarily splitting up the field due to its bloated body count. But two of the three candidates most GOP insiders assumed would be front-runners just six months ago, Perry and Walker, have already been forced to withdraw. The rest of the remaining half-dozen "true" Republicans are polling at less than 22% — combined. 3
If the only candidates willing to support rather than disparage their own political party can't muster a quarter of that party's potential votes, then that party is broken — period. Not necessarily broken permanently, but broken nonetheless. Arguments to the contrary are some combinations of smoke, mirrors, and wishful thinking.
III
So how did the country's most powerful political party transform, in the space of a single decade, from the basis for a presumed "permanent majority" to a state of chaos, its leaders actively conspiring against their own candidates in hopes of said party not permanently imploding?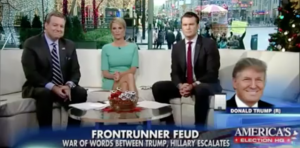 The answer, I will ague here and in my next two posts, is that the GOP's growing reliance on feeding a ratings-driven propaganda machine has led it to this state of disrepair, just as surely as that same relationship swept the GOP to power a decade-and-a-half ago. Further, I will argue that the current state of the Republican Party — a body that strategically chose to hang its hat on ratings over governance — was inevitable. So too was the nature and character of its current presidential forerunners.
Finally, I will argue that despite the fact that this Presidential campaign has likely already lost the GOP its 2016 White House bid, that defeat will matter little to the principal players.  Rather than being cast out into the wilderness — the fate of all political losers in generations past — these calculating rabble-rousers will be lucratively rewarded by the same Media Machine that created them. Indeed, they will likely be more venerated as losers than the past two actual Republican Presidents, and will be encouraged to continue to hog the Party spotlight.
And therein lies the rub: I have come to believe that the GOP's upcoming 2016 White House loss will not be used as a cautionary tale to future conservative Presidential hopefuls. To the contrary, it will be used as a road map.
Let us take a quick, hopefully illuminating, jaunt down memory lane by way of an explanation.
IV
Consider the following words of joyful praise which were heaped upon our current president, Barack Hussein Obama. These words are not my praise, mind you — but praise nonetheless, from just a few years back:
The good news is that Obama seems to be well aware of [the problems facing America]. His comments have led me to believe that he understands how the economy works on a comprehensive level. He has also surrounded himself with very competent people, and that's the mark of a strong leader…

The world looks at us [more positively] than they used to. [I] think he's sort of a guy that just has a wonderful personality, a good speaker, somebody that people trust. And I also think that the comparison with his predecessor is so different — it's so huge that it really has made a great impact on people… I think he's doing a really good job. He's totally a champion.
That there is some mighty high praise, perhaps to the point of sounding downright partisan. It might rightly surprise many Republicans, therefore, to learn that the statements above came not from Chris Matthews, nor George Clooney, nor Ellen DeGeneres. No, these statements came from one Donald J. Trump. 4 The story of Trump's journey from Obama-fawner to GOP frontrunner is an important one, one which I believe explains his appeal in a way the more traditional political narratives do not.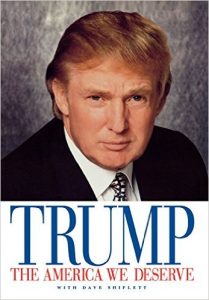 If you felt a twinge of deja vu upon hearing Trump might throw his hat in the ring last year, know that you had good reason. Trump has been coyly suggesting a possible run for the nations' highest office for almost three decades, though up until (possibly) now it has always been as a way to promote his brand and business interests. 5 In fact, Trump's hints were so consistent and so cynically delivered over such an extended period of time that by the 2000s the news media had long ceased taking them seriously.
I've been watching a lot of national Trump interviews over the past month, both past and present. It's interesting to note that, prior to four years ago, they are all pretty much celebrity gossip affairs. Before March of 2011, Fox News in particular seemed to have almost no interest in him at all. Perhaps the most telling interview prior to 2011 is this one with Greta Van Susteren from 2010. It's taped in Trump's office, and Trump's rambling non-answers to Van Susteren's questions sound identical to his current stump speeches. Politicians are all stupid, he insists; they have no great ideas. They say they have ideas about creating jobs, but they never give specifics. Donald Trump always gives specifics — great, amazing specifics. Specifics that all the experts love. Everyone loves Donald Trump and his specifics.
Van Susteren initially presses him to give an example of such a specific — any specific — but Trump ignores her and barrels on with his unending bloviation. About halfway through the interview, when the camera is on Van Susteren, you can see her break from her "fascinated interviewer face" mask, and begin occasionally looking at her cameraman and producer with a look that says, "Can you believe the s**t this guy is selling?" As late as 2010, even Fox viewed The Donald as a spotlight-seeking know-nothing blowhard.
Trump's ascendancy from Fox-dissed windbag to Fox-promoted Conservative Savior actually starts in 2011, when he was once again floating the idea of a presidential run during promotional tours for The Apprentice and his book Midas Touch: Why Some Entrepreneurs Get Rich – And Why Most Don't. He seemed no more serious than he had when he'd floated a run to the press in every previous election, and so, once again, it was widely assumed by an eye-rolling press to be yet another publicity stunt.
And then, on March 23, 2011, Trump did a promotional stop in for The Apprentice on ABC's The View and this happened:
Donald Trump On The View 03/23/2011 Trump Wants to See Obama's Birth Certificate
As video of the breakdown of decorum on The View went viral, conservative media booking agents took notice. Not only had Trump suggested that the President might be illegitimate on a major mainstream network, Trump went so far as to imply that Obama was a secret Muslim up to some nefarious scheme. Within days of his appearance on The View, Trump was invited on to Fox's The O'Reilly Factor, and for the first time ever was treated as a serious presidential contender by the conservative cable news network. After all, Trump provided the free of charge, exactly the over-the-top, anti-Obama content Fox's audience tuned in to hear.
Bill O'Reilly vs. Donald Trump (3/30/2011) (part 1)
Knowing what we know now, the O'Reilly interview is especially worth watching for two reasons. The first reason is see just how softball O'Reilly's questions are. The second reason is that it's a little hard to say for certain exactly who is answering the questions in the interview, Trump or O'Reilly.
At times it seems as if Trump might be straying from conservative dogma, and O'Reilly steps in and sort of redirects him. On the issues of both Obamacare and unions, for example, Trump initially seems to be very much for both of them, albeit it in a waffling sort of manner. O'Reilly actively gets Trump to focus on whatever parts of what Trump is saying that can best be turned into anti-Obamacare and anti-union soundbites. As soon as Trump does, O'Reilly declares the question answered to his satisfaction and moves on. Worse, as the interview goes on, O'Reilly steps in when Trump is missing the red-meat cues and actually begins to answer the questions for Trump, letting the Donald know in real time what the "correct" answers are.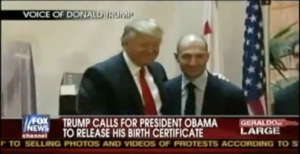 Over the next month, Trump found that the more he publicly questioned Obama's citizenship, the more he was given free, positive publicity by conservative media outlets. He began to be touted on Fox in particular as a great leader worthy of serious respect and consideration. Dick Morris, in totally Dick-Morris fashion, declared repeatedly on multiple Fox and talk radio shows that Trump had a "good shot" at the nomination. Eventually, of course, the time came to trump or get off the pot, and The Donald withdrew his name from serious consideration for the White House. But the Media Machine knew dollar signs when it saw them, and for the next four years it tied its ratings to Trump's obvious star power.
That's when things went from merely silly to positively Dali-esque.
V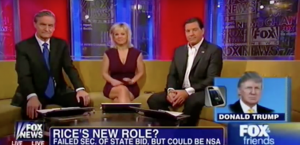 Fox and conservative radio networks desperately wanted to have The Donald on to boost ratings, but without an ongoing Trump Presidential bid, how could they justify making him a regular guest? The answer, of course, was to simply declare him a "leading expert" on anything they happened to be talking about. The result was utterly fascinating: A veritable buffet of sycophantic Trump interviews, where the Media Machine presented Trump as a kind of real-life Buckaroo Banzai. Conservatives already knew Trump the Reality television star. Now they were being re-introduced to Trump as a leading expert on China, Afghanistan, sequesters, health care, race relations, U.S.-Russian relations, political predictions, Ebola, immigration, disaster relief, Egypt, the "link" between autism and vaccines, cyber-terrorism, and basically whatever happened to be in the news on whatever days anyone could book him.
Why do consumers of the Media Machine believe that Donald Trump is a serious candidate, a straight shooter, and an expert on a myriad of issues he so clearly is not? Because the Media Machine has spent the past half decade telling those same consumers on a near daily basis that that's what Donald Trump is. To be clear: this was a tiger the GOP and its leadership were thrilled to ride. Confusing ratings and book sales with political outreach, they allowed the Media Machine to pour gas on the flames. By all appearances, it simply didn't occur to them that they might just burn their own house down in the process.
Now, of course, that all-knowing-expert-on-everything is ravaging the Party's White House dreams in exchange for the building of his own personal brand. Worse, others such as Cruz and Carson are climbing alongside for more of the same. The GOP leadership, after having spent the past decade and a half building an apparatus that favored symbolism and celebrity over governance and discipline, looks utterly stymied as to how even to begin to save itself.
Which isn't to say the Republican Party and its leadership doesn't have any consolation to help them swallow their bitter pill.
After all, their Media Machine's ratings have never been higher.
VI
In subsequent posts, we will look at the ascendancy of two conservative media mainstays — Ben Carson and Frank Gaffney — and how the current GOP apparatus oddly favors those who harm the party for their own personal gain. Then, we will look Ted Cruz and how the current GOP pursues public policy in a manner that is primarily concerned with feeding content to conservative media outlets and at the expense of the health of the Republican Party itself.
As always, dear reader, your comments, feedback, and wisdom are most welcome.
[Images: Screenshot from CNN video of Trump imitating a reporter with a developmental disability, via YouTube. Teddy Roosevelt and a dead elephant, via Wikipedia. Aggregate Primary polling data via Real Clear Politics. Reince Priebus via Wikipedia. Ben Carson via Wikipedia. Ted Cruz via Wikipedia. Screenshot of Fox & Friends video, via YouTube. Cover of Trump: The America We Deserve, via Amazon.]