Containing the Menace
When I first started using ecigarettes, it was a pretty big adjustment. It wasn't all negative, as ecigarettes gave me a greater degree of flexibility to indulge in my rituals and habits. I no longer needed to worry nearly so much about lingering odors. I could do it indoors within certain limitations. I could punch things up with different flavoring. But there were other things involved as well. It was, contrary to expectation, more expensive than smoking. It was more complicated. But more than anything else, it was less satisfying. The brand I used at the time was so much less satisfying that, looking back, I am surprised I was able to jump that chasm. In order to be able to quit using that product, I must have wanted to quit more than I realized. (Just not enough to stop altogether – yes, I'd tried.)
Vaping was, and to a lesser extent is, uncharted territory from a health perspective. Few seem to really believe that ecigarettes are actually as dangerous as cigarettes, even if some make that argument. But how much safer? Are they safe? I came to the pretty early determination that they were not completely safe. While transitioning from smoker to vaper did leave me feeling better, it still… felt… like I was breathing in some stuff that wasn't good for me. There was no more coughing through the night, and a lot less coughing in general, but some (albeit less) of the short-windedness was still there. But smoking is the motherload of all legal health evils, and once I still couldn't quit after my daughter was born, I had practically resigned myself to being a lifelong smoker until I died from it. Things were that bad.
The science is starting to come in, and it's presenting something of a mixed message. As I had hoped, so far nothing has arisen that makes me feel any differently than I originally did: I have made a substantial improvement to my health. As I had thought and feared, though, it's not all good. Here are some of the areas of concern:
Nicotine – While nicotine isn't the worst ingredient in cigarettes by a long shot, there are still a large number of heart-related health concerns about it. While less worrisome than smoke, there may also be concerns about it being delivered as ecigarette vapor. I have myself been cutting the nicotine levels downs, but mostly to reduce and eliminate the addiction rather than from concern over my heart. Even so, this one is my doctor wife's biggest concern. I should also add that, while I don't know for certain, until I cut back nicotine levels I am pretty sure that my nicotine consumption had increased over smoking. Nicotine for tar is probably a good deal, but the inefficiencies of the delivery mechanism may mean (until technology improves, if it is allowed to) that more overall nicotine is consumed generally, without specific attempts to cut down and cut back. Another concern about nicotine levels is that some suppliers have been caught using more (or less) nicotine than their advertised level.
Formaldehyde – This is the one that scares the bejesus out of me because formaldehyde. Worse, some studies have suggested that ecigarettes have more of it than combustibles. However, those studies don't stand up to scrutiny. They essentially burn the liquid at a temperature so hot that it creates, if not smoke, something close to it. These are not real-world circumstances, because when you do that, it tastes awful. When they used low voltage (3.3v) they found no formaldehyde; it was what they found when they used high voltage (5v) for extraordinarily long puffs that made the headlines. It is analogous to burning a Salisbury steak to an absolute crisp and finding carcinogens in the char. Which you would, but even people who like their meat well done wouldn't burn it that much. Having said all of this, most voltage falls in between 3.3v and 5v (the one I use is 3.7v), and we don't yet know at what point it becomes a problem even if you're not burning it to a crisp.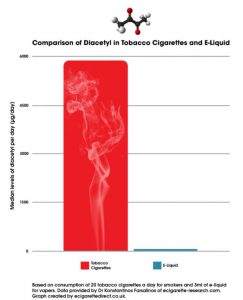 Diacetyl and Acetyl Propionyl – While not as scary as formaldehyde because people haven't heard as much about it, this is the most significant concern. While formaldehyde is generally produced through burning, these chemicals are often in the eliquid itself. Potentially unsafe at any temperature, these chemicals can cause serious lung problems. A recent Harvard Study turned up a lot of D/AP and has gotten a lot of publicity. However, Dr Konstantinos Farsalinos – who has been investigating this a while and previously produced a study that had similar results – points out that the levels of D/AP found in the Harvard study were pretty low (lower than in his own study, in fact): below that of occupational safety standards and significantly lower than those found in cigarettes. Also noteworthy, like the formaldehyde findings, they had an unusually long draw (heating period) at eight seconds. One of my batteries actually has a timer on it and I rarely go above three and almost never above four. This may not make a difference because, while the formaldehyde is produced by the heat, D/AP is in the liquid itself. Even so, I find it noteworthy that they didn't seem to use real-world conditions. (Either that or I am an atypical user. Which is possible, but I assume that I go in the other direction since I tri-puff when I drag. On the other hand, I don't inhale.)
Other things – There are concerns about kids getting into the eliquid and getting nicotine poisoning. There are some misconceptions about this because articles seem to present the ejuice as something a child might drink. They wouldn't. It tastes awful. Most come in containers that limit output so, with the right packaging, people shouldn't worry about chug-a-lug. It's cause to be mindful, and to childproof packaging, but not much beyond that. Also, some of the cheaply produced imports have batteries that don't charge correctly and explode. That's pretty scary, but fortunately pretty rare and fixable.
Now, let me let you in on a little secret. I am pro-vaping. I am skeptical of regulation, at least in the abstract. I would, however, welcome the right regulation in this domain. Pretty enthusiastically. While I might prefer everything be handled with labels and certifications, I'll take regulation.
For effective regulation, though, we need to move beyond particular parts of the debate.
The first part is framing the issue as wondering whether cigarettes as a whole are dangerous, and indeed in thinking of cigarettes as a whole to begin with. The answers to that, at least so far, are "maybe" and "some of them." That means we need to stop thinking of ecigarettes as a singular thing, and instead see them as a multitude of products that vary wildly in terms of risk. We want some combination of appropriate warnings, consumer education, and market removal. The Gizmodo article talks about "ecigarettes" containing D/AP, but the Harvard study, as well as Farsalinos', demonstrate that they vary widely depending on the flavoring. Formaldehyde depends on the amount of heat applied to the liquid. All of these are things that can be addressed and are not, as far as we yet know, universal.
The market for ecigarettes is a wild frontier. The FDA, as has frequently been pointed out, has not installed a regulatory regime for them yet. Further, most of the entrants into the field are either brand new companies or associated with tobacco companies that do not inspire confidence with regard to their record of honesty and reliability. I get my ejuice from three sources, one of which is a big name in the vaping industry (which is good, because it means they're likely to be in it for the long haul), one of which is a British company that may be more of a brand over there but I only stumbled across them, and one of which is an outlet in Florida that doesn't produce the best stuff, but boy is it affordable. The first company charges about 66 cents a milliliter, the second charges about forty-five, and the third charges twenty-two.
That's a pretty enormous disparity. And it could be a result of product quality, or it could be that the latter one or two are cutting corners that are going to lead to my death. Do I assume that the first supplier is giving me a less risky product simply because they charge more? They say outright that they do not use diacetyl… should I believe them? It would be great if I felt that the FDA and other regulators had my back on this. Preferably in an advisory capacity, but I'd take something more aggressive than that.
The second part is assuming ecigarettes are, as a whole, a menace to be contained. The temptation to see it as a menace is understandable as we read articles about young people trying them out. We hear a lot about gateways. Some assume that people who quit by using ecigarettes could have quit some other way. There is also the general sense that if they're dangerous, they need to be contained.
This has manifested itself in existing and proposed regulation, much of which has been proposed and adopted with non-vapers in mind. First, understandable attempts to prevent young people from picking the habit up. I think this is at least partially misguided because they're targeting some of the same things adults want and because so far there is not much evidence that vaping really interests people who aren't interested in smoking. Time will tell. Second, they do so by trying to give people on the outside the sense that they are doing something. That they are containing the menace. Regulation for the sake of (the appearance of) regulation, in some cases.
This is especially evident in the EU. They restricted flavoring, which doesn't make the products safer (at least not in the way that they restricted them). They limited the size of tanks, which does little but make vaping less convenient. The inconvenience imposed may precisely be the feature. It's certainly logical that if something is a bad thing to be limited, you want to throw up obstructions. That only becomes a reasonable assumption, though, when a greater and more universal danger is established. As it is, it lends itself to the perception that the regulators would not be especially bothered if the industry faltered into oblivion. That creates an antagonistic relationship. Not between the government and corporations, but between the government and people like me who would welcome productive regulation.
As long as vaping can be made safer than the first alternative, smoking, that needs to be the goal. It is very likely to the public health's benefit that I vape, and that vaping is made easier.
The FDA has taken a slightly different approach that is better on the first part (ecigarettes vary) and worse on the second (menace). The good part is that they do recognize that different products are different. The bad part is that they have not incorporated the second part into their thinking, and instead of viewing ecigarettes as a hazard in the whole, they view each potential device as a potential menace.
I was initially relieved when the FDA released its proposed regulation, but subsequent revelations have been a never-ending cause of concern. If interpreted strictly, it means that every single new product and every variation of a new or existing product – including every new flavor – would have to be submitted to the FDA and could have some pretty high (and expensive) hurdles to clear. This could shut down the vape shop that once saved me from relapsing. It could prevent a next-generation device that delivers nicotine more quickly and allows people to lower nicotine content. It could deprive people who failed on previous attempts with inferior devices a chance at something that could get them off smoking permanently.
The proposed regulation could end up not being as bad as some fear, if they use a "substantial equivalent" exemption generously or they define public health benefit broadly. Halo, one of the bigger producers of vaping products, seems reasonably optimistic. They've released some new products, so it doesn't seem like they're seeing their business about to be shattered. The GOP is presently trying to move the grandfathering date to allow existing devices to stay on the market (without review, but still potentially subject to regulation). If they don't succeed, and going forward with future products if they do succeed, it's unclear how things are going to work. There is enough flexibility that it looks like it will be an executive decision by the next administration, who will likely need to clarify what it all means.
Each and every one of the concerns we have are unnecessary and avoidable hazards. So obviously we want to address them. We don't need to choose between the antagonism of the EU plan or the level of micromanaging of the FDA plan to do it. We need to treat ecigarettes not as a product we don't want people to use, but as a series of products we want people to be able to use as safely as possible.