Stressed? Take a hike!
Before gas prices became prohibitively expensive, I, like many people, would respond to high levels of stress by hopping in my car and going for a drive. It was a simple but effective method for temporary relief: put on some music, find a country road, or at least a road without further stress-inducing traffic, and drive until my blood pressure dropped to an acceptable level. These days, however, it might be cheaper to just pop into a psychologist's office for a walk-in therapy session than to burn enough fuel to reduce stress. Besides, I don't own a car anymore. So when I get stressed these days, I go for a walk.
Turns out I should have been going for walks all along. At least, that's what a study by a bunch of researchers from the UK, Finland, and Spain, in press at the Journal of Environmental Psychology, suggests. The researchers took a bunch of measurements – some self-report measures like cognitive function and mood, along with salivary cortisol and ambulatory heart rate as physiological measures of stress – and then sent their participants on a thirty-minutewalk in one of three environments: a low-traffic urban area, a "green" natural environment (a "country park"), or a "blue" natural environment (a "footpath beside a canal with a range of natural vegetation"). Once the walk was over, they retook the measurements twice, first immediately and again thirty minutes later.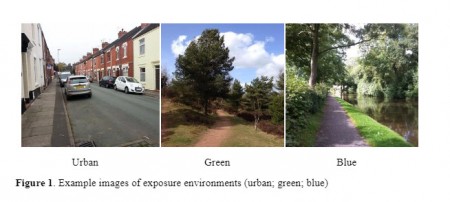 Here's what they found: going for a walk in any of the three environments improved mood and cognitive function, and reduced cortisol levels, though the positive effects were more persistent for the "natural" environments than the urban one. There were small differences between the "blue" and "green" environments, but they weren't statistically significant. So, if you need immediate relief from stress, go for a walk wherever you are (as long as you're not in a stress-inducing environment), but if you want the relief to last, find a park.
Front page image: The Barton Creek Greenbelt trail covers a wide range of . Photo: Flickr user Brandon Turner, CC licensed. (Souce)