"You must have no masters, for you are a master"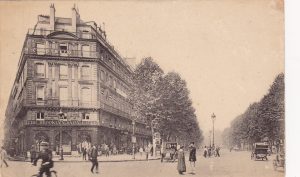 As some of you know, I am hard at work (about 250 pages into at any rate) writing a book about my great-grandfather, Guy Hickok, a Brooklyn journalist stationed in Paris in the 20s, and his friends in the American colony. Roughly a third of the text deals with Guy's close friendship with the younger journalist Ernest Hemingway, then finding his voice as a writer of fiction. Guy and "Hem" were friends throughout Hemingway's apprenticeship as a writer and for some years afterwards; Guy saw him through the years of trying to break through and was one of the first to write feature articles about Hemingway when he had nearly nothing to his name.
So, how did it feel to see his friend finally break through with The Sun Also Rises and see all that promise fulfilled? This was the letter that Guy wrote to Hemingway after he first read the novel. I am running it here (and in my book) unedited because it's a cool find that illuminates their friendship very well, but also I think it might be a nice read for the aspiring writers among us.
Dear Hem,
You have been dominating this here house for the last few days. We all have been reading "The Sun Also Rises", my wife, I, our guests, all sorts of people, and they all can see that a new sun has risen. It's power that you have, Hem, general power. Some one said that this book had force. Not so. There is no force in it; there is power that is not half used. The reserve is what I feel. I agree with the critics who call it the critics who call it the greatest book of the year, but as I read it I could not help thinking with joy of the other books that are to come. For this is only the start. I wonder whether you are eager or dreading them. Not that it matters. You are an artist, and you have got to pay for that in labor and suffering.
     Sure, and we friends of artists don't mind what the hell you go through. Only now and then I feel that I would like to tell you that you can't help doing great things. It's no use saying so; you can't believe it. Look at Sherwood Anderson: every time I read his wondering and wishing and doubting about whether he can say it or not, I feel like cabling a laugh to him, my light laughter: that all that holds him back is just that doubt. "For Christ's sake, man" I want to cable, "Shut up. Write write write. Forget art and yourself- write. Keep your sweat to yourself." But as I say this now, I remember that you are not that way. You know, you always have known that you can write. Well, that is great too. I know it also, and maybe you will never doubt it. Fine. So you know that you can go anywhere in the world and see and tell what you see; and all I want to add is that you can be and do anything you want to be and write that. Yes, and I would like to rub it into wherever you are sore, so that it will hurt and stick that it makes a hell of a difference what you are and where you go.
        Just now you are a hypocrite living a rotten and (I hope) an uncomfortable life. Gertrude Stein is right. You laugh at her rage or grief, but I told you that she is an artist weeping for art. She doesn't care a damn for you, personally; I do a little, but I am not an artist; I am a friend, which is bad and weak and not reliable. Friends are no good, not the friends of artists; they may be traitors to art. So you can't trust me, but Gertrude Stein is unscrupulous; true only to what you are the victim and the lover of. And she says you are all lost, all you young fellows. Well, she is a liar there, as she knows. She only fears you are lost or may be lost. She knows damned well that you are not lost yet. My view is that you are a poser, a hypocrite upside down. Pretending to be hard boiled when you show pure- BECAUSE you know that you are a soft, yellow yolk with some white around it and a broken shell. What of it? You are the author also of My Old Man, Hem. Well what of that? You are ashamed of it, but you liked it. You can't help it either. It isn't the fashion to show feeling: No, they don't do it at the Dome. The English don't do it. So, you and Sherwood Anderson and the rest of you- you are in the style. Are you? Read "The Sun (Also) Rises", boy, and "get" the sentiment all through it.
    Hem, you have drilled yourself so that you can correctly express yourself. Now I beg of you to have the guts to be yourself, do what you want to do, go where you want to go, and tell the minority as well as the majority to go plumb to. You must have no masters, for you are a master.
    I wish you would come down here and let me sock you. You can; you needn't be afraid. I don't want to change you. On the contrary.
Just to end up on a pleasant note, I will repeat: you have the gift, you can write- anything; not only stories, plays- whatever you know and are. It is wonderful. And I am not expressing surprise, as you know. Only I could not have imagined the Thing done, so free, so utterly controlled. I am expressing my happiness.
–Guy