America Indentured, Part II: Villains
[Note: This is the second in a four part series, in which I hope to start a conversation about the working conditions we allow — or even welcome — when it comes to society's least important or desirable citizens. You can read Part I here. Part III will be posted one week from today. Also, please note that while I don't believe a trigger warning is warranted, there is absolutely some unpleasant subject matter ahead.]
"Follow the money."
Ever since Deep Throat, 1 this has been the universal catchphrase employed to unroot the person or persons ultimately responsible for the evils perpetrated in a modern, capitalistic society. "Follow the money" promises that if we simply determine who stands to gain the most from any given machination, conspiracy, or corrupt policy, we can avoid mistaking patsies and middlemen for those truly culpable.
Where then, we might rightly ask, are we led when we follow the money that lead to the grotesque conditions on the Commonwealth of Northern Mariana Islands?  If we were to pursue the billions of dollars at stake that a virtual slave labor system produced over decades, where would those dollars eventually lead? At the end of the day, whose balance sheets are offset enough to make the entire enterprise worthwhile? Who is ultimately responsible for this horror?
Follow the money.
*     *     *
On the morning of September 28, 2006, Tom DeLay resigned from the U.S. House of Representatives.
DeLay had spent most of the preceding year embroiled in the same scandals that had engulfed disgraced lobbyist Jack Abramoff. As time he stepped down, DeLay was facing criminal charges that carried a potential century-long prison sentence. Defiant till the end, the long time House Leader and Majority Whip used his last official meeting with the press as a vehicle to decry the "sham" allegations made against him. "I have done nothing wrong," he insisted. "I have violated no law, no regulation." 2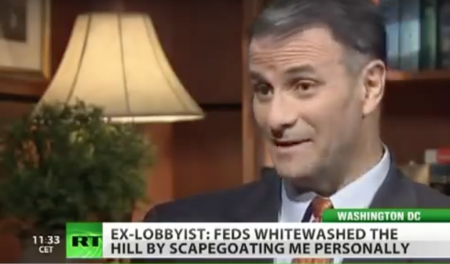 The number and scope of the charges against DeLay were massive, and included criminal conspiracy, money laundering, election fraud, and accepting bribes in exchange for political favors. The press, being the press, ultimately focused on what it believed the public would find the sexiest of the many scandals: DeLay's part in a scheme to orchestrate lobbying needs for Native American tribes. 3 Despite the press's focus on the tribes, however, the DeLay-Abramoff scandals brought light to a myriad of other less sexy misdeeds. And the most egregious of these misdeeds all centered around CNMI's virtual slave system.
In 1993, the CNMI government hired Abramoff's firm, Preston Gates, to ensure that Congress would not interfere with the islands' three-legged stool of government non-intervention. 4 At the time, news stories detailing the horrific worker conditions on the island had begun to pop up in the U.S. press with increasing regularity. Indeed, they had first surfaced as early as 1988, mere months after CNMI's "hands-off" immigration system was put into effect. Leaked OSHA inspections decrying "appalling living and working conditions" surfaced in news reports in 1989 and 1990. In 1991, Levi Strauss was forced to begin an extensive PR and advertising campaign to bolster its image after reporters began tying their factories to some of the worst abuses. Levi Strauss actually went as far as to publicly terminate the contracts it held with its CNMI manufacturers. 5 Members of Congress, terrified that a slave system on U.S. soil might become a devastating re-election issue, began holding hearings on the topic. Because of the high level of public scrutiny, both the CNMI government and the islands' garment industry leaders decided that they, too, needed a voice in Washington. They hired Preston Gates and Abramoff, though all parties agreed to work without signed contracts to better obfuscate the relationship.
Over the next decade, Preston Gates would successfully implement a strategy that ensured CNMI's system of indentured servitude on American soil would remain intact. In retrospect, what is truly astonishing about this plan is the extent to which it was both simple and visible.
The first part of the strategy focused on the legislators who were members of the House's Energy Natural Resource Committee, and that committee's Mineral Resources Subcommittee. (These are the committees in charge of all matters dealing with U.S. territories.) Campaign contribution checks were part of the plan, of course. But more important to Preston Gates's strategy were the regular, rotating "fact finding" junkets for the those Congress members and staff who had direct oversight over CNMI affairs. These trips, planned by Preston Gates and funded by CNMI's government officials and garment factories, were decidedly non-business affairs.  Congressmen, along with their families and staff, would spend their days on CNMI playing golf at one of Saipan's many country clubs, usually as the guests of Willie Tan. Tan was the owner of a number of Saipan's largest factories. In the evening, they would dine with Tan and other factory owners. Later, many of them would return with Tan to his estate, where Tan would have large numbers of strippers and escorts waiting to provide, as was euphemistically termed in later Congressional reports, "entertainment." In most instances, the inspection of worker conditions by Congressmen and staff consisted of having a foreign worker brought to the golf course or resort. That worker would then read a prepared statement declaring that all workers were treated very fairly, were paid as promised, and loved their employers.
If you're wondering how all of this stayed hidden from the public, or how legislators and their staff could possibly have allowed themselves to be snookered so easily, the answer is simple: It wasn't, and they weren't.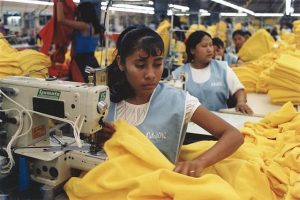 These junkets were reported on throughout the 90s and early 00s, even as they were going on, in both the press and in Congressional hearings. When they arrived on the island, Congressmen and their staff were often surprised by groups of ex-workers who would try to tell them what conditions were truly like. Not that these guerrilla meeting attempts were needed. Everyone understood well before they flew to Saipan that they were there to officially look the other way.  Several Committee members, both Democrats and Republicans, continually refused to accept the junkets for this exact reason. Representative Billy Tamzin (R-LA) actually went as far as releasing statements to the press through his chief of staff as to why he refused to be part of the Preston Gates scam. These junkets were absolutely corruption, but they were also fairly transparent and in the open — a corruption not of conspiracy so much as apathy, if you will.
In addition to contributions and tropical island vacations, Preston Gates armed politicians and pundits alike with scripts to better defend the islands' practices. Some parts of this script relied on accusations of "the media" creating monsters where none existed. But most of the script hinged on the calculated argument that CNMI's system was a more pure form of freedom and liberty than was allowed in the United States. Foreign workers who were locked in compounds or forced into prostitution, read these scripts, were not victims. Rather, they were plucky, boot-strap-pulling pioneers who loved their new lives of liberty. Preston Gates paid conservative and libertarian pundits and policy analysts to publish reports and columns that trumpeted this idea. 6 DeLay himself, who worked with Abramoff in the planning and organizing of the pro-CNMI PR blitz, declared CNMI's system "a perfect petri dish of capitalism. It's like my Galapagos Island." In a humanitarian awards dinner, 7 DeLay called the system
a shining light. [It is] everything that is good about what we are trying to do in America and leading the world in the free-market system.
Again, most of this was done in plain sight, with little if any obfuscation as to the motives of the pro-CNMI champions. Indeed, it was discussed at length in Congressional hearings, which in turn were reported by the press.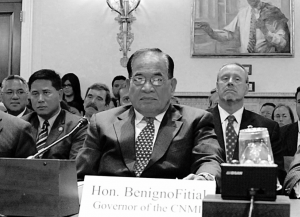 Despite the continuous press coverage and government hearings, however, no one really did anything. Fines were periodically levied against individual factories, but they were both infrequent and, compared with industry's revenue, a mere pittance. As New York Times Magazine journalist John Bowe later noted, the few times during the 90s and early 00s that CNMI's indentured labor system became an election issue at all, it was not due to the human rights violations. Rather, Democrats occasionally had their feet held to the fire by U.S. garment worker unions who were upset about having goods labelled "Made In America" produced by workers paid at such low wages. Indeed, there was only ever one actual attempt at implementing reform. And that was half-hearted at best, and only came about after an overly honest comment by CNMI's Lt. Governor to ABC's 20/20 in 1998.
By the late 90s, worker conditions on CNMI had become something of a staple feature story for news outlets. In 1998 alone, the New York Times, CNN, ABC News, CBS News and the BBC ran features with confirmed reports of indentured servitude, forced prostitution, and forced domestic servitude on CNMI. It was in this environment that 20/20 reporter Brian Ross interviewed CNMI Lt. Gov. Pedro Tenorio. In the interview, Tenorio went off the Preston Gates-approved script when he not only admitted to CNMI's being a quasi-slave state, he also defended it. Tenorio explained to Ross that just as the U.S. had been allowed to build a wealthy nation on the backs of slave labor, so too should Saipan. Not to allow CNMI a slave state for the same purpose, he insisted, was nothing short of hypocrisy:
Tenorio: What happened to the United States when you first got the colonies established and then bring people in? Don't you have slaves? Isn't it the American government that brought the slaves in and got the Civil War going? And Americans killed themselves because of that. You guys were killing each other because of that.

Ross [Looking dumbfounded at what Tenorio just said]: … But … Sir, this is 1998.

Tenorio: It doesn't matter.
Using Orwellian euphemisms such as freedom and liberty for slavery was one thing. Having a government official use the actual word slavery was quite another. The small number of legislators who had been trying to reform CNMI's labor situation suddenly found that they had some political capital on the issue. Within a year, Senator Frank Murkowski introduced a bill in the Senate to do just that. It passed unanimously, and was sent to the House, and then… nothing happened.
More than half a decade later, members of both parties would craft a narrative that the needed reform failed because of the actions of one, single man: Tom DeLay. Liberal pundit Mark Shields gave a pretty concise example of this obfuscation, when he wrote that in order
to grasp the moral bankruptcy of the public Tom DeLay, the House majority leader, you only have to know about Frank Murkowski and Saipan… So compelling was the case for change the Alaska Republican marshaled that in early 2000, the U.S. Senate unanimously passed the Murkowski worker reform bill.

But one man primarily stopped the U.S. House from even considering that worker-reform bill: then-House Republican Whip Tom DeLay.
The narrative Shields spins has become the narrative that both parties fall back on whenever CNMI's indentured worker system comes up: We all would have stopped it, too, if not for that meddling Delay. Like all the other narratives that surround CNMI, it's so obviously and patently untrue that it takes a constant and conscious suspension of reason to buy into it. The vast majority of legislators on both sides desperately wanted a bill to pass to put an end to an Evil That Must Be Stopped, but were utterly stymied because one Whip didn't care for it? So badly stymied, in fact, that all debate on the topic stopped immediately? That no other version of the bill was ever reintroduced? That no one ever attempted to put political pressure on DeLay, or embarrass him in the press, or even make it into a campaign issue? Shields, and everyone else who ever peddled this line, should be embarrassed — if for no other reason than being so transparently lazy in their attempts to rewrite history toward their own favor.
Clearly, then, as much as we would like to believe otherwise, the ultimate responsibility for CNMI does not lie with DeLay, or with Abramoff. Where, then, does the responsibility lie?
Follow the money.
*     *     *
For over twenty years, the CNMI's garment-industry leaders have defended the indentured servitude system with two claims. The first claim is that they barely broke even, and in many years actually lost money. They may have overseen terrible conditions, they have continually insisted, but they didn't get rich off of it — and improving conditions even slightly would have resulted in the death of the CNMI garment industry. Their second claim is that, as horrifying as conditions were on CNMI, the conditions those workers would have otherwise faced were often worse.
As it turns out, both of these claims are 100% correct.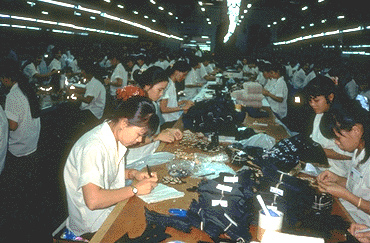 The average savings of cost of goods made on Saipan — compared to other foreign sub-contractors employed by U.S. clothing retailers — has been calculated to be roughly 22%. The margins of garment factories on Saipan, on the other hand, averaged around 3%. Remember Willie Tan, the local industry bigwig discussed above, who hosted golf junkets and stripper parties for Congress critters? In most years, Tan lost money on his garment factories. His fortune was funded by his other business interests. Being a slave lord, as bizarre as this sounds, was always more of a vanity project for Tan than it was a money-making venture. And Tan was widely regarded as the most successful of all the CNMI factory owners.
The "it could be worse" defense is also rather sickeningly and depressingly true. Journalist John Bowe took a look at where poor, uneducated female workers who weren't shipped to Saipan ended up. Many worked in factories in their country of origin, and more than a few of these factories had conditions that were actually worse than on CNMI. Others signed contracts to work for other countries, such as Kuwait. Women shipped to Kuwait faced similar working conditions as in Saipan, but the percentage who were forced into sexual slavery was significantly higher. And it actually gets worse. Women who escaped from an employer in Saipan often ended up homeless and had no other choice but to become prostitutes. Women who escaped from their employer in Kuwait were tracked down by the police. The quid-pro-quo to law enforcement for their worker-hunting efforts was that they would be allowed to keep the women to amuse themselves for some period of time. And, yes, that "amusement" ended up being just as horrible as you are imagining.
Following the money, in other words, does not lead us to the foreign-owned sub-contractors who owned and ran the factories on CNMI.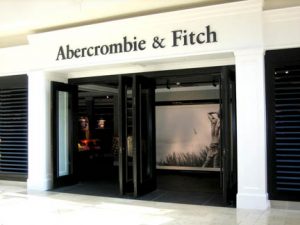 Neither, however, does the money lead us to the U.S. retailers who employed them. The margins, profits, and gross product sold by companies such as The Gap, Levi Strauss, Sears, Abercrombie & Fitch, and every other clothing company you are likely to find in an American mall, were not significantly impacted by the CNMI garment industry. Indeed, there is no proof that, had CNMI never existed at all, these companies balance sheets would be noticeably different. Margins in the U.S. garment industry were tiny before CNMI's indentured servant system, were tiny during that system, and remain tiny today.
Where, then, did all the additional money allowed by a virtual slave state go? If we follow the money, who pocketed those dollars? Who had the biggest financial motive to approve of such a system? Who had the financial and political power — both the power to end it at any time, and the power to allow it to continue unabated for twenty years because it served their purpose? Who, ultimately, was really responsible for all of this?
The answer, of course, is us. Follow the money, and it leads to you and me. We're the ones that did this.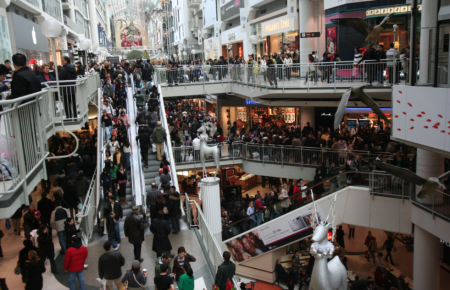 Consider: The CNMI conditions were reported on fairly continuously from 1989 until Congress passed its reforms in wake of the Abramoff scandals. These conditions were reported extensively and repeatedly on all the major news networks, in all of the the country's major newspapers and news magazines, on NPR, and on primetime weekly news shows. They were investigated in open public forums in the House of Representatives, over and over again, for more than two decades.
Those elected representatives who allowed themselves to be taken on bogus junkets paid for by Abramoff's firm in exchange for looking the other way did so in plain sight, and their Machiavellian efforts were covered at the time and since by the press. Most of them are still in office, and those who run against them never bring up these events. And the reason their opponents don't bring these things up is not some archaic sense of decorum. It's because they know that we, the people, don't actually care that we profited off of virtual slave labor. After all, it was just a bunch of third-worlders — and mostly female ones at that. Who really cares what happened to them, so long as we were able to get a tee-shirt with the Abercrombie & Fitch logo for $35 instead of $37?
Perhaps the most condemning evidence of how responsible we were for a pre-reform CNMI is what's happened to the post-reform CNMI. All those factories that used to make so much of our clothing? They'll pretty much all vacant now, abandoned by their owners. It turned out that the CNMI sub-contractors were right about us. If we Americans had to fund such things as increased safety standards and workers actually being paid, without balance-sheet offsets such as forced prostitution during down times, then we would take our business elsewhere. And take it elsewhere we did. Specifically, we've taken it to those foreign factories in third-world countries where, as noted above, conditions are as bad and frequently worse than they were in CNMI.
Last week, when discussing Mike Huckabee's giving a big thumbs up to the return of a slave state — provided that the potential slaves were sufficiently low enough on society's rungs — I said this:
The truth is that [the idea of a modern slave state] isn't actually all that radical. In fact, to one degree or another, the United States or its citizens have been involved in some form of this type of slave labor or indentured servitude on a pretty regular basis for at least the past four decades…These systems exist, in other words, not despite our collective wishes so much as because of them…

This is not a Republican problem, a Democrat problem, or even a Libertarian problem — it's an American problem, with more than enough blame to go around.
Indeed. If you follow the money, you find the villains.
And the villains are us.
Tom DeLay and Jack Abramoff screenshots via YouTube, Youtube, and YouTube. Saipan World Resort, via Wiki Commons. Congressional hearings on CNMI, screenshot via Youtube. Mall via Wiki Commons, A&F Exterior via Wiki Commons.