Bigotry feels itself aggrieved: school busing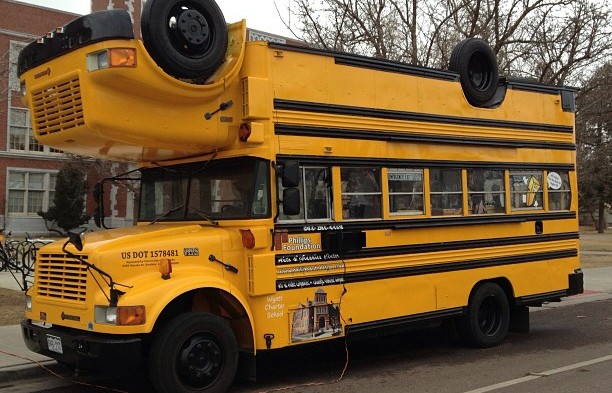 My father got very angry one day in 1984. I had just started 5th grade and the school decided my classroom was too crowded. I would have to be moved to a different class. It was a pretty exciting thing to have happen to my 10-year-old self. So I told as many people as I could, including my father. I told him I was being "transferred."
"WHAT?!"
Eventually he calmed down. He apparently misunderstood what I meant by "transferred."
*******
There was a public elementary school only five blocks from my home, but the public school I actually went to was twice as far. I don't remember anybody telling me why I had to go to the farther one. I probably chalked it off as one of those strange facts of life designed to confuse children.
My five siblings, who are all considerably older, had gone to different schools. The two eldest, born in 1958 and 1960, went to the nearby school. The next three, born 1961, 1963, and 1965, started out there, but my parents eventually put them in our parish's K-8 parochial school. That one was much farther away than either of the public schools.
*******
My mother once mentioned having been part of a picket line. She and her co-picketers didn't want their children bused outside their neighborhoods.
I later learned some of the background. In 1968, the board experimented with busing. Its goal was to end the de facto segregation in the district. In 1969, voters elected an anti-busing board that put a halt to the experiment. In 1974, a federal district court ordered busing to resume.
*******
Now match up that history with the years my siblings were in elementary school. The two eldest were probably in 4th or 5th grade in 1968/1969 and already in junior high or senior high by 1974. The next three started Kindergarten around 1967, 1969, and 1971. And were probably in 6th/7th grade, 4th/5th grade, and 2nd/3rd grade by 1974. Those years seem to match roughly the years my parents made the switch to parochial school.
My parents probably weren't heavily invested in getting their children a Catholic education. My mother was (and is) a devout Catholic, but she probably thought Sunday school was enough for her children's religious education. My father had nothing against Catholics (having married one), but he wasn't Catholic himself. He was a non-practicing Lutheran who went to Church mostly for funerals and weddings.
I'm suggesting my parents sent my siblings to parochial school to keep them from being bused. One likely reason was that it's a pain to have your kid sent to a school far away. Parent-teacher conferences are harder to get to, and if the child gets sick or injured (or in trouble), it's a longer drive to come get them. (The irony, of course, is that the parochial school, while not prohibitively far, was still 2 or 3 miles away.)
Another likely reason was that my parents probably resented their children being used for a sociological experiment that may or may not work and that may or may not put their children into potentially violent situations.
My parents probably also had racist reasons. Certain parts of town, mostly east and northeast (I lived in the southwest part), were known as "black" areas.
It's difficult to tease these motivations apart. I think my parents were sincere when they said (as I'm pretty sure they did) that busing is inconvenient and that they resented their children being experimented on. But there were other, darker reasons. Those darker reasons were no doubt also sincerely felt, if less explicitly stated.
*******
Why didn't my parents sign me up for parochial school? It's probably because the public school I was slated for was a good compromise. It was certainly a cheaper option. And while it was technically "diverse," with a large number of Hispanic students and a significant number of Southeast Asian students, it was probably majority white. And there were very few black students. (For the record, I'm not sure being bused to the "black" areas of town was really in the cards. As I understand busing in my city, the racial/ethnic balance the program tried to achieve included whites, blacks, and Hispanics. Because I was already in a heavily Hispanic part of town, I was probably the right token for the school board's experiment.)
*******
I titled this post "bigotry feels itself aggrieved." That's my "working rule" about bigotry. As I explained it in the Toderonemy post,
people support measures they'd otherwise feel to be wrong or violent or unjust because the [sic] pose some kind of threat or represent others who pose that threat.
At first glance, that doesn't really apply to my parents' schooling decisions. There are defensible reasons to oppose busing. But whatever one thinks of busing, it was an attempt to redress a wrong, and opposition to that attempt was sometimes racially motivated, or at least expressed in racially charged language.
DavidTC made an excellent comment in response to mine quoted above. It deserves to be read in full, but this point stands out to me:
The 'official' story for racism, the one we teach kids, is that, for some unknown reason, a lot of white people disliked black people, and then a bunch of black people (and white people helping them) convinced everyone this was wrong by annoying them via various protests.

That story…literally makes no sense. I mean, the motives of black people makes sense, but *why* did white people act that way in the first place? Why did they change their minds? It's not explained at all.
(Doctor Jay has a good comment there, too, that deserves to be read. This blog post is already too long or I would have addressed it.)
I haven't even begun to answer his question, and for all my study of history, I'm not sure I could ever answer it fully. History can demonstrate who benefits from racism and can demonstrate that much of what we call racism is the result of conscious choices and not simply a "just so" story. But there's something deeper, more visceral and id-like to racism that history can provide examples of, but doesn't really have the chops to explain. For that, maybe we need psychology, literature, and drama.
I was going to end this post with a proviso that just because a grievance is sincerely felt and just because knowing the grievance can lead to some (limited) understanding, that doesn't mean the grievance and the bigotry it informs are therefore justified. Neither does it mean we're helpless. We can make choices, personally and at an institutional level, to dismantle racism.
I believe all of that, but none of it quite captures what I'm saying. There's just something unknowable about it all.
Image: "Reversible School Bus?" by Brian Indrelunas. Creative Commons Attribution-NonCommercial 2.0 Generic License.