Thing!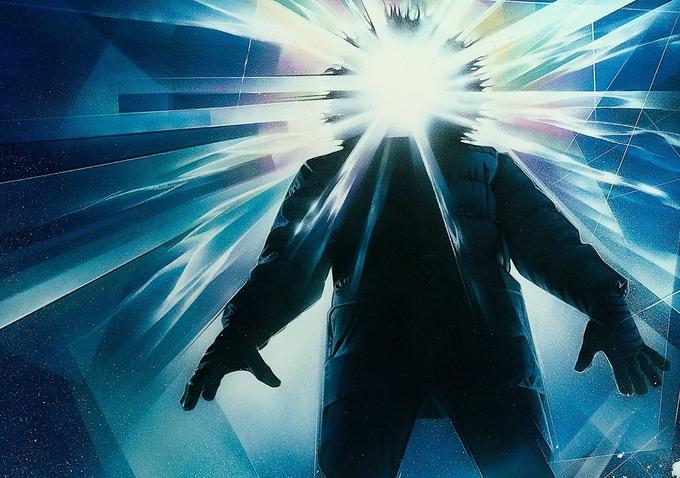 SPOILERS AHOY FOR A 1982 FILM, WHICH YOU SHOULD JUST WATCH ALREADY
With Halloween upon us, last night I finally unwrapped my long-shelved Blu-Ray of John Carpenter's 1982 sci-fi/horror alien shapeshifter film, The Thing. Not having seen it in many, many years, I was curious about whether it would hold up.
Short answer: yes, with some caveats.
The tense atmosphere of paranoia and claustrophobia, owing to the remote Antarctic location and whiteout snowstorm, and the plot which means that anyone could be a malevolent alien, holds up beautifully; as do the groundbreaking practical effects from Rob Bottin and Stan Winston (weirdly, the least-realistic special effect was a character getting a minor bullet wound to their leg stitched up – that leg did NOT look real). There is some serious "GAAAAHHHH!!" in this film.
As to the caveats: the characterization is fairly thin, even for this type of movie; part of that could be due to the fairly large cast (12) – one of the movie's closest relatives, 1979's Alien, has fewer characters (7) and they feel better-drawn.
I also wish that they would have made the alien parasite arrive on Earth via meteor or comet, instead of spaceship. Seeing the monster as a mindless irruptive biological process instead of sentient not only makes it scarier to me, it would fix or eliminate a couple plot elements that I don't think work so well – such as Wilford Brimley building a flying saucer from helicopter parts, and the question of why the beast, when it is in one of its several large forms, runs instead of simply taking the men out while it has such a huge size advantage over them.
Also, MacReady (Kurt Russell)'s hat is just plain ridiculous.
**************
One thing that struck me from the vantage point of 2015, was how much the movie looks like an AIDS-paranoia metaphor.
Before I go any further, let me state that I am not presenting this reading as definitive by a long shot; for one, it was only in 1982 that the CDC first used the term "AIDS", and released a case definition of it; while the phenomenon had been bubbling up in some media reports slightly prior, it's not certain that the disease was yet a well-enough-known issue to have made it into the movie while it was being written or filmed.
However, Hollywood is historically fairly gay-friendly, and also runs on rumors; so I don't think it's impossible that word of AIDS was making the rounds there, before it hit the mainstream public consciousness.
Another strike against the AIDS reading is that this movie, like 1951's The Thing From Another World, is based on an even older story, 1938's Who Goes There?; and AIDS was obviously unknown at that time.
Last, "contagion-as-monster" is a very, very old horror trope. Werewolves and vampires infect their victims via fluid transfer (and may have been inspired by real-life diseases such as rabies and porphyria); and Romero's Night of the Living Dead not only posits a disease-like transmission vector for his monsters, but a geometric spread of the plague. And Alien certainly runs on some potent "sex and infection" imagery.
Still, a few things stood out to me.
One is that the base is staffed only by men. This might be argued to be simply "realism", but women were wintering at McMurdo Station by 1974, and Alien, from 3 years prior, featured two women on the Nostromo's crew, one of whom would go on to be an all-time classic protagonist. And even The Thing From Another World had a female character. So the all-male crew here seems unusual in 1982.
Another is that MacReady keeps erroneously referring to the dead Norwegians (who indirectly, inadvertently infect the camp at the start of the film) as "Swedes" – while this might be meant as simple humor, it's perhaps noteworthy that Sweden has long been associated with progressive values on LGBT rights. Not sure if Sweden was popularly-seen as a gay mecca in 1982? Finland is next door, and Tom of Finland was an inspiration to the Village People…plus, ABBA.
And why make them Norse at all? The Thing From Another World , like the original Invasion of the Body Snatchers, is popularly seen as a Communism metaphor; in the early eighties, the Cold War was in danger of going hot. So why not make the Norwegians Soviet, unless a different metaphor is being reached for here?
Last, there is a very simple scene that raised my eyebrows a little. Palmer (an inveterate stoner) and Childs (played by Keith David) are relaxing in their room (I believe that every other character we see is shown to have their own private quarters; and in fact, he-man protagonist MacReady has his own standalone shack, separate from the main building) and watching videotapes of game shows.
Palmer fires up a fat joint; and Childs, wordlessly, beckons for a hit, which Palmer passes him without looking. This casual interaction mostly seems like simple bored companionship: people who work together and know each other well and are stuck in close quarters, just passing the time (and, the dutchie).
BUT, when a commotion in the kennel causes MacReady to pull the fire alarm, Childs comes running – and he is fumbling to get on his pants.
Now, it's possible that he had them off because he was sleeping or getting ready to, but I believe he (and everyone else) is wearing longjohns, and the kennel is in the same building (that is, Childs does not need to go outside, so why does he need anything more than longjohns?).
So the fact that he's fumbling to get his pants on, seems a weird unnecessary detail: unless it's meant to subtly-suggest to the audience that Palmer and Childs may be slightly-more than friends and co-workers.
Which adds another layer of potential distrust between white, manly-man MacReady and black, possibly-coded-as-gay Childs, who spend much of the film circling each other warily.
Anyway, like I said, I don't think that's the only way to read it; but it's an interesting lens to look through. The Thing From Another World specifies the plant-like biology of its monster, but The Thing's monster is said (hilariously, via Asteroids-like computer graphics and a highly-specific-yet-round worldwide infection estimate of "27,000 hours") to be disease-pandemic-like in its aggressive attack of living cells.
**************
What this movie without question DOES have, and what will stick with you, is one of the all-time great bleak endings – having blown up their base camp in hopes of killing the monster before it can reach civilization (and with it, blowing up any hope of their own survival, in the -100 degree temps), an exhausted MacReady and Childs eye each other distrustfully and share a bottle of scotch while waiting to "see what happens".
The Thing (10/10) Movie CLIP - Why Don't We Wait Here, See What Happens (1982) HD
Is one of them The Thing, or both of them, or neither of them? Internet theories abound, but of course the point is that it doesn't matter – neither man can take the chance of trusting the other.
(There are two alternate endings: in one, subsequent to the above scene a sled dog is shown running away from the smoldering base the next day, mirroring the Thing-dog that escapes the Norwegian base and infects the American one at the beginning of the film and thereby implying the men's failure to destroy The Thing. In the other, filmed but never shown, a small time-jump shows that MacReady has been rescued and confirmed to be human.)
Image from Drew Struzan's The Thing movie poster.