Four Lessons Learned from Last Night's Debate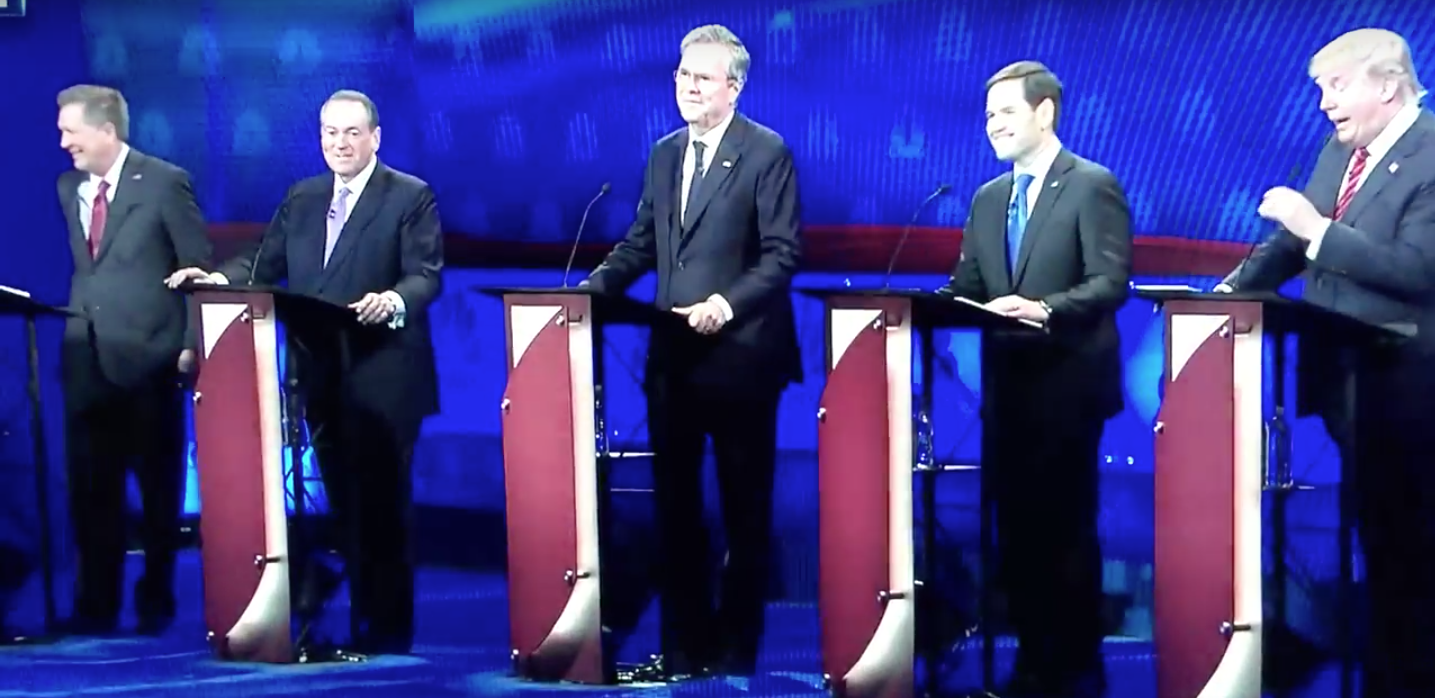 Lesson #1: CNBC Journalists are Just God-Awful.
Chances are if you didn't watch the debate but have read anything about it written by anyone, you have already heard this. But it doesn't really matter how many times you've read it. If you didn't actually see it, you don't truly understand the profound level of suckiness they achieved.
I know, I know, I can already hear you saying to yourself,
Hey, I've watched some bad moderators in my time, and I know what you're talking about, because I've seen some pretty bad performa-"
— and I'm just going to stop you right there. Trust me, you haven't seen anything this comically bad.
The worst part wasn't that their questions were often insipid. (Though they were.) 1 Or that CNBC's version of what issues should be important to American voters was rather bizarrely skewed. (Though it was.) 2 It wasn't even the first question of the debate, where they asked the candidates to tell everyone what their greatest weakness was, then stressed that they were going to hold them to answering the question, and then just sat there watching as each candidate (save Trump) used the question to tell the world how much more awesome than everyone else they were.
No, the worst part was that CNBC had clearly made a decision to go full Candy Crowley, and hold the candidates' feet to the fire when they answered with false statistics or histories. Which was a noble ambition, and might have led to a truly awesome debate, but for one tiny flaw: The moderators hadn't taken the time to learn anything about the questions they were asking. When candidates pushed back, the moderators looked lost. When asked, the moderators couldn't recall where they got their facts. When Becky Quick pushed Trump on a point, and he asked where she was getting her facts, she began shuffling through notes with a confused look on her face, and this exchange actually happened:
Quick: Where did I read this and come up with this?

Trump: I don't know. You people come up with this stuff.
Oy.
Lesson #2: Jeb is Toast.
This is not surprising, really. But last night did a great job on underlining either just how unprepared Jeb is for the campaign trail, or how little he really wants to be President. There was one time, and one time only, when he looked really comfortable, at ease, and in command of the situation. And it was when he was asked about Fantasy Football.
When the question came, I found myself doing that thing we all do whenever an obvious softball is floated over the plate during a debate: I found myself mentally answering the question. "Take the high road, Jeb!," I screamed inside my head. "Tell them this is an inappropriate question for a debate of this magnitude, at a time when such trying and difficult issues plague the nation! Then attach whatever talking points you were coached to hit by your staff! Finally, your moment to step up and show the world what kind of leader you can be has arrived!"
He didn't, of course. He went on to gush about his fantasy football team, and left it to other candidates to do what was going through my head as soon as he was finished — making Jeb look like an unserious, out-of-touch, rich-kid dudebro.
Lesson #3: Trump Isn't a Politician. He's a Salesman.
And please understand, I mean "salesman" in the worst and most derogatory way possible.
There's a kind of Alpha-Male Salesman-type out there that gives salespeople in general a bad name. If you've ever had the kind of sales job where your employer sends you to sales seminars run by arrogant douchebags who spend the entire time telling you how awesome they are and how much money they made this past year — which, really, is about 90% of all sales seminars — then you likely know what I'm talking about. And as he showed last night, Trump is one of these Alpha-Male Salesmen.
One of the key things you're taught at these seminars is the idea that when talking with a prospect, you are supposed to "comfort the afflicted, and afflict the comfortable." What this phrase means, in real terms, is that you say anything you can about your competitors to make prospective buyers have negative feelings about said competitors. It doesn't matter if what you say is true or not, or even if the client ever discovers that it isn't true, because that's not the point. The point is to drop an association that's outrageously terrible in the subconscious of the buyer, so that when your competitor's name is brought up there's a tiny voice inside their head that makes them leery of that person. 3
Trump is, first and foremost, an Alpha-Male Salesman. It's how he made his fortune, how he catapulted himself to national fame. And you just can't change who you are in your bones, even on the campaign trail.
This became glaringly obvious last night on two instances after Kasich went after him for being a horrific prospect for POTUS. First, Trump responded by telling the audience that Kasich was on the board of Lehman Brothers when the economy collapsed, and suggested that because of this position that he was likely a chief architect of the financial meltdown. Kasich, gobsmacked, immediately pointed out that he has never actually sat on the Lehman's Board of Directors — but that was entirely beside the point. Trump was likely perfectly aware of this, and likely didn't care that he would be quickly fact-checked. He was merely "afflicting the comfortable" audience members who had started to think that what Kasich was saying made sense.
He did it again immediately after the debate, when Trump-er Roger Stone tweeted out that Kasich had worked for him on the Reagan campaign, and that Stone had fired Kasich for dealing and stealing drugs. The press sat up and took notice, and then quickly discovered that Kasich had not actually worked for Stone, had not actually been fired from the Reagan campaign, and had not ever been accused of anything drug-related at all. But again, with an Alpha-Male-Salesman-driven campaign, all of that was really beside the point.
Lesson #4: Conservatives and Liberals Aren't Really on the Opposite Ends of the Spectrum on Government.
Call it if you will, an example of the Errol Flynn Fallacy. 4
One of the things that stood out to me was how many of the candidates floated ideas that suggested a high degree of government involvement – peppered throughout statements that the government shouldn't be allowed to do anything. And the audience seems to like all of these ideas just fine.
One example was from the kid's table debate, where Bobby Jindal bragged about his record in Louisiana, where he has cut taxes but not really cut government spending. (This has resulted in a rather large deficit.) But, really, most of the "big ideas" floated in the grown-ups' debate suggested a call to government action — even as they are couched in anti-government rhetoric.
More than one candidate talked about the need for the country to invest in specific, targeted alternative energy sources. Another popular "thinking outside the box" idea was to take the top four diseases in terms of cost-of-treatment, and make it the mission of the country to find cures for them as a way to cut healthcare costs. There were others, too, and all of them left the obvious question dangling in the flatulent wind:
Who exactly did they think was going to lead these charges if they were to ascend to the White House, if not… well, them? And their office? And the various government agencies under their control?
Are the candidates (and their audience) under the mistaken assumption that private research and pharmaceutical companies simply haven't considered the idea that they might make money if they found a cure for cancer? Do they believe no one in the private engineering, chemical, or energy industries has ever tried to come up with cost-effective energy sources? Do they all think that once a Real Conservative is in the White House and says, "Hey guys, you should try curing diabetes..," that private investors and innovators will suddenly slap their foreheads and wonder why they never thought of that themselves?
At one point, showing unusual fortitude, one of the CNBC moderators asked the candidates who exactly they meant when they talked about "the country investing" in one of these projects. And when the audience loudly booed at the audacity that a conservative candidate might be asked such a potentially illusion-shattering question, the moderator shut up and no one ever brought it up again. Because, you know, they were friggin' CNBC moderators.
All in all, it was a pretty good example of how the rhetoric of the GOP and the Democrats in this country is largely symbolic rather than substantive.
[Image: Screenshot from Youtube.]