The Montauk Catamaran Company Chronicles 10/23/15: Well begun is half done…?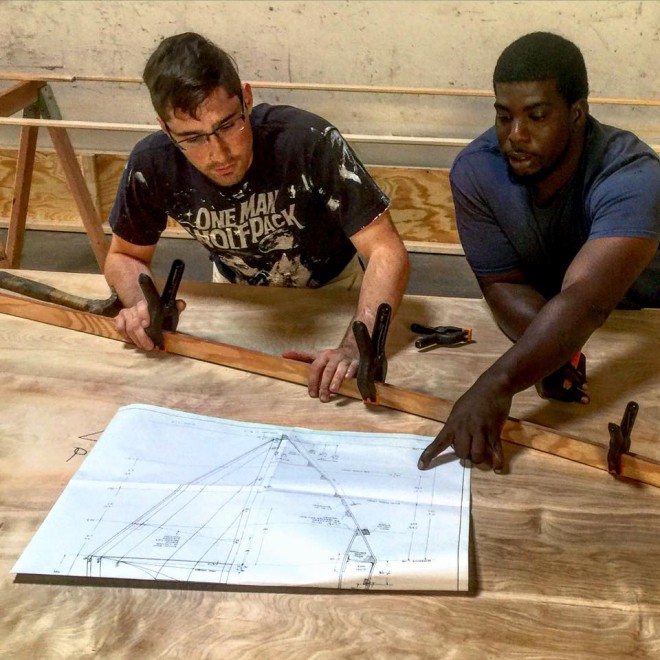 Their second day on the job and John and Daquan are working from blueprints to loft Mon Tiki Largo's bulkheads. At the Montauk Catamaran  Company we don't' just build boats, we build boat-builders.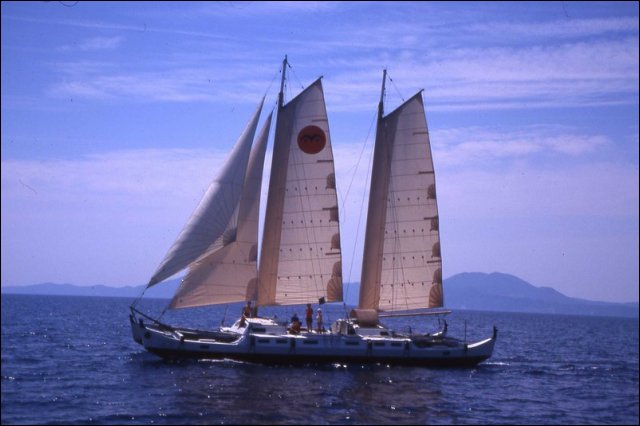 When completed Mon Tiki Largo will look similar to this boat, Spirit of Gaia
(The Montauk Catamaran Company Chronicles is an ongoing series of posts detailing the construction of Mon Tiki Largo, a James Wharram Designs Pahi 63 MkII. The author's current boat is the catamaran Mon Tiki, a JWD Tiki 38, which he built in 2012 and currently operates as a day-sailing charter in Montauk NY. You can see all the posts in this series by clicking here.)
I am sitting at a table in a deli at the corner of Church and Lincoln in Holbrook NY. A late model silver Mercedes coupe just pulled up. Now the driver's crossed the threshold of the deli. I'd make him as one of the owners of the various businesses that make this neighborhood. On our block there's scrap-metal recycler, a mini-storage, a run-down trailer park, a couple of auto body places, a cabinet shop or two, a place that builds aluminum boats, and sundry other "light industrial" business. When I drove here a half-hour ago (6:30am) the streets were mostly empty, but now they're busy. Work starts at 7am at a lot of these places, 8am at most of the rest. The fellow driving the Mercedes just left with his coffee, got in his car and is on his way.
Over last weekend I hired four people — Krystle, John, Daquan, and Tom — and after four days together it seems like it's always been this way. Mistakes get made every day, every hour, but they are the right kind of mistakes. The crew is learning fast and learning well.
Today we are talking delivery on 200 sheets of BS 1088 meranti marine plywood. Last time out (Mon Tiki) the Coast Guard asked for lab tests when we already had the hulls half built. This time, lesson learned, the testing is already done. Early next week 250 gallons of epoxy & hardener and associated materials will arrive at the shop; and shortly there after the dimensional lumber will start coming into the shop.
In addition to the materials we've also secured a portfolio of insurance policies for the build: workers comp, workers disability, builders risk, and a general liability policy for whatever the first three don't cover. Add all of it up — the materials, rent, insurance, first week's payroll — and it would just about pay for that silver Mercedes that pulled in earlier. But the idea of driving a Mercedes coupe doesn't excite me the way the idea of building a big silly boat excites me. And a fancy car won't protect all that my wife and I have built over the last few years, a bigger boat might…
If you think offshore sailing is a thrill, try running a small business. My head is filled with doubts, but it's too late. We are building this boat, Mon Tiki Largo, a Pahi 63 MkII. I'm excited!
In the next 7-10 days I hope to be hiring another 2-4 people. If you're interested in being a part of something amazing, get in touch.