The Montauk Catamaran Company Chronicles, 10/11/15: Updates and Full Steam Ahead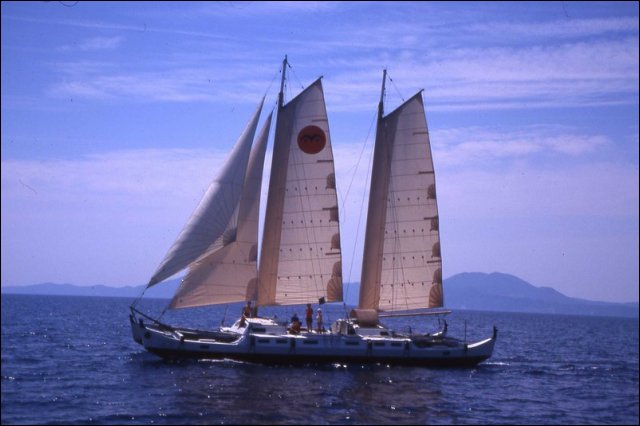 When completed Mon Tiki Largo will look similar to this boat, Spirit of Gaia
(The Montauk Catamaran Company Chronicles is an ongoing series of posts detailing the construction of Mon Tiki Largo, a James Wharram Designs Pahi 63 MkII. The author's current boat is the catamaran Mon Tiki, a JWD Tiki 38, which he built in 2012 and currently operates as a day-sailing charter in Montauk NY. You can see all the posts in this series by clicking here.)
Hello Gents and Ladies, ordinary and otherwise. Long time, no see! Updates:
On March 30th we started preparing the Catamaran Mon Tiki for the 2015 season and today is the first day since then that I've had that could reasonably be construed as a day off. Mon Tiki splashed on May 12th, had her first commercial trip on May 14th, and between then and hauling out on September 29th Mon Tiki ran something on the order of 300 trips, and carried in the neighborhood of 5,000 passengers. It was a busy summer.
Final US Coast Guard approval from the Marine Safety Center, Small Vessel Branch for Mon Tiki Largo's structure and stability studies was received in mid-June, but with Mon Tiki already running two and sometimes three trips a day there was simply no time to turn our attention in that direction.
Also during this time we fought off a spurious and perjurious attempt by a competitor to trademark our company name "The Montauk Catamaran Company". You all can image how amused I was to find myself (yet again) in an intellectual property fight. I may have more to say about this, but for the meantime I'll leave it at thanks to the OG that let me vent and provided some big picture advice to protect our name, and that the episode is a reminder that if you create anything of value — a film, a song, a photograph, a business name, or a catamaran — sooner or later someone will try to steal it from you.
Last month gave up on the idea of securing shop space close to home (it would seem that Mon Tiki was the last great potato barn project on the East End, a cultural watershed akin to the last real Soho artist's loft) and on October 9th we signed a lease on 2000 square feet of light industrial space in the middle of Long Island.
Last week the remaining of Mon Tiki Largo's six massive akas were completed in our driveway between Mon Tiki's haul out and our search for shop space. What remains are the masts, deck pods (4), engine boxes (2), various bits and pieces, and, the two 63′ hull of course.
For those interested in a pictorial accounting of Mon Tiki's "Summer 2015" I'd invite you to have a look at our Facebook and/or Instagram pages:
https://instagram.com/sailingmontauksmontiki/
https://www.facebook.com/SailingMontauk
Thanks to all for your past and ongoing support. Attempting to build and launch a 63'x 30′ USCG certified Small Passenger Vessel certified for 100 in eight months is a preposterous undertaking, and yet, that's what we hope to do. Stay tuned to this space for updates, which if nothing else, should be amusing!