Stop Making Excuses for the Internet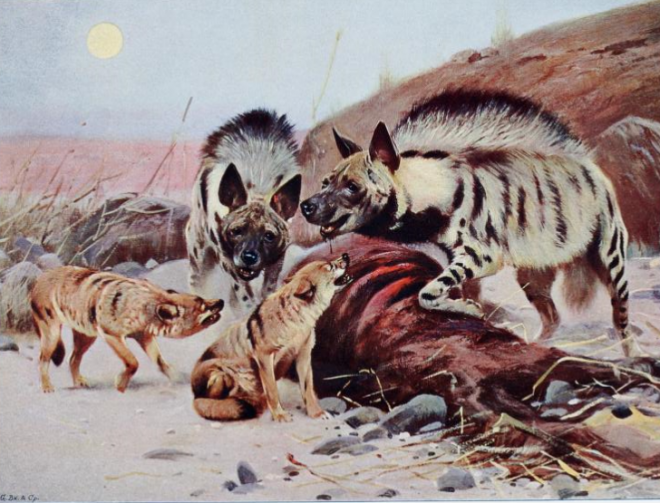 I'll go ahead and say it: The internet is a terrible, terrible place. Moreover, it's a terrible place in a way that the rest of the world simply isn't and people should really stop defending it.
This is relatively new belief of mine, and in fact I am still only just beginning to believe it down to my bones. For the longest time I have more or less accepted the Gutenberg Internet Defense (GID). Simply put, the GID states that all new mediums are scary until they aren't, and therefore criticizing the internet makes you the moral and intellectual equivalent of those who thought the printing press was a bad idea. But I am starting to see that the GID is one of those arguments that works better on paper than reality.
Take for example this quote about people who are Second Amendment supporters, passed on in glowing fashion by TPM's Josh Marshall. (The text bolding is mine.)
The pro-gun forces have guns, and practice how to use them to protect "their rights" all the time. They fantasize about pointless shoot outs and martyrdom, as resistance to tyranny. 

And of course, in case we might forget, every couple of months one of them enacts these fantasies, in classrooms or public buildings across the country. They are, in short, weaponized bullies with terroristic tendencies, and the public shies away from confronting them. Meanwhile, pro-life activists, though they may get shouted at, have no fear of gun wielding representatives from Planned Parenthood. They know that. And the more highly weaponized the gun crowd becomes, the stronger this repression of other people's civil right to protest becomes, even as the right knows they may be harangued but they will not be shot.
What an utterly bizarre and disconnected-from-reality collection of statements.
I should note that I come from a long line of gun owners and second amendment supporters, and that because of this I know more than my fair share of hunters, skeet and trap shooters, target marksmen, and collectors, almost all of whom self-identify as gun-rights supporters. These people span generations and live in a mixture or urban, suburban, and rural areas across the country. I disagree with most of them on various proposed gun policies as well as the wisdom of an overly robust interpretation of the Second Amendment. Indeed, I've had long and sometimes loud arguments on this very topic with more than a few of them. Still, I've never met a single one that "practices" taking over the government, or that has ever given me the slightest impression they fantasize about killing others or being killed, or has ever said or done anything in my presence to make me wonder about their "terroristic tendencies."  Likewise, if non-gun-toting people with strong opinions no longer feel safe to voice their opposition to various things and have thus been silenced as this quote and Marshal suggest, then someone apparently forgot to pass that news along to Twitter, Facebook, and as best as I can tell pretty much every public space everywhere in the entire country. (Including, ahem, TPM.)
In fact, I am almost tempted to say that the place described above — this place where people talk excitedly about violent uprising, fantasize about killing their neighbors in the name of "freedom," or work to ensure that those who disagree with them are denied even a voice with which to speak — doesn't really exist. Except, of course, that such a place actually does exist. It's called the internet.
People on the internet really do say those terrible things. In fact, it doesn't take much googling to see that they say things like this on the internet all the time. Which is convenient for pro-gun-control people on the internet, as it gives them the ability to paint with the same broad brush everyone who disagrees with their opinions. This, in turn, allows those same people to feel morally justified using whatever tactics they might wish against anyone who does disagree. After all, if you're targeting someone who supports murdering innocent people just to get their rocks off, what shouldn't you be allowed to do to them? That those they target might not actually support any such thing is an issue they might well have to take into account in real life. But on the internet, not so much.
Because there really is something about the internet — as a medium — that works to poison everyone and everything, all of the time.  Which is not to say that it always succeeds in doing so. Just that it always tries. And the results speak for themselves.
When talking about Jon Rowe's troubles with bureaucrats at Hit Coffee, Will said this regarding commenters' reactions to Rowe's plight:
[It's] a somewhat disturbing attitude. As was the pouring over the record finding a way to make sure that it was Rowe's fault. And especially the bit about Rowe demonstrating classism by believing he's too good for a Trenton jail.

It practically made Rowe's point for him. Better than Rowe did. In a way, at least. I think it more strongly makes another, bigger point. Which is the extent to which people lose their minds when it comes to anything political… [Since] Rowe approached it as a political matter, it was responded to as a political matter. And advocates took on the role of prosecutor. Though it's less true than it used to be, you can still complain about the DMV, or Comcast, without people assuming that you're being political and not responding politically. For now, anyway.

But once it does, everything does change.
My first blush after reading Will's thoughts was, "Man, ain't that the truth!" Expect that the more I thought about it, the more it hit me that it isn't really true at all. Or to be more precise, it isn't really true anywhere except on the internet. On the internet it's a kind of universal truth that people will behave this way, in the same way that in the real world it's a universal truth that people tend to like the smell of bacon. But it's not actually true elsewhere.
Seriously, imagine yourself at work and hearing a coworker tell a story similar to Jon's to people in your office. Chances are you would say to that person, "Oh man, that sounds rough. I'm sorry you went through that, but I'm glad it worked out okay in the end." And more likely than not, you would have meant that.
Now imagine that the person in the cube next to you not only told your coworker it was all her fault, criticized her for being unhappy about it, and belittled her in front of everyone, but then went on to spend a good part of his work day researching city and state ordinances to underscore what a loser she was. What exactly would you think of that person, if they did that in the real, non-internet life?
Now, to be fair, the situation Will describes is obviously very different. It's different because it didn't happen in your office to a coworker. It happened on the internet to someone who holds different political beliefs than you have, and that makes it such a completely different kettle of fish that the comparison I just made is likely offensive to pretty much everyone involved. Which is kind of my point.
Interestingly, around the same time I was asked to join the League of Ordinary Gentlemen/Ordinary Times I was also asked to join another group here in Portland that held a similar mission statement. Like LoOG/OT, this group is made up of people from different backgrounds with different political, religious, and cultural viewpoints. Also like LoOG/OT, the concept was to get these people of differing opinions together and vigorously debate topics in a way that was passionate and possibly boisterous but still respectful. One might think that these two groups would have followed similar trajectories, but in fact they haven't. This is because the two groups have a key difference: unlike LoOG/OT, this other group does not meet on the internet. It meets face-to-face and in person, usually while breaking bread and sharing beers.
As it turns out, this difference has enormous consequences.
The group that meets face-to-face has been forced to deal with their counterparts as people rather than symbols in a way that people here have not. Residents of OT have largely spent the past four years focusing on the differences (and often the perceived shortcomings) of those who hold disparate beliefs; people in the local group, however, have gone in the opposite direction. The lesson from the second group, which is almost anathema to OT, is this: Conservative or Liberal, Atheist or Active Church Member, Christian or Muslim, there is infinitely more that binds us together than separates us. Indeed, it wasn't after that many nights of arguing before we figured that we really didn't actually disagree on very much at all, or at least we didn't really disagree on much that was important. Sure, we used different words and phrases, taught to us by our respective tribes, that made it seem like we disagreed more than we did. But the more we talked and listened to one another the more we realized that those supposed differences were mostly a bill of goods we'd been sold by those who stood to profit from our discord in dollars, power, or influence. The person who brought us all together initially was sure that our meetings would be more contentious and cantankerous than they ended up being, and the reason he thought so was obvious in retrospect: Most of the political conversations he'd had with all of us up to that point had been via the internet.
It's hard for me to believe that the differences in medium between the two groups do not explain the differences in trajectory. Indeed, when I look at those folks from OT who have met in person, I see a trajectory that's almost identical to what my Portland group experienced. Those who gathered for any of the Leaguefests are as motley a group as you might encounter, and believe me when I say that a lack of passionate belief in their tribes was not a shortcoming of any of those attendees. It's interesting, then, to see how differently those here who have met face-to-face treat one another, compared to those who only have an internet relationship with their OT foils.
One of the biggest problems with all of this is that more and more, the Bizarro-world reality of the internet is replacing actual reality in terms of the reference points used in our real-life, in-the-flesh political discourse and policy discussions. Congress spends countless hours and tax dollars investigating things that are, really, just an internet thang. So too does the governor of Texas. The amount of time we spend talking about real fiscal and workforce issues with a topic like immigration is dwarfed by all of us arguing over things that only exist in our virtual online universe. Hell, the most important and talked about person of the past month was someone who — let's be honest here — was little more than an invention of the internet, created to amuse itself. The political battles we wage most these days are so constant and so ubiquitous that we rarely stop and notice that, as is the case with the whole "all the conservatives are taking arms up against the Federal government" bit noted above, they are largely based on fantasies created by and for the internet. But revery though it may be, the internet is actually beginning to bleed into the real world as more and more we find ourselves collectively reacting to the least kind and charitable fantasies of who our neighbors might be, instead of who our neighbors actually are.
Of course, I can foresee that there will be those who disagree with my conclusion, who will say that this kind of thing has nothing to do with the internet per se. After all, they'll correctly point out, the internet is just a medium. Heck, people can just as easily spend their time writing books, or plays, or television shows that parrot the kinds or frighteningly racist and misogynist things places like 4chan and Stormfront are famous for, or that try to destroy the lives of ordinary people they have never met just for the fun of it, or that make non-public citizens that have done nothing wrong fear for the safety of themselves and their family just for the feeling of power the internet gives gives them for doing so. They could write those books and plays and scripts all day, every day if they wanted to. Except, of course, that they don't. They can't be bothered to do so, and even if they could chances are those mediums would reject them out of hand for wanting to do such terrible, terrible things. That most people could in theory behave this way on every medium but in reality only choose to do so on the internet means something. It's time to stop pretending it doesn't.
When reading an earlier draft of this post, Burt noted that it lacked a call to action. In an email last night, he said this:
Okay, Tod, I get it, people turn into raging a-holes on the Internet. So what do we do about it? Just being aware of it doesn't seem like enough. What does a more civil Internet look like; does it lose some intellectual vitality if more norms creep in, how might we get there from here? That would be a stronger conclusion.
He's right, of course. Ending with a solution to all of this would be a strong conclusion. It would be space awesome.
But sadly, I don't know how to fix the internet. I don't even know that it can be fixed, to be honest. It's a little like wondering how one should go about making kangaroo courts more polite and more chipper. Once you decide that kangaroo courts are a thing you have to have for the sake of having them, there's no real way to avoid the lynchings that follow. Heck, taking part in the lynchings are the entire reason most people even bother to show up in the first place. So there may really be no hope for the internet.
But I'd like to think there's still hope for me.
That's why I am making a commitment to myself to do a better job of tempering the internet with the actual real world. From now on, I'm going to try to do a better job treating people as people and not symbols, even when I only interact with them online. I'm going to double down on my efforts to always remember that when the internet tells me "All Democrats support X!" or "All Republicans believe Y!," but I've barely met anyone from either party in real life that actually does, real life isn't the thing that's out of whack. I'm going to be more active in seeking out and engaging people who disagree with me — not on the internet, where people are treated as a symbols or talismans, but in the real world, where people are… well, people.
I guess that's about the extent of my proposal: Me, making small changes to me.
Will my brilliant masterplan succeed in saving the world from Evil? Nah. At best, it will only lead to a slightly, slightly better tiny corner of it where I live. That's not much, I admit. But it is reality, and reality is where I'm choosing to live. Brilliant masterplans that fix everything and everyone and save the world from Evil have always been the stuff of fantasy worlds.
I'll leave those to the internet.
[Picture: Richard Lydekker's Hyenas and Jackals, via Wikipedia.]