Donald Trump Is More Important — and Dangerous — than You Think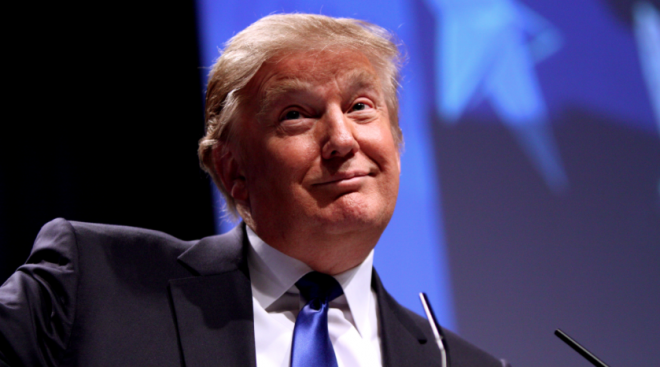 Let's get this bit out of the way up front, that we may not be distracted by it:
Donald Trump will not be elected President of these United States. He will not even be the Republican nominee. His candidacy will not lead to the first brokered (or even broken) convention in modern times. Indeed, the fact that he seems to already be having "lunches" with other candidates suggests that he might not actually even want to be POTUS. He is far, far ahead in every poll, and yet even now he appears to be trying to broker some kind of backroom deal in exchange for his followers.
Despite all of that, however, I remain convinced that aside from who actually wins the White House in 2016, Trump's candidacy will end up being the single most important story in this election. Further, I believe that a decade from now we will all look back at the Trump candidacy as a watershed moment in either presidential politics, the fate of the GOP, or both.
Exactly what this watershed moment will mean to us a decade from now is a bit tricker to pin down.
The truth is that Donald Trump is unlike any presidential candidate I have seen in my lifetime. And by no small margin. He's so far and away different from everyone else that any comparisons you might make misstate that divide simply by being stated. To use a common board game metaphor, while all of the other POTUS candidates you might compare him to were merely playing one-dimensional chess, Donald Trump was down at the bar getting drunk and hitting on the waitress because he was horny and besides he thinks people who play chess are p**sies. Not that everyone hasn't been trying their damnedest to paint him as the reincarnation of previous POTUS wannabes, mind you.
For a while, it was clear to the nation's punditry that Trump was this round's version of Herman Cain: a businessman way over his head in the deep end. Since then other pretenders have been tried on for size: Trump is really Barry Goldwater. Trump is really Ross Perot. Trump is really Ron Paul. Trump is really just a Red-State mirror version of Bernie Saunders. In point of fact, however, Trump is none of those people. He's not even on the same planet. Goldwater, Perot, and Saunders might have worn crests of different parties, but each had a detailed political agenda they were trying to pitch to the American people. Each entered his race with a shortlist of policy positions on which they hung their presidential aspirations. Even Cain, nominated for the paltry notion that he'd once talked back to Obama  while on camera, took the time to try to brand the 9-9-9 Tax Initiative as his own.
Trump is different.
Trump, as best I can tell, has no agenda and no set of policy positions that weren't hoisted on him by the press. He has been happy (and successful) to run with any of those positions assigned to him, but they are positions he seems not to have cared or even thought much about prior to having been attached to them by the press.
Take, for example, Trump's immigration "policy."
The current narrative by the punditry and talking-head class is that when Trump came out charging with an anti-immigration policy as his pet issue, and the GOP base rallied around him. But I'm not so sure that Trump ever did any such thing. It is true that when he stepped up to the podium to announce his candidacy, he gave his infamous line about Mexicans all being criminals and rapists. However, if you have an extra 50 minutes with nothing to do it's instructional to watch the entire speech:
Donald Trump Presidential Announcement Full Speech 6/16/15 | Donald J. Trump For President
What is most striking about this speech to me is that it isn't really a speech at all. It's fairly obvious that Trump got on to stage without having a clear idea of what he was going to say, other than tossing out a good dose of Obama hate and a few red-meat, litmus-test shout outs. Watch it and see for yourself; he's totally making it up as he goes. He does a lot of that type of "I have a hundred great ideas, I can't think of them right now, but trust me they are awesome" handwaving that people who forgot they had to give a formal presentation to their boss do. The bit about the Mexican rapists and immigration was not chosen by the press because it was a cornerstone of Trump's talk. It was chosen because it was the single most sensational tidbit that came out of the near-hour-long, incoherent, stream-of-consciousness rant.
Or to be more succinct: Trump's campaign doesn't hang its hat on immigration because Trump wanted it to be thus; it does so because the press wanted it.
A more fascinating example of this phenomena is Trump's August 18 interview with Bill O'Reilly on the "anchor baby" issue.
In the interview, the Fox anchor asks Trump some fairly basic questions about the logistics and legality of deporting people who are already American citizens. My reading of Trump's responses is not that he is a passionate, anti-Mexican wingnut who is willing to spend his personal fortune to stick it to the "illegals." Rather, it is of someone who has not bothered to think about the topic at all — at all — until someone from the press asked him a painfully obvious question about it.
If you need more proof, pick a YouTube video of any presser or town hall gig the Donald has done as a POTUS candidate and watch it from start to finish. Pick any of them; it really doesn't matter which one. You'll see him hawk his books. You'll see him meander off in meaningless directions for extended periods of time, clearly having no idea what he's going to say next. You'll see him be flippantly dismissive of the various grassroots warriors that march for the Base, including the pro-life crowd. And yet bits of these speeches are invariably carved out, quoted, and presented as internal parts of an organized (and perhaps brilliant) political strategy.
Part of the problem, I think, is that all of us — the press and political junkies alike — continue to treat Trump as if he were any other candidate. This forces us to color in missing pieces that just don't exist with what we have naturally come to expect to be there. We read in the Post that Trump has said "X." Because we have been trained to think this way, we tell ourselves that Trump has sat down with experts and strategists and decided that "X" is a considered gamble to triangulate various horserace elements. We think this because this is what always happens.
But the more I watch him (as opposed to read quotes attributed to him), the more I think this is not the case with Trump. I think Trump did little if any advance thinking about which issues he would use to fuel his campaign. I think he gives little or no thought about what he would do were he to win. I think Trump has decided that his job is to seek out cameras and gibber, and that we have decided that our job is to translate this according to our own already-existing opinion of the man. Trump-mentum, in other words, isn't a reflection of Donald Trump. It's a reflection of the rest of us.
This is why I believe the only presidential candidate worthy of comparison to Trump is not Cain, Perot, Paul, or Saunders. It's Chauncey Gardner.
*  *  *
All of this is far more subversive and indeed revolutionary than appears at first blush. For one thing, if my reading of Trump's talks are correct (and I very much think they are) it suggests that the press is mimicking Trump's own reality television production companies: taking bits of recorded material and manufacturing from it a kind of pseudo-reality dimension, designed more to boost ratings than chronicle events. This may or may not be unwitting. Either way, I'm not sure that it matters. Intentional or not, it's indicative of a breaking or broken system.
More than the role of the press, however, is the way the Trump candidacy has exposed the GOP's own base.
After two decades of being conditioned by their own media to be the living embodiment of Cleek's Law, Trump's rise makes it hard to piece together exactly what the base now stands for other than being outraged. Prior to this summer, there were a handful of issues I would have said the base cared about to the point of border-line obsession. Abortion, taxes, cronyism, and the pushing of a Christianist agenda would certainly have topped that list. But Trump seems to turn all of those assumptions on their head, because at best he doesn't care about any of those things. His history suggests that he's actually on the opposite side of the fence on all of them. And I think this is one of those times when the well-worn calling card of the political hobbyist — "Well, I'm much more sophisticated in political matters than those rubes, so I see things about them they're too unlearned to understand" — falls woefully short. I don't have a sense that Trump has "tricked" the base into thinking he's a pro-life, born-again reformer. I think they see him exactly for who he is. And they love him. In fact, they seem to love him to a degree I've never seen the base love anyone running for President whose name did not rhyme with Shmeagan.
What Trump's candidacy has shown is that all that base really wants is someone to shout, act outraged, make fun of people who have more money/power/education than they have, and spout politically incorrect wisecracks about women and minorities on live television and Twitter.  The base doesn't want a conservative talk-radio shock jock approved candidate. They want a conservative talk-radio shock jock. Everything after that — values, character, policy positions, political agenda, whatever — it's all negotiable.
For years I've been worried that the far right had become dangerously ideological. Imagine my surprise to now learn that they're not remotely ideological at all. It's just turtles hating turtles, all the way down. That they continue to drive a major political party regardless is nothing short of astounding — and more than a little scary.
[Picture by Gage Skidmore, via Wikipedia]