My Irrevocable Break With the Democratic Party: Introduction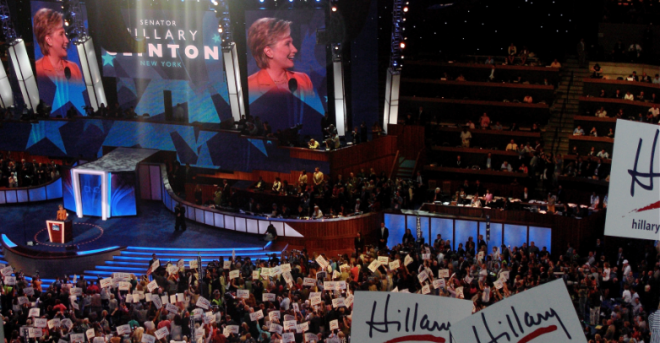 Yesterday, in a post that announced itself as a challenge to white men in general but which I kind of suspect was directed rather specifically at me, zic questioned to what degree those who may not be Clinton supporters have been brainwashed:
Please examine your own feelings and recognize if it comes, in part, from that quarter-century of anti-Hillary propaganda. Is it a conditioned response? Were you brainwashed, too? And no fair taking pot-shots at me for being a Clinton Sheeple if you haven't done the serious soul-searching first.
First and foremost, I should probably get this out of the way: zic is absolutely, positively, 100% correct when she notes that the Republican Media Machine has gone out of its way to vilify Clinton over the past several decades. Further, they have done so in a way that can only be described as embarrassingly over-the-top and reactionary.[1] Like zic, I find the idea that such an onslaught might leave no residual effect on the populace exceedingly far-fetched. (Though unlike zic I confess to wondering the degree to which the residual effects of said silly unhinged vitriol might go in both directions.)
Second, there is the unspoken but implied charge layered into zic's post: That I and others who agree with me make our decisions on who we might vote for in ways that depend heavily on irrational, emotional, and subconscious motivators, and that we do so even as we tell ourselves that we are basing our preferences on nothing but cold-stone logic and non-faulty reasoning. Here, too, zic is absolutely, positively, 100% correct. However, personally speaking I would humbly suggest that the tell-tale proof of this is not that I am a lousy Hillary Clinton fan so much as it is that I am human. That we all naively and incorrectly assume a purity of rationality to our decisions (while assuming a lack of rationality to those who disagree with us, by the way) is a pretty universal trait of our species, and one that's been well documented in a veritable slough of academic studies. To suggest that I alone am immune to such comprehensive hard-wiring requires a level of hubris that not even I, your Tod to whom you should put no other Tod above, can muster.
So, that being said, is it possible my dislike and distrust of Hillary Clinton — which is itself deeply attached to a dislike and distrust of not only the entire Clinton political machine, but the party leadership of the Democratic Party — is merely a symptom that I have been brainwashed by Rush Limbaugh?
Well, sure. I guess. My knee-jerk reaction is to say that I haven't been, but then that's exactly what I would have been brainwashed to think. So who knows?
All I can do, I think, is to both explore and communicate to you why it is that my heart has long left the Democratic Party, and why I cannot muster excitement or even trust for those (like either Clinton, as an example) that I see as pulling its behind-the-scenes levers. Indeed, the degree to which I can get excited about a Democratic candidate these days is directly related to the degree to which I believe that person did not come up under the thumb of the party apparatus. This is largely why I have embraced Obama's presidency, even as I have discarded Bill Clinton's; it's why I would have to hold my nose voting for Clinton in 2016 in a way I would not have to hold it voting for Elizabeth Warren.
The short answer for why this is so is that despite my agreeing with liberals and Democrats on 80-90% of their public policy positions, I have discovered that they and I have a very different set of values. This, it turns out, is very important.
The long answer is… well, it's a long answer.
I got an email from a fellow OT contributor last week, noting that my views here are often dismissed due to my being an obvious shill for the Democrats by conservatives and libertarians, and due to being an obvious shill for the libertarians and Republicans by liberals and Democrats. To the degree to which this is true, it is also clearly my own fault. After all, though I often state the point-of-view where I stand today, I rarely ever talk about how it is that I actually got here. And so I thought that I would change that over the next week or two, and explain why it is that I — someone who worked on the Jesse Jackson campaign in the 80s, grassrooted for Bill Clinton in the 90s, and was hired to work for several local and state Democratic candidates in my 20s — have split so irrevocably with the Democratic Party, and why I hate the idea of supporting those who I feel are the most emblematic of its corrupt leadership apparatus.
My guess — nay, my prediction — is that when I do, those looking to defend the party will dismiss my feelings as being… well, feelings. They will point out that my viewpoint lacks the unemotional and unflawed logic that got them to where they are today. I will tell you right now that, at least as far as my own views are concerned, they will be absolutely, positively, 100% correct when they do so. (That their own opinions are the result of unbiased reason is the sole area where I will remain dubious.)  Will my experience be anecdotal? Yup. Will I change a single mind here by sharing it? Doubt it. Still, zic has asked for me to be brutally honest with myself and nakedly open to the community in my internal explorations of why I sit where I do, and the more I think about it the more I think that she is giving me really, really good advice.
And so I figure, why the hell not? Who knows, y'all might actually change my mind.
We'll start tomorrow.
[1]True story: My very first memory of the right wing freaking out over Clinton was when she initially balked at the bizarre tradition of having potential First Ladies "compete" against one another by submitting their favorite cookie recipes to Family Circle magazine.
Not only was this "competition" cringe-worthy in its blatant sexism, it was exceedingly banal in its disingenuousness: No one ever really believed that Pat Nixon, Rosalynn Carter, Nancy Reagan, or Barbara Bush sat around the White House baking cookies for their husbands. It was collectively assumed by pretty much everyone that the potential First Ladies had staff members research cookie recipes and submit the one they found most un-exotic and easy-to-make on the Ladies' behalf. When Clinton responded that she was really more of an attorney than a baker, she was tarred and feathered by the Right as being anti-Moms for refusing to pretend that she loved nothing more than baking deserts for her husband — a charge that might be the most condescending and unintentionally ironic comment purporting to be supportive of the very group of people it slighted in the history of modern American politics.
By the way, it should be noted that making potential first ladies go through this Leave It To Beaver pantomime is something that continues to this day. And it is reported on as serious news by so-called serious, so-called liberally-biased media. That actually feels the need to do blind, "scientific" tastes tests and report their findings to the public. In a way that is absolutely, positively not an Onion article. Which might well be everything I hate about modern politics and modern media baked up into one single tollhouse cookie.