Donald Trump Laughs at Your Puny Human Horserace Coverage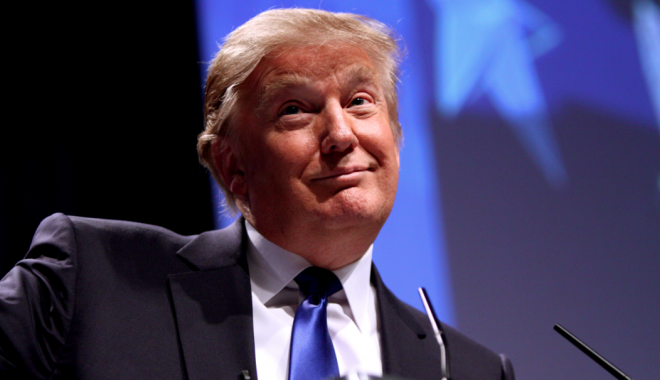 I suspect that everyone here is getting a little tired of talking about Trump, so I apologize for yet another Donald post. However, since absolutely nothing in this story is going according to the universal script that's transpired in every American presidential primary since the advent of television I just can't stop thinking about it.
As most everyone here likely knows by now, Trump's standing in the the latest poll hasn't suffered at all from his bloviated performances on and off stage last week. If anything, he's actually looking stronger now than he did a week prior when he was collecting commanding 20+% leads in swing states. The one possible caveat is that the poll, sponsored by NBC and Survey Monkey, was an online poll rather than a telephone poll. However, as Josh Marshall notes, this type of online poll has been used in the past two US elections and has been as accurate as (and indeed, produced results nearly identical to) the more traditional telephone polls. (Which means that as caveats go, this one might itself need a caveat.)
I would say that the poll results should terrify the RNC, but the truth is I think they should rightly terrify everyone.
Consider: Over the past week, Trump has doubled down on calling women fat pigs, has gone on television and said that the reason he got tough questions in the debate was that the female moderator was menstruating, happily copped to bribing politicians to circumvent the democratic process, spouted what might well be the craziest conspiracy theory I have ever heard made by a major party POTUS candidate (about the Mexican governments evil plot to take over America), had a key campaign advisor caught making a slew of decidedly non-dog-whistle racist slurs on his Facebook account, had his campaign officially announce that husbands having sex with their wives against their will wasn't rape because it was a benefit of being married, and had BuzzFeed break a story that his campaign payed Breitbert.com an undisclosed amount of money to write positive stories about him. His collective actions have put him quite publicly at odds not only with most to primary field and the RNC, but — and perhaps more significantly — Rupert Murdoch and Fox News GOP propaganda machine. And yet despite all of this (or because of it), Trump's popularity with the GOP base not only refuses to wane, it might actually be growing. A majority of those Republican voters who identified as supporters of Trump told the NBC pollsters that if Trump leaves the party to go it alone, they'll go with him.
Just as troubling for GOP moderates and the party establishment was the alarming discovery that their candidates are sinking fast right now. Bush, Walker, Christie, and Kasich all lost ground after Thursday night's debate, with Pataki, Rubio, Perry and Graham all standing pat — in single digits. Fiorina aside, the only candidates for whom the needle ticked up for were those known for running on what are seen by the mainstream public as extreme and noxious positions on social and international issues.
As many people will no doubt rightly point out, the election is still over a year away and there is plenty of time for the party to correct itself and produce a candidate with general-election appeal. That, after all, is the way the script goes — the way the script always goes — in POTUS primaries. Everyone who knows anything about politics knows that this is the way things work.
The thing is, though, we're already in some pretty uncharted territory. Everyone who knows anything about politics knew when his advisors got caught calling black people "n**ger" and defending spousal rape that Trump was sunk; everyone who knows anything about politics knew knew when Fox News openly decided to take him down a notch and sink his momentum that Trump was sunk; everyone who knows anything about politics knew when he pulled of his Kaufman-esque debate performance that Trump was sunk; everyone who knows anything about politics knew when he went on live television and dismissed a female Fox News anchor for being on her period that Trump was sunk; everyone who knows anything about politics knew that when the breaking news of a pay-for-play scandal with a well-known right-wing news organ hit the press that Trump was sunk. Everyone who knows anything about politics knew that this was the case, because the way national politics work is that any single one of these things sinks candidacies, kills them in the polls, and forces withdrawals.
Except that now, apparently, they don't.
And so here we are.
At what point do we stop trying force this story into "politics as usual/we've all seen this before" narrative? At what point do we say that because the election is a year away that all of this means nothing? At what point do we begin to question out loud if the Republican Party isn't just overly extreme and radicalized, but fundamentally and permanently broken?
I will admit, the answer to all of those questions is very likely still "Not Yet." But I'm starting to think that this particle "Not Yet" is a hell of a lot closer to "Now" than everyone is pretending.
[Picture via wiki commons]