A Possible GOP Voter Rates the Debate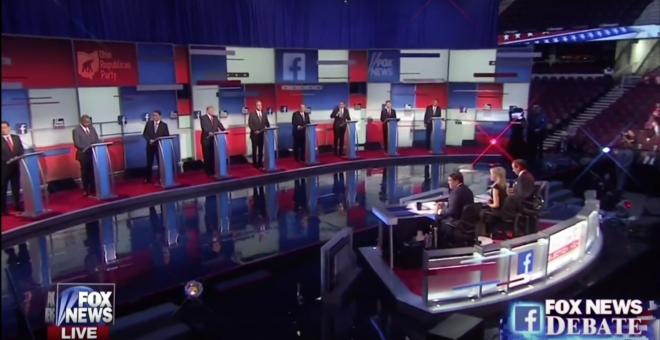 Tonight the GOP held two debates with seventeen candidates, each of whom was looking for the personal approval of Tod Kelly.
That's a pretty massive exaggeration, obviously. I'm pretty sure not one of them knows who I am. In fact, I'm pretty sure if my name had come up at the debate they would have assumed I was the guy bringing them bottled water. Still, whether they know me or not I'm the kind of guy they have to convince to vote for them if they want to catch even a whiff of that new Oval Office smell. I'm centrist, and I have a history of voting for Elephantine presidential and gubernatorial candidates. I'm someone who doesn't trust Clinton and is looking for an excuse not to have to vote her. Bonus: I'm even a white male! And yet despite all of that, I am part of that 70-ish% of the country that the Republican Party has delighted in denigrating as an Anti-American, pro-terrorist, real racist who is secretly working to destroy Lady Liberty from the inside over the past decade. And if the candidate who walks away from this fray with the nomination can't get me to consider them, good frigging luck getting any real moving of the needle with women, Latinos, or blacks.
With that in mind I thought I would break the field into winners and losers of last night's debate, in terms of my willingness to take them more or less seriously after their introductory performance than I planned on prior. Subjective? Absolutely. Relevant? I actually think so, for the reasons noted above.
And with that in mind, let's begin:
Winner: Marco Rubio
Rubio was the only person I watched and thought to myself, "You know, I might vote for him if he gets the nod." He was presidential, respectful, strong, and immensely likable. He seemed willing to push toward the center, and find non-flame thrower ways to disagree with his fellow party members who want to drag the GOP further to the right. It's easy to see him having some heavy cross-over appeal.
Losers: Jeb Bush & Scott Walker
For months I have been hearing that one of these two is the obvious choice for a potentially winning ticket. If last night was any indication, that analysis is very, very wrong. Each looked weak, tepid, and out of their league. Jeb seemed confused at times, while Walker sometimes looked like he wish he'd stayed home. Clinton would eat either one of these guys alive for lunch.
Winner: Carly Fiorina
She has zero chance of getting the nod, obviously, but Fiorina was the only person at the earlier debate that looked like she belonged at the Big Kids Table. She was also the only person all day who answered each question directly, choosing to think on her feet rather than spit out some pre-memorized response which may of may not have been loosely related to the question asked. Even if she can't win the nomination, I think whoever the Party might choose would be better off having gone through the process of facing her, so I hope she gets bumped up for the next debate.
Winner: Fox News Moderators
Yeah, sure, they put out the two people that even non-Foxies will reluctantly agree are decent anchors for the main event. And yeah, they probably did the GOP no favors in their minority outreach plans by constantly referring to undocumented workers as "illegals." Still, the moderators in both debates actually asked tough questions — often times so tough as to surely be embarrassing to the candidates. (My personal favorite: When they asked Bobby Jindal, if voters in his home state of Louisiana thought he was such a turd, why on Earth he thought the rest of America would feel any differently?) And they often pointed out when candidates didn't bother addressing their questions, which — say what you will about Fox — is something I can't ever remember a George Stephanopoulos or Wolf Blitzer do.
Loser: Fox News
Here was the single moment of the debate I found most interesting: When Chris Wallace asked Donald Trump, long time Democrat, how long he'd actually been a Republican. Trump ducked the question of course, but I won't.
Donald Trump has been a Republican since Fox news re-created him as one to boost their ratings.
Make no mistake: Donald Trump the Publicity Seeking Blowhard is a creation of Donald Trump. But Donald Trump the People's Conservative is a creation of Fox News Media. They're the ones that gave him a regular microphone on shows like Hannity and Fox & Friends, selling his over-the-top bullshit rantings as the kind of honest, straight-shooting talk that real conservatives should embrace. I don't even think they even bothered listening to what it was he was saying half the time. I just think they knew he ticked up the viewership whenever they put him on air. And now they look like they're terrified of what his candidacy might do to the GOP.
That's why, in terms of the Media Machine, he's the literal bottom of the barrel: Donald Trump, as it turns out, is the literal point on the graph where Fox News says to itself, "Good Lord, what have we done?"
Losers: All the other candidates
No one else did anything to move the needle for me. They were either too one-issue (Paul, Graham), hanging their hat too far on the demonization peg to sell themselves as a viable general election candidate (Cruz, Christie), so far outside of mainstream on social issues as to make me wonder why they were even bothering (Huckabee, Carson), dumber than a sack of hammers (Jindal), making a pitch they are really a Kaufman-esque performance artist (Trump), or mind-killingly dull (everyone else — speaking of which, someone in the Kasich campaign needs to tell him that bringing up that time you helped pass a budget in 1997 as a response to almost every single freaking question doesn't make you look fiscally responsible nearly as much as it does someone who's standing on a weak resume).
Loser: Republicans in the audience
More than the candidates or Fair & Balanced Folk, it was those in the mains stage audience that reminded my why my level of disdain for the GOP has grown so over the past decade. It's hard to pick out a single moment that best exemplifies this.
Was it the way they cheered Donald Trump every time he said America was a s**ty, s**ty country?
Was it the way they cheered Trump when, asked by Chris Wallace if he had any proof to the outlandish claim that the very existence of illegal immigrants was the result of a mastermind conspiracy hatched by the Mexican government to destroy America, and he basically respond, "F.U. Chris Wallace?"
Was it the way the cheered Donald Trump when he doubled down on being degrading to women in public by being degrading to women right there on stage?
Was it when they cheered Ted Cruz's reframing of what Jindal said earlier, that they way to defeat ISIS was through better soundbites?
Was it the not-so-thinly veiled suggestion by Cruz that the way to settle things in the middle east was to kill all the Muslims that didn't love America?
Was it the way they cheered the belittling of transgendered soldiers and veterans who risk their lives for them?
Actually, it wasn't any of those moments. It was this one: When Donald Trump bragged that he's so rich he bribes politicians to do what he wants, and how awesome it is to be able be rich enough to do that, and they cheered that.
Winner: Hilary Clinton
She's a candidate who isn't particularly likeable to non-partisans, who doesn't really inspire trust, and seems to be hard-wired to be the opposite of her husband in her ability radiate condescension rather than pain-feeling. As a Democratic friend of mine recently lamented, she somehow manages to combine the charm of Ted Cruz and the ethics of Richard Nixon with the down-home, common-people folksiness of Mitt Romney.
But you know what? Based on what I saw last night, I don't see anybody beating her.
[Picture: YouTube screenshot]