And so it begins…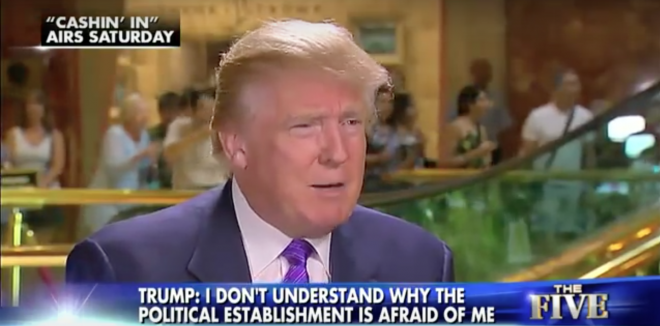 First off, a bit of back-to-Earth cold water for those of you who are driven by schadenfreude: Donald Trump notwithstanding, it's pretty doubtful this year's GOP primary debates are going to match the super-space awesome circus-like majesty of 2011.
What happened in 2011 was a politcal junkie's wet dream, and will unlikely happen again. Everyone kind of knew Romney was going to get the nod before the whole thing even started, and so the field, base, and news media conspired to throw one unqualified candidate atop the polls after another and then waited gleefully to see them go down in flames weeks later. I do not believe that the right wing's media machine has learned much in the past four years, but I strongly suspect that most of the people taking the stage(s) tonight have.
I think it's unlikely anyone is going to wet themselves like Pawlenty, or show up seeming as drunk (or, if their campaign is to be believed, drugged by doctors) as Perry did. I do not foresee another reference in-between debates to the good citizens of Ebeck-becki-becki-stan. I will be shocked if any of the white male candidates are dim enough to decide the way to victory in 2016 is to get in front of an auditorium of white people on live television and tell those white people what the problem with black people is. Ron Paul has been replaced by Ron Paul Lite, and the odds of any unveiling of racist and anti-Semitic newsletters published by Rand feels a little far-fetched. Indeed, the only real wild card this time around seems to be The Donald, and his presence likely ensures one of two outcomes: He suddenly and disappointingly acts like a normal, measured, and mature human being, thus making most people lose interest in the entire primary — or — he acts so much like Donald Trump that everyone else around him looks like a bland and flavorless slice of American cheese by comparison.
Instead of 2011's carnival side-show, I think tonight we might have something that's even more interesting and that's definitely more needed: an serious, open, and reasoned debate. And not just on litmus tests issues, but on the future and the very soul of the Republican Party itself.
Tonight is the first real glimpse to see which lesson the GOP really learned from 2012. Will it be the lesson that they need to be less alienating to the middle, or the lesson that they need to go further right and be even more alienating to the middle?
As everyone here knows, I've been on the record for a long time saying they don't turn figure it out and their ship around till 2020. (Trump's soaring favorables among the base certainly seem proof that I was right about this.) But they could actually turn it around tonight. (In fact, I think there's an argument to be made that Trump helps that faction of the party that wants to turn it around do so.) A Republican Party that's actively looking to reach across the aisle and create policy more friendly to women, minorities, and centrists in order to build a winning coalition might actually begin tonight. And if that's the case, Democrats better start hoping Hilary can learn how to be likable to those who were going to vote Demorcrat-regardless-of-candidate ASAP.
How can you not want to tune in and see that?
Or, alternatively, it could be that I'm waaaaay off base, and that this year's field will challenge 2011's brood for Wackiest & Most Self-Destrucive Primary Clown Car Cavalcade ever.
And how can you not want to tune in and see that?
That's what we in the biz call a win-win. Even better, there are two debates happening: the Main Stage Prize Fight at 9:00 EST, and the Kid's Table Debate at 5:00 EST.
It's just hours away. Grab your popcorn.
Popcorn Update: It should probably also be noted that after the debate, you can tune in for the last ever Daily Show with John Stewart.