Being judged by the company we keep…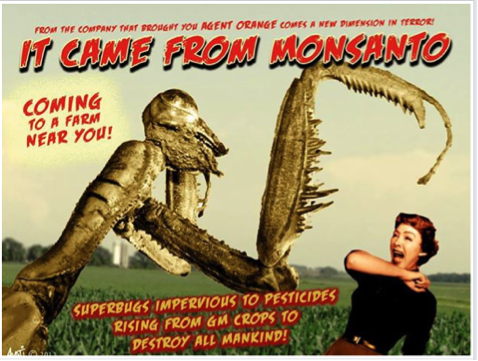 A little over ten years ago, my interest in constitutional law intersected with the evolution vs. intelligent design case in Dover, PA, a predictable yet catastrophic defeat for intelligent design proponents. I recall my knowledge of the legal aspects of the "controversy" were quite good and my general understanding of evolutionary theory at the reasonable "layperson" level. My opponents knew little of the legal issues and knew how to make themselves sound informed by focusing on the kinds of finer points known only by those that dug into the details of the so-called controversy. My opponents would use that tactic to try to create enough doubt in evolutionary theory in order for us to consider another possibility.
Reading Robert Greer's latest post reminds me of those days long past. My layperson's understanding of the GMO debate, at least from the perspective of the opposition, is that 1) it's not essential – other technologies are available; 2) it modern GE has failed to live up to its promises, 3) increased use in chemicals due to weed and insect resistance suggest a long-term increase in the use of such chemicals, 4) despite a general consensus among scientists that GMO foods pose no safety risk to people, the long-term effects on human health are still unknown, 5) the involvement of Big Ag, Big Food and and other business interests seeking profits at the expense of people, 6) distrust – the role food scientists, government and health experts have had in promoting food marketed by big business.
Points (5) and (6) are real, but they have little to do with the genetic engineering as a process so I'll set those aside. What we're left with are four points used by GMO skeptics to FUD us (fear, uncertainty and doubt). Despite few, if any, concrete reasons, like emerging and verifiable reports of health-related issues due to GM foods, the skeptics insist that something may be wrong so we should question. For whatever reason, this position has generated some following.
Even from this layperson's perspective and not having remotely enough knowledge do dive into the details of Robert's claims, it's clear that it's all FUD no substance.  However, Robert's decision to use the Will Saletan's article as the basis of his post piques my attention the most, if only because I've seen this tactic before.
The teaser for Robert's post is "What Will Saletan gets wrong about GMOs" despite the fact that Saletan's article is CLEARLY  about the ugly side of the anti-GMO movement: those that go beyond opposition based on fear, uncertainty and doubt and into an ideologically-driven win-at-all-costs mindset. Saletan explains:
But the deeper you dig, the more fraud you find in the case against GMOs. It's full of errors, fallacies, misconceptions, misrepresentations, and lies. The people who tell you that Monsanto is hiding the truth are themselves hiding evidence that their own allegations about GMOs are false. They're counting on you to feel overwhelmed by the science and to accept, as a gut presumption, their message of distrust
When one side of the debate has to resort to fraud, lying, hypocrisy, double standards and worse in order to win converts over to their cause, it's going to give me cause for concern. In Robert's case particularly, this is a challenge, as it is not clear to me whether or not he is truly the good-faith skeptic he tries to pass himself off to be or an ideologue. Compare this passage from the Saletan article:
For 16 years they've ignored every fact or finding that doesn't fit their story. Their enmity is unappeasable; their alarmism is unfalsifiable. Take the question of allergies. In 2006, scientists found no allergens among the proteins in Golden Rice. The critics refused to accept this finding. They demanded additional tests. They said climate change could undermine the rice's "genetic stability." They claimed that unforeseen environmental interactions could cause unintended changes in the rice after several generations, and therefore, regulators should indefinitely delay its approval…

..There's no end to the arguments and demands of anti-GMO watchdogs. They want more studies—"systematic trials with different cooking processes"—to see how much vitamin A the rice delivers. They want studies to assess how much beta carotene the rice loses when stored at various temperatures. If the rice delivers enough vitamin A, they say that's a problem, too, because people won't feel the need to eat other plants and will consequently develop other kinds of malnutrition. They claim that criminals will counterfeit the rice, using yellow spices or naturally yellow grains, so people will think they're getting vitamin A when they aren't.
To one of Robert's comments:
If studies end up showing that Golden Rice actually alleviates the ultimate problems it was intended to fix, it might still be that it's problematic for other reasons we didn't even think to explore.
As I was writing this post, I watched a debate about genetically modified foods, and the GMO skeptics were asked what it take for them to have their concerns alleviated support GM foods, and both individuals made good faith attempts to answer the question. Robert's answer smacks of anti-science, anti-intellectualism and dogmatic ideology. If studies end up showing that Golden Rice is the boon scientists believe it to be, the jury is no longer out and Robert's concerns have been alleviated. However, Robert can't bring himself to leave it at that.  While he himself is not moving the goal posts, he gives himself an opportunity to do so, something that the anti-GMO activists have a strong track record of doing not only with Golden Rice.  Such a position is not worthy of our respect or support. He talks like a good faith skeptic but implies that he would have no qualms using troglodyte tactics if need be. To hell with science.
If this isn't enough, Robert claims that a "key component of his argument is that Golden Rice has not been welcomed by anti-GMO crowd with open arms." In the real estate business, we call this putting lipstick on a pig, and it's going to take a lot of lipstick to dress up that pig of a statement. The correct interpretation of the Saletan article is the way in which the anti-GMO movement chose not to welcome Golden Rice "with open arms" perfectly represents everything that's wrong with the anti-GMO movement. I don't know if I agree with Saletan's sentiment if only because his meticulous documentation of the abhorrent manner in which anti-GMO activists attempted (and failed) to thwart the use of genetic engineering to save the Hawaiian papaya, which it successfully did.  Both of those case studies expose the anti-GMO movement for the ugly spectacle that it is. At this point, all I can do is re-direct readers back to the article or to the previous Saletan quote above.
Ok, so Saletan "fails to mention is that the science is still out on whether golden rice is actually the boon it's claimed to be". This is a distraction. So what?  Does that change the fact that the anti-GMO movement has for years engaged in everything between morally questionable tactics to outright criminal activity to pseudo science and anti-science support its ideological cause? No. Does that fact that there is an alleged "debate" over the merits of Golden Rice mean that we should accept that the anti-GMO movement has had good reason to do what it's done? No, especially in light of the other case studies mentioned in the Saletan article, an article that makes the true nature of the anti-GMO perfectly clear. Like the creationists with neither science nor facts on its side yet still choose to pursue an ideological agenda to the detriment of us all, the anti-GMO movement, as it is currently constituted, is comprised of morally reprehensible individuals that deserve neither support nor trust nor respect.
As we are judged by the company we keep, I have no respect for GMO skeptics that either support or refuse to condemn the worst elements of the anti-GMO movement. They are no friends of ours, and they should be treated accordingly.
Photo Source: Here