Harry Potter, the Wizard of Earthsea, and the Difference Between American and British Wizards
This past week while doing some book sorting, I came across two books that by random accident were sitting side-by-side on one of my shelves. One was J.K. Rowling's Harry Potter & the Goblet of Fire, the other Ursula Le Guin's A Wizard of Earthsea. Which, when you think about it, is somewhat fitting. Both books tell the story of a young boy — the eponymous Potter, and Ged/Sparrowhawk, respectively — each of which whom grows up to become a wizard. Each boy begins from the lowliest of beginnings to become the greatest hero of his age. Each has a powerful, elderly mentor that acts as a spirit guide as well as an instructor. Each wears facial scarring that mark early-life incidents with magical evils.
Despite all of their similarities (and despite the fact that I truly love each series of books), the truth is I can only like the hero Harry Potter even as I love the hero Ged. The reason for this is nothing more than the accident of birth that made me American. Harry Potter, you see, is designed in the mold of the classic British hero, while Ged is his American counterpart. And that, for me, makes all the difference in the word.
In British lore, the classic hero is always identified by having the right bloodline. (This bloodline doesn't always have to do with aristocracy, though it often does). Britain is a country historically weened on the concept of peerage meaning everything, and that viewpoint has bled deeply into its culture. This is why in so many rags-to-riches stories in British folklore those who ascend do so because they are lost scions whose identity had been previously disguised — sometimes even to the heroes themselves. In the quintessential British story, a character's… well, character leans heavily on his or her peerage. The sword gave for Arthur not because he was a great man or had accomplished great or even good deeds. It released itself to him because he carried his father's bloodline. This is why, as a hero, Harry Potter is so very British. In Rowling's story, his destiny comes to him directly because of his peerage, as does most everything else. Why is Harry such a brave, principled, and noble person? Because his parents, who didn't raise him and were people he never really knew, were themselves brave, principled, and noble. This is true for just about everyone else in the Harry Potter universe. Whatever a child does in the books, it is almost always a reflection of their bloodline — even when that bloodline is villainous. Voldemort may have been raised an orphan, but it is less the orphanage than the Riddle-Guant family tree that Rowling looks to to explain his eventual dark nature.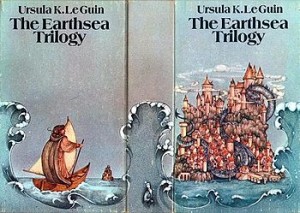 Le Guin's Ged, on the other hand, is a fairly prototypical American hero. Born of lowly means, his heroism is largely painted as a reflection of Ged's individual self and not his peerage. Like Harry, Ged's parents died when he was a mere baby. But unlike Rowling, Le Guin doesn't have the story (or Ged's nature) hang on a parental plot reveal. Indeed, neither Ged nor the reader ever learn much of anything about his parents; their sole function in the story is to act as a kind of marker of humble birth which accentuates the individual growth and achievements of Ged. While Harry's bloodline makes him an inherently good, kind, generous, and decent person from page one (despite his cruel upbringing and lack of even a single positive role model), Ged begins Earthsea without those qualities. Where Harry arrives at being a good person via an accident of birth, Ged must achieve these qualities through trials of fire. While Harry is a literary testament to the English proverb "blood will out," Ged is the image of America's quintessential hero-myth: the self-made man.
Of course, none of this means that Ged is a better hero than Harry, or that the Earthsea Trilogy is a better set of books, or that Le Guin is a better writer than Rowling. It simply means that, being an American, I find that Ged's claim to Hero feels quite natural, while Harry's has always made me uncomfortable.  This is true of my reaction to much of British literature, in fact, including Lord of the Rings. And as I've noted here before, I especially have problems with Jane Austen's books for this very reason. The thought that I'm supposed to cheer for the female protagonist because she has succeeded in winning the affections of the bachelor with the best bloodline in town is one that makes me bristle rather intensely. Fans of Austen tell me that I have to look past that, and see that for the time they were written the books are quite progressive. And I do get that, of course.Still, if I'm being honest I find Austen-lovers rely pretty heavily on the have-your-cake-and-eat-it-too reasoning that people who tell me Soul Man is hilarious do.[1]
Now, of course, I wonder: does this national sensibility go in both directions? Somewhere in London right now, is there some man or woman reading the Earthsea trilogy saying to themselves, "Sure, that Ged seems a nice enough wizard, but come on. How does Le Guin expect us to root for someone that lacks the proper breeding to be worthy of our admiration?" Or is this a unilateral and strictly American thing?
[1] If you have never seen the 1986 screwball comedy Soul Man, allow me to kindly suggest that you keep it that way. If you are among the lucky set that have never seen it, Soul Man is one of those works that allows white liberal audiences to pat themselves on the back and nod along to the message of how totally non-racist white liberal audiences are while they sit and watch a movie that doesn't seem to understand how embarrassingly racist it is.
In the movie, C. Thomas Howell plays a spoiled rich kid who gets into Harvard, but whose spoiled rich Beverly Hills parents tell him they won't pay for tuition. To pay for Harvard, Howell's character — who is white — dyes his skin black and a week later wins one of those full-ride scholarships they only give to African Americans. All of the subsequent humor is played off of the stereotypes that white people stereotypically have about black people, but it does so in a way that reinforces those same stereotypes. For example, when he arrives at Harvard and everyone thinks he's black, no one understands why Howell isn't naturally good at basketball. (Get it? He isn't naturally good at basketball because he's not really black!) Girls he sleeps with don't understand why his penis isn't massively big. (Get it? He isn't well-endowed because he's not really black!) The one actual African American girl he meets — who was slated to win the scholarship he did before he stepped in last minute — can't understand how he was so smart to win the scholarship so effortlessly. (Get it? He's actually really smart because he's not really black!)
I find the entire movie pretty gross.
[Pictures: Harry Potter posters, via Wikipedia. Earthsea book covers, also via Wikipedia.]