Pancakes with a Side of F*** Off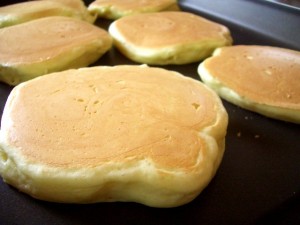 There's something I'm not getting.
I came across what is emphatically not an earth-shaking news story. In fact, I'm not entirely sure why it's a news story at all, except that we all like to weigh in on the ethics of other people's actions. Not that I'm judging – I'm down with that. In fact, I will proceed to do it.
Here are the basic facts on which both parties to the dispute agree:
It was a weekend morning in a crowded diner in Portland, ME. A couple visiting from New York ordered their toddler some pancakes. The toddler, to one degree or another, was fussing or tantrumming. The pancakes came and the parents put them out of the child's reach while they fed her pieces. The child was not calmed by the arrival of her carbohydratic bounty, and continued emitting irritating noises. The frustrated owner of the restaurant screamed at the toddler.
The parents eventually posted negative comments on the restaurant's Facebook page. This sent the owner into a ranting response infested with F-bombs, in which she threatened that she would have been A-OK had the confrontation leapt into violence.
Here is the original post by the mom and the response in the Marcy's diner controversy: pic.twitter.com/wWEPUqbIDs

— TVTEDDY (@TVTEDDY) July 20, 2015
Worst case scenario: let us say the child was being truly awful. Were it one of my children, I would not have waited a half an hour for a table in the first place, and then 40 minutes for pancakes. I would have left. I would have left if my child were being exceptionally whiny/loud. These parents didn't. They said it was raining. Too bad; they should have left.
HOWEVER. On what planet is it okay for someone to react to an instance of parental bad judgment by screaming at somebody else's toddler (as opposed to asking the parents to leave)? Not screaming at the parents (bad enough, I think), but a child under two years old? I have, on occasion, screamed at one of my own when they were toddlers. It's an exercise in intimidation, and I feel horrible about it to this day. You win because you are big and scary. I saw the owner of the restaurant interviewed on television. She said she had perhaps shown poor judgment, but she can't regret what she did because she shut the kid up. Well, yes. By frightening the bejesus out of her, most likely.
And then the owner's rant is disproportionate retribution for the parental crimes, to put it mildly. She begins (as she did in the TV interview I saw) by criticizing the parents for ordering their kid three big pancakes, which is too much for a small child. Huh? Maybe one of them was planning to eat the rest. Maybe they wanted to take out leftovers. What difference could that possibly make? I think it's supposed to illustrate the poor judgment of the parents, but it actually shows the owner's willingness to bloviate. Then she lights into the parents viciously ("rotten child," "stupid husband,") and ends on a threat. A retroactive threat, but still.
If you actually think that fussing, or full-blown tantrumming, by a less-than-2-year-old signifies rottenness of said child, you have a serious empathy deficit and/or have spent zero time around children.
My confusion: when I have seen this news story, and looked at the comments of news stories, I find that most people are angry at the mother. Many are applauding the owner. Others are saying, yeah, the owner was over the top, but jeez, that mother. Apparently business at the diner has increased. I find this flummoxing. As happened to this writer, one time a stranger screamed out her car window at my kid (who was 3 or 4 at the time) for running on a sidewalk (suburban side street, no other pedestrians present). My kid was absolutely terrified and literally dropped into our driveway and tried to crawl under our car.
Am I missing something? Is the owner's actions in screaming at the child, or in posting that rant on Facebook, remotely warranted by some insensitivity on the parents' part?