A Mountain of White Privilege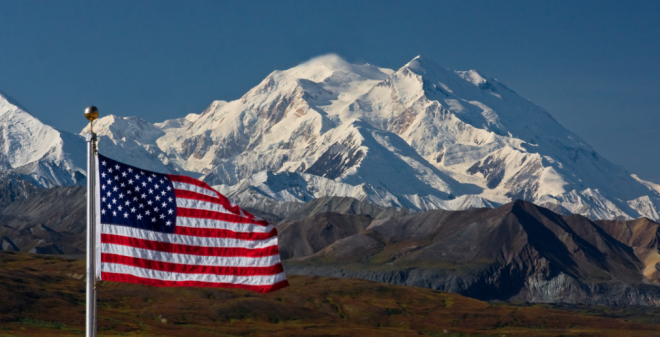 Last week I got an email from reader Emma who had read my description of Portland, Oregon's battle to rename a not-very-popular street to Martin Luther King, Jr. Blvd.[1] Emma wanted to know what I thought of the ongoing attempts to rename Alaska's Mt. McKinley. I confess that I had never heard of the Mt. McKinley controversy prior to getting the email, so I had to do some poking around the intertubes. As you may have already guessed, the controversy surrounds a movement to scrap the current name in favor of the Native American name that preceded it. What you may not have already guessed, however, is… well, is literally everything else that makes up the story.
The more I learned about it, in fact, the more fascinated I became; everything I thought I was going to discover ended up being the exact opposite of what had I expected. Indeed, the entire decades-long ordeal might well be the starkest example of cartographic white privilege I have ever come across — which for someone living in the United States is saying something. And if you haven't really ever heard of the controversy before and you're white, my guess is that it will be the same for you.
So I decided to write about it.
For those of you who know or care little for topography, Mt. McKinley isn't just any mountain. Located in the southern third of Alaska, it is the highest peak in North America, utterly dwarfing the enormous mountains that surround it. (Only Nepal's Everest and Argentina's Aconcagua peaks are more prominent.) For centuries, the local Koyukon tribe referred to it as Denali (or sometimes Dinale). Not surprisingly, once English-speaking white people moved into the neighborhood they decided that a mountain so majestic deserved a more English-sounding name. Thus it was named Densmore Mountain by the US Board of Geographic Names, after a 19th-century prospector who had become something of a well-known fan of the peak's beauty.
According to German-American climbing enthusiast and historian Fred Beckey, the decision to rename Densmore Mountain to Mt. McKinley had everything to do with the gold-standard vs. silver-standard political battle of the late 1890s. Though it seems archaically quaint from our 21st century point of view, the gold vs. silver battle was, at the time, something akin to the love child of abortion, same-sex marriage, and immigration reform to the people of that era in terms of the passion, fury, and vitriol it engendered. In 1897 an Alaska-based gold miner named William Dickey penned an opinion piece for the New York Sun, saying that the federal government should rename Densmore to Mt. McKinley, after sitting US President and gold-standard champion William McKinley.
Dickey's argument had everything to do with the gold v. silver political battle. At the time William Jennings Bryan, an opponent of both McKinley and the gold standard, was making real inroads with public opinion on the pro-silver stance. Dickey believed that the PR of naming the highest peak in the country after McKinley would add a certain amount of gravitas to the President in the eyes of the public. After the Sun ran the editorial, renaming the mountain became something of a rallying cry for the Team Gold set for the next two decades. And thus in 1917 did Woodrow Wilson sign into law the Act to Establish the Mount McKinley National Park in the Territory of Alaska, which instructed the US Board of Geographic Names to change Densmore Mountain to Mt. McKinley on all current and future maps. And just so there's no misunderstanding, please be aware that the renaming had everything to do with the gold v. silver kerfuffle and nothing else. McKinley not only never set foot on the mountain, he never once set foot in the state of Alaska; he appears to have had no real policy or personal interest in the Alaska, mountains, cartography, or America's wilderness.
This is important, as you will see, because one of the interesting things about the Mt. McKinley history is that it flies directly in the face of arguments made by the pro-McKinley camp: that a mountain's official name cannot be changed for purely political reasons, and that the mountain should retain it's  original American name because of the importance of tradition.
When I was poking around the itnertubes on the subject, I found a lot of people bemoaning the PC culture that was allowing non-Alaskans to come in and force Alaskans to rename their mountains in order to appease a bunch of lower-48ers. This widely held assumption, it turns out, is entirely — nay, almost perfectly — wrong.
For whatever reason, even though Washington, DC officially renamed the mountain, most native Alaskans — Native American and otherwise — never stopped calling it Denali. For a variety of reasons (tradition, relative remoteness, aesthetic choice) the name McKinley just never stuck with the locals. Sometime around the late 1960s, as native American pride and civil rights movements were gaining traction, Alaskans took up the cause to rename Mt. McKinley back to Denali. The process for renaming  mountain in the United States, it turns out, is actually something you can do if you're willing and able to go through all of the steps necessary. Alaskans did, in fact, proceed with these steps, and by 1975 they succeed in completing all of them.
In the Spring of 1975 the Alaskan legislature voted to instruct the Alaska Board of Geographic Names to change all current and future maps from Mt. McKinley to Mt. Denali, and further instructed then-Governor Jay Hammond to make a formal request to the US Board to change it at the federal (and more official) level as well. And that should have been that. Except that, as it turns out, it wasn't.
According to rules established earlier, it turned out that the US Board is supposed to change names after the steps Alaskans had taken have been completed — except when there was a bill in Congress that was already dealing with such a name change. And so Congressman Ralph Regula, then-US Representative from Ohio (McKinley's birthplace) introduced legislation  that mentioned the name change and then refused to bring it to vote, thus forcing the US Board to refuse the request from Governor Hammond. Regula would go on the re-introcude that bill's language every single Congressional session from 1975 until his retirement in 2009 for the sole purpose of thwarting the Alaskans. Since his retirement, his 1975 language continues to be re-introduced at the begining of each legislative session by other Congresscritters, specifically to use the Board's rules of order from accepting Alaska's request for a name change. Thus does McKinley share the dubious distinction of being the American mountain that has one official name in the one US state in which it's located and another official name in all the other 49.
As I said up top, if there is a more blatant example of cartographic white privilege in the United States, I haven't seen it.
With Mt. McKinley, we have on the one hand a mountain that was renamed from one white person to another on a political whim, almost entirely by people who did not live by, had never visited, and had no real interest in said mountain or its surrounding area. On the other hand, we have a mountain whose state has spent over 50 years following all the pre-stated rules to get the name changed from a white person to a Native American name, and it still can't be done. And before you point the finger at Ohio for being the sole spoiler, know that Alaskan representative have over the years repeatedly tried to pass legislation that allows them to get around the rule that continues to thwart them. Each time they have done so, legislators from the lower 48 collectively tell them to go pound sand. (The most recent attempt was just this past February, by AK Senators Lisa Murkowski and Dan Sullivan.) Worse, the pro-Denali movement is largely painted by white people all over the country as the rantings of a few miscreant PC killjoys subverting both the will of Alaskans and Democracy in general — despite the fact that there is not one part of that narrative that stands up to even the slightest scrutiny.
For what it's worth, I get that it might by nice for someone who lives in Ohio to have a mountain in another state named after one of its native sons. If the people in West Virginia decided to rename one of the Appalachians within their borders Tom McCall Peak or Mt. A.C. Green, I'd be tickled. But I'd never force them to do so. It's their state, and it's their damn choice; that it might amuse me means diddley squat. And the thing is, I think we would all agree about that.
But when that Native American shoe is suddenly on the white foot? Suddenly all reason goes out the window, because of "tradition," or "heritage," or "history," or some other word we use to avoid saying the obvious:
In America, we rename Native things after white people. We don't do it the the other way around.
[1] Because that story is very germane to the topic but buried in the original post I mentioned it in, I'll provide a quick recap here for those that missed it the first time:
Throughout most of the 1980s there was a push in Portland, mostly by the black community, to rename a major street after MLK. To provide some historical context, this was also in the era where Portland police were — this is true — leaving dead opossums on the door steps of successful black-owned small businesses to send a message. (Presumably the message was to stop being successful black-owned businesses.) After they were caught, two of the seven officers involved were initially fired, but then — this is also true — were rehired by the police union their previous salaries after many Portlanders protested their termination in a "Cops Have Rights Too" rally.  The other five officers — once again, all true — never faced any sanctions at all because, hey, they were just some good-at-heart white boys out blowing off steam and having some good old fashioned fun on the job — and where's the harm in that?
Anywho, after a decade of trying, minority advocates eventually succeeded in getting the city council to rename Union Blvd, a battered eyesore of a road that was known for going through the shoddier parts of town. This resulted in a huge backlash, as people who previously didn't seem to care a tinker's cuss for Union Blvd. suddenly decided it was the cornerstone of our Precious Rose City Heritage. Because tradition. And then after a while of that, this same group of people decided that what the city really needed to do was change the name of Union Blvd to Ronald Reagan Blvd., because tradition is apparently a fickle mistress.
To this day, a quarter of a century later, on our  local talk radio stations you can still occasionally hear people grouse about the totalitarians that sullied our city's good name by both the changing Union to MLK and the later changing of 39th Street to Caesar Chavez Blvd., though the dozens of other name changes that have occurred since are either pretty much ignored or celebrated. But this does not, as these callers themselves will point out, have anything to do with race. Because that would be wrong.
[Picture of Mt. McKinley via Wiki Commons. Picture of William McKinley via Wikipedia. Picture of Koyukon family also via Wikipedia. Picture of McKinley gold-standard campaign poster via Wikipedia as well.]