"A Tsunami of Instrumental Rationality": Henry Giroux Interview Pt. 2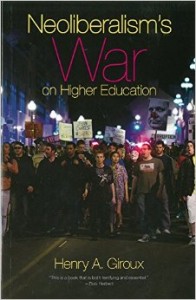 This is part two of a three part interview with pedagogical theorist, activist, and teacher Henry Giroux focusing on his book The Neoliberal War on Higher Education. [Part One is here] When we left off, we were discussing how to create the case that academia is not in a crisis of funding, but of governance.
Rufus: And this brings up what might be a strange question but, if we separate out right wingers and conservatives, can we make an appeal to conservatives on this issue? It seems like such an obvious inversion of authority, which is a conservative theme.
Henry Giroux: I think that's a terrific question. Particularly in the United States, you have conservatism now as an intellectual ideology is, for all intents and purposes dead. I mean you have a party now that is controlled by a group of illiterate, anti-intellectual, anti-public extremists. That's basically what they are. The op-ed today in the New York Times is John Bolton wants to drop the bomb on Iraq.
Right. And it's the same in the Washington Post.
That's the op-ed: Drop the bomb. Can you imagine? And they print this shit.
But, I think you're right. I mean, even someone like Allan Bloom, who I despise, made a case for a sort of intellectual culture. I do think there are plenty of conservatives in the past who have argued against this sort of technocratic or instrumental rationality that was transforming the university into something they didn't recognize at all. And I think that the university as a public good is an argument that could mobilize both the left and the right.
The other side of this is the left isn't innocent either. Right? One of the things I always get concerned about is that they have no understanding of education whatsoever as central to the question of politics itself, the educated nature of politics. It's always about structures. It's always about identities. It's never about logical formations. Nor is it about how to win people over by speaking to their interests in a way that is meaningful.
Class gets left out of it all the time.
Exactly.
And that's the thing with conservatives. They worry about speech codes in academia, without realizing how often speech codes are a labor issue. They're often a way of administrations asserting control over faculty.
This is really the central issue. This is an issue about power and governance. At its heart, it's not about simply what courses matter or don't because that really relates to who has control over the production of knowledge. When faculty no longer have control over the productions of knowledge, then we begin to see something dreadful happening. Those courses that don't translate immediately into markets simply don't matter anymore. Whole fields are thrown out the window. And in the US that's happening like a tsunami, a tsunami of instrumental rationality. It's like a plague infecting all of these colleges. And it's basically a labor issue. You have an institution that was once controlled by faculty. They would hire faculty. They would hire administrators.
They were administrators in many cases.
They were administrators. They shaped the curriculum. And that all changed. Under this neoliberal form of warfare, which is what it is- it's really a war on the public good It's a war for the consolidation of power in the hands of relatively few people. It's a political project to consolidate power in the hands of a few people. That's a class war. Regardless what you want to call it. Even if you don't want to use that term. Call it "War in the interest of the financial elite" or the "one percent". But what we have seen is that Neoliberalism has created such enormous wealth in relatively few hands and that wealth has translated into enormous political power in relatively few hands across the spectrum of all the commanding institutions that govern everyday life.
The question you got at before: Why is neoliberalism so poisonous? It's poisonous because it doesn't believe it can govern simply the market. It believes it can govern all of social life. Economics now drives everything. I mean it drives politics. It drives everyday life. It drives culture…
And these people talk constantly about the "reason of the market" and "rational actors", but they rely on people- they expect the people who actually do the teaching- to be irrational, to do a job that keeps getting worse and worse and invest ten years in this job.

That's part of its ideology. It makes an appeal to rationality but it really reproduces an enormous amount of irrationality. This is the way in which it deforms language. It talks about freedom as something that is utterly reduced to freedom from, into individual responsibility; as opposed to being able to translate how private issues get transformed into or can be understood in terms of larger public systemic considerations. That's a deformation.
Or it says that the only form of social relations that matter are based on a kind of ruthless social Darwinism like reality TV- only one person left at the end. I mean, it undermines all forms of social solidarity. And it seems to me that, when you start to go through the basic precepts of this policies, its mode of governance, in the production of particular kinds of subjects it desires, policies that eliminate labor unions, that eliminate the common good, ideologies that say that the only thing that matters is the market, that every translation has to be a commercial transaction to matter- to me, that's the foundation for authoritarianism.
We're not just talking about a market system that's overwhelming in its control. We're talking about a system in which democracy has been eviscerated. It's gone. Money controls politics. That's not a democracy. Call it what you want.
It's amazing how many people I know who are now fighting just for things that are so basic- just to pay bills or have time to do anything but work in order to do anything else.
This is really such a crucial issue. In a world of utter precarity- you don't know long your job is going to last. Or you might be in your job for two more years and it may disappear. Or you're not in the job you should be, given the degree you have. People just thinking everyday what it's like to live in a world that's so insecure. There are no foundations anymore. My friend Zygmunt Bauman talks about this idea of "liquid modernity".
It that element of survival, it's difficult to be an agent, except to survive. You're thinking about how to pay your rent. You're not reading a lot of books.
Time is not a luxury. It's a deprivation.
Right, it's transience. That word comes up often. My job has been defined by lawyers as "transient and unskilled labor" and that word keeps coming up in other contexts. I posed that question to someone at a conservative magazine. How are you going to build a society of people who are defined as transient? Who have transient employment and housing and transient relationships? How can you have any lasting communities or social values? I don't think it's a liberal or conservative issue anymore to want to have a community and be embedded in that community.
The only way it's going to happen is if people can be convinced that their individual rights can't be resolved through their individual means, that individual actions are meaningless and things are going to get worse. And remember you have a history of labor struggles in the 1920s and 30s and 40s in which all kinds of people were brought together who were not in unions and were in unions through the aegis of the Communist Party. They were organizing people around this stuff.
For me, I look at places like Spain and Greece and these new political formations that are emerging among young people, among workers, and they're not union-based. They're organizing and integrating social movements and until people can get both social movements and unions and say Okay, what kind of political formation do we want to be a part of now that doesn't mimic the two-party system or, here, the three party system.
I mean, when I go out, liberals hate what I have to say because I just don't believe in electoral politics anymore as it's now defined. It's silly. It doesn't mean anything to me. We need a new political party and we need to imagine a new political system.
Well, this might be antithetical to your book, which is about acting to save the university, but you discuss young people "attempting to create alternative democratic public spaces"- are people trying to create alternative academic spaces?
All over the world.
[Continued in Part 3…]