A Qatari Travelogue (And Conversion)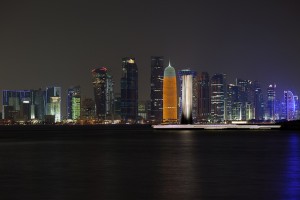 I recently went to Qatar as part of my job to do some light maintenance work and fix a handful of persistent little problems. I mostly worked somewhere between 10 and 14 hours a day, so I didn't really have much time to relax and see the sights but I did have a handful of observations that culminated in me pretty much abandoning libertarianism.
===================
"Drive like you're really pissed off."
That was the advice that I got from the guy who went there the last time maintenance work had to be done.
Under most circumstances, I drive like the proverbial grandpa. Hands on 2:30 and 9:30, at least two car distances between me and the car in front of me, go the speed limit, and stay in the rightmost (non-exit) lane. Hey, it's a nice day. I like the radio stations here. I made sure I left in plenty of time to get where I am going.
This, however, is not how people drive in Qatar.
They believe in tailgating. If you are not in the rightmost (non-exit) lane, they will flash their lights at you and honk and otherwise communicate that you should be going faster. (Or, in my case, if I wanted to be going the speed I was, I should be a lot closer than two car lengths to the car in front of me.)
They believe that shoulders are just another lane that wasn't painted correctly. I was passed on the right (on the shoulder!) by people upset that I had two car lengths between me and the car in front of me. (Or, more charitably, maybe they weren't upset. Maybe they just saw that I had an unused resource and if I wasn't going to take advantage of it, they would.)
On top of that, there is the issue of the people who are driving as if it were Nascar or Grand Theft Auto and they're weaving between cars and threading needles and it'd be kind of impressive if it were a movie or something but, nope. It's there. Happening all around you.
And I still feel like I haven't communicated what it's like. Add a constant worry that you are going to get in an accident if you are above a certain speed and a constant worry that you are going to wreck the car if you are below it.
Still, it's interesting to note that I didn't see a *SINGLE* accident while I was there. Not even one. I've heard that if you want to save more lives of drivers, you need to stop putting so many things like seatbelts and airbags in cars and make one simple little change: Put a spear point smack dab in the middle of the steering wheel. The thought is that the driver will glance down at the spear point, glance at the road ahead of him and make sure that he knows where those cars are, glance at any upcoming traffic lights, glance at the rearview mirror, glance at the side mirrors, glance at the speedometer, glance at the spearpoint…
While I was there, I drove like I was really pissed off but pissed off because of how scared I was.
I did not get into an accident.
===================
The ex-pat radio station was eclectic, to say the least. They had religious programming followed by pop music followed by old-school jazz/big band followed by religious programming followed by pop music. The radio would interrupt its programming to play the Muslim Call To Prayer.
I want to say that it's this one:
Islamic Call to Prayer - Amazing Azan by Idris Aslami
Now I'm not 100% certain that it was that one, but if it's not that exact one, that one is really, really close to what the radio played. It was always followed by an English translation.
The religious programming was interesting, as well. There were shows devoted to exploration of the Koran with verses read in Arabic followed by an English explanation that you pretty much have to read the Koran in the original language but if you only speak English, here's a not awful translation of what you just heard and some exegesis. There were shows devoted to famous people who converted to Islam. There were discussions of how you should be cooking during Ramadan, the best ways to exercise during Ramadan, and encouragement during Ramadan.
Then, on a dime, the radio would start playing pop music from random eras. (My favorite juxtaposition was a biography of Muhammad Marmaduke Pickthall followed by Oliver singing "Good Morning Starshine".)
I couldn't help but think that we should start having stations that did that sort of thing. Sure, you can get away with playing some old-school Gospel on the old-school Country station and, yeah, the Commodores released "Jesus is Love" but putting pop music next to religious programming isn't really a thing.
I think it might take off.
===================
It's hot. Like really hot. I should have known that things would be bad in Germany. I got off my plane from Chicago and saw that it was around 88 degrees and I felt uncomfortably warm. People getting off of the planes coming from Qatar were wearing light winter jackets.
When I landed in Qatar and stepped off of the plane, the sun had been down for about 3-4 hours. I could still feel the heat radiate up from the ground.
The hottest day I was there had a high of 115. The coolest day I was there had a high of 105.
===================
There are about four different obvious castes in Qatar (to an outside observer, anyway).
1) Qatari Nationals. These guys are all rich (New Money). Like, it's, per capita, the richest country in the world according to some estimates and the only ones that disagree are the ones that have it in 2nd place. Qatari Nationals only make up about 12% of the population. The other 88%? Imported labor.
2) Guest Workers from real countries like the US, France, Great Britain, and so on. These are the skilled laborers who do stuff like IT support, military folks, architects, teachers/tutors, and so on. (This is the group that I happened to be in.) These people are somewhat catered to, insofar as there was a sports bar at my hotel despite Qatar being a Wahabbist country.
3) Guest workers from miscellaneous countries who were working in some form of hospitality/customer service. These are the people whose job it is to smile when people from the first two groups approach the counter and greet them and make sure that they want for nothing. Bright smiles, perfect English (if a little accented), pressed outfits. To be really crude, "house slaves".
4) Guest workers from miscellaneous countries who were working in some form of manual labor. These are the people whose job it is to do the crappy work. These are the people who are dying while building the 2022 World Cup stadium in the middle of town (1200 of them, so far). To be really crude, "field slaves".
I had only one non-trivial interaction from someone from in the fuzzy area between groups 3 and 4: a guy whose job it was to pump gas at the petrol station. He asked me "Are you a Muslim?" and he pointed to my beard. I shook my head no and made a small joke about how I grew a big beard because I am bald and this is the only hair I grow. He looked at me and said "I think you are a Muslim" and then his face hardened. I paid for my gas and got the hell out of there.
There are signs on the highway that say stuff like "YOU ARE NOT ALONE WE ALL SEE YOU" and then give various exhortations to not do certain things. The signs in English talk about littering. There are more signs that are not in English and they show people spitting. Googling shows me some signs that I did *NOT* see that say things like "do not slaughter animals outside of a slaughterhouse". I get the feeling that Qatari Nationals are not the target audience for these signs.
===================
I realized that libertarianism is really only workable in a society that has a fairly solid underpining of… je ne sais quoi. If you have a concept of liberty on top of something else other than this… I don't know what it is, you can end up with chaos. A Hobbesnian war of All Against All.
I got an inkling of this with, say, the abortion debate. In the US, abortion (at its best, anyway) is an option available to women who may have made a mistake and abortion can keep options open. Finish school. Start a career. A baby may not be a good decision right now but it could easily be a great decision in the future. Terminating a pregnancy can keep doors open that would otherwise close.
However, there are a lot of places where sex-selective abortions are the main driver behind abortions. "We don't want to have a girl, we want to have a boy" and abortion is a way to press the reset button and start over.
Now, I don't want to start an argument about abortion (this isn't about that) but I do hope that everyone can see that the dynamic of the second has an ugly thread that turns liberty upside-down.
It's possible to look at all sorts of similar issues (religious liberty, for another example) and see that, at its best, the concept of liberty is an awesome concept but, without a certain foundation, that same liberty is turned on its head into something downright ugly.
My trip out there got me to see "Libertarianism" as something to worry about later, if at all. The important concept, whatever it is, is that je ne sais quoi that provides the foundation that makes Libertarianism a feasible philosophy in the first place. This je ne sais quoi is what needs to be cultivated and it is what needs to flourish. Without that je ne sais quoi, the concept of liberty will lead to such things as the blood of slaves being the mortar of spectacular monuments to vanity.
As such, I can't call myself a libertarian anymore. What I am now preoccupied with to the exclusion of all else is this je ne sais quoi.
I just wish I knew what it was.
(Picture is "Doha Skyline from the museum of Islamic art" by Jimmy Baikovicius. Used under a Creative Commons License.)