Identity and its Monuments
If you have not spent much time in the states that comprise the former Confederacy1, particularly the states which saw a great deal of fighting – Mississippi, Tennessee, Georgia, South Carolina, and Virginia – you may not understand the ubiquity of Civil War imagery. This imagery does not consist only of the "Confederate flag," a flag inextricably associated with slavery, segregation, and white supremacy groups. There are also statues, memorials, monuments, battle-associated cemeteries (often, and especially, Confederate ones), and historical markers indicating some event related to the war, from the profound (on this site stood the Federal breastworks that withstood repeated Rebel onslaughts) to the trivial (such-and-such famous general stayed here while passing through). Even cannon are strewn across the South, adorning memorials and symbolically defending town squares, not fired in over a century and a half, but in the minds of many still very much hot and ringing with the din of battle. Throughout much of the South, it is impossible to escape The War.
It may be objected at this point , by those of you who have spent time in cities and especially small towns in Northern states2, that there are many Civil War monuments outside of the South as well. This is true: statues of Union soldiers3 in kepis and greatcoats are not uncommon in the North4.
This contrasts starkly, however, with the sorts of monuments one sees in the South, which are much more numerous. Consider some examples (click for larger versions):
1. Richmond, VA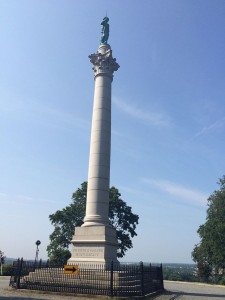 2. Lebanon, TN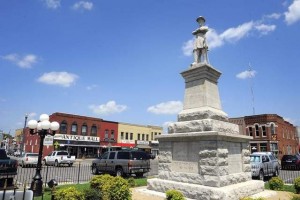 3. Austin, TX (Texas State Capitol)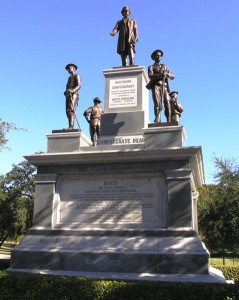 4. Rutherfordton, NC (Rutherford County Courthouse)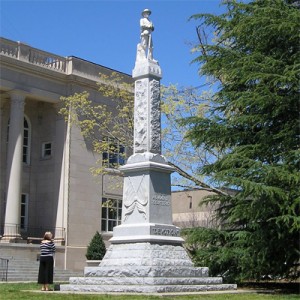 5. Gallatin, TN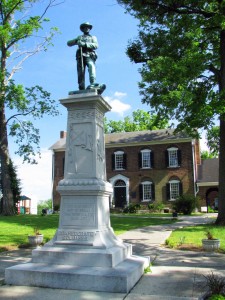 6. Augusta, GA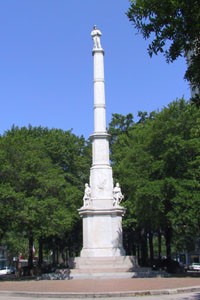 7. Franklin, TN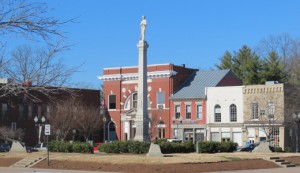 If you are not yet sensing a pattern, I will spell it out more clearly: the South is full of monuments to the Confederacy5. And lest one believe that they are merely memorials for the fallen, of the sort that are erected after almost every war, a careful look will show this to not be true. Consider the the Confederate Soldiers Monument on the grounds of the Texas State Capitol (3), which includes not only soldiers, but in its very center and on its highest pedestal one Jefferson Davis, president of the Confederate States of America, certainly no fallen soldier he. consider other Confederate memorial on the Capitol grounds (yes, there is more than one!), a silent sentinel. Note the text (I took this picture this morning as I walked through the grounds, so I apologize for the poor the lighting)6: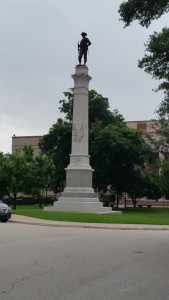 Most of these monuments were erected while The War was still part of the South's living memory, sometime prior to the First World War, prior to the turn of the century even, yet today when The War is but a memory of a memory of a memory, they continue to hold privileged and prominent places on the grounds of state capitols, county courthouses, city municipal buildings, and town squares. More than any other part of the history of this part of the country, the events of the last few years of the slave-holding South are on display for all to see, remember, mourn, and celebrate.
One of the images above, number 7, is particularly salient for me as it stands in the center of the town square in my hometown. It depicts a Confederate soldier, sometimes affectionately referred to as "Chip" in reference to the large chip in his hat, and is surrounded by four Civil War era cannon. While it is but one of several monuments to the Confederacy strewn about town, it is by far the most prominent, sitting smack dab in the middle of the revitalized downtown area, near the Williamson County Courthouse and many popular Franklin businesses. Anyone who has spent any time in Franklin has seen it, and for those who live or have lived there it is part of the very fabric of the city, a sort of symbolic gateway into the town's obsession with the large, bloody battle that took place there in November, 1864.
I tell and show you all of this to give context to what follows. A few years ago, my youngest brother and I past ol' Chip while headed to a downtown restaurant. As we drove by I made an offhand remark to the effect that I wished someone would tear that damn statue down7. My brother, who is by no means a Confederate apologist, took offense, and a heated argument ensued, and lasted until we took our seats half an hour later, possibly the only argument he and I have had since childhood.
His position was simple: he was suspicious of any attempt to tear down any monuments to our past, both because our past is part of who we are today and because tearing them down could easily become a means of whitewashing our past. If we take down the Confederate monuments, he said, we would not only alter our collective identity, perhaps in unexpected and unintended ways, but it would also make it much easier to ignore the less noble parts of our history. A bloody, treasonous rebellion in defense of the institution of slavery? What bloody, treasonous rebellion? I see no signs of such a thing!
My counter was that it is precisely because the War and the Confederacy are such out-sized parts of our present-day identities, as out-sized as the statues that celebrate them, that I want the statues taken down. Not only is it the case that for a substantial number of Southerns — black Southerners — that part of our identity, and our continual celebration of it, is a reminder of violence and oppression, past and present, but it is also part of the identity of many other Southerners — white Southerners — that allows them to continue to exclude black people from Southern identity, an exclusion that no doubt contributes to (though it is certainly not the only cause of ) ongoing individual and systematic discrimination against black people in the South.
Of course, I understood then as I understand now in the wake of one of the most extreme examples of racist violence in the cultural context of the Confederate South, that ridding our town squares and county courthouses of statues and monuments to the Confederacy will not end violence, prejudice, and discrimination, but it is a step in the direction of changing the identity of the South from one in which a war to preserve the institution of black chattel slavery that it it caused, and lost, 150 years ago is so deeply ingrained to a more inclusive, hopefully less violent and more modern one, in which reconciliation and inclusion play a more important role. In other words, it would be an unequivocal move in the right direction.
Yet I understand my brother's objection, which is not at all unreasonable, and which has stuck with me these last few years. Simply tearing down the monuments to our past can set a dangerous precedent, and while I do want us to move forward, I do not want us to forget what came before. Perhaps if we Southerners had done a better job over the last century and a half of coming to terms with the genocidal nature of our past, and in particular the part of the past that produced the Confederacy, the monuments would serve to remind us of a part of a history of a South now comprised of all Southerners, black and white. Unfortunately, not only have we not come to terms with that past, but we have actively resisted doing so in many cases. As a result, our sense of our past — how we see its monuments, and how it impacts our identities — is still a deeply segregated one.
By way of compromise the best solution might be to not do away with the monuments to the Confederacy altogether, but instead to take them down from their places of honor and move them to museums. If one day we finally come to terms with those aspects of our past that continue to divide us — centuries of slavery punctuated by a war to preserve it that resulted in hundreds of thousands of dead and millions more maimed, mentally scarred, or physically displaced — and what it means for us besides mere pride at a few moments of bravery under fire, the statues and monuments can come back out of the museums to be placed not in their former positions of honor, but alongside monuments to other, hopefully less violent and hateful periods of our history.
---
1 This excludes Kentucky, it should be noted.
2 Here I resist, only partly successfully, calling them Yankee states. Point made before it's even made!
3 There are, it must be noted, some Union soldier monuments in the South, generally on battlefields or at memorials associated with battles, and usually raised by people from the places represented in the first years or few decades after the war.
4 This type of statue, whether it is a lone Union or Confederate soldier, is often called a "silent sentinel."
5 This is the worst example I know, a statue of Nathan Bedford Forrest flanked by the flags of the Confederacy on Interstate 65 in Brentwood, TN, just south of Nashville (source):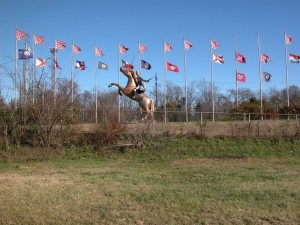 6 Austin's Confederate imagery is not exhausted by the statues on the Capitol grounds. The University of Texas campus has statues of Confederate generals Albert Sidney Johnston and Robert E. Lee, as well as one of Jefferson Davis, and there's even a Robert E. Lee Rd in South Austin.
7 This will come as no surprise to those of you who know that my general political philosophy consists primarily of "tear it down!"
Image sources:
Front page: http://www.midtneyewitnesses.com/wp-content/gallery/franklin-monument/franklin-square2-sm.jpg
(1):https://en.wikipedia.org/wiki/Libby_Hill,_Richmond#/media/File:ConfederateSoldiersAndSailorsMonument.JPG
(2): http://archive.tennessean.com/article/20130225/NEWS0201/302250019/TN-considers-making-difficult-rename-remove-Civil-War-hero-memorials
(3): https://en.wikipedia.org/wiki/Texas_State_Capitol#/media/File:Confederate_Dead_monument_in_front_of_Texas_State_Capitol-front_view.JPG
(4): http://docsouth.unc.edu/commland/monument/262/
(5): http://civilwartalk.com/threads/confederate-monument-at-trousdale-place-gallatin-tn.79592/
(6) https://en.wikipedia.org/wiki/File:Augusta_Confederate_Memorial.jpg
(7) http://www.midtneyewitnesses.com/wp-content/gallery/franklin-monument/franklin-square2-sm.jpg