"An attack on the Social State": Henry Giroux Interview (Pt.1)
Henry Giroux is an academic, writer, lecturer, activist, and a major thinker on critical pedagogy. He is also very passionate about what is happening to higher ed. If you think I'm dismayed on the topic, you should read his recent book Neoliberalism's War on Higher Education. I found the book pummeling, dismaying, bracing, at times overwhelming, but finally dedicated to the welfare of students, where the loyalties of teachers should always lie.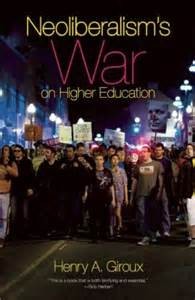 Giroux talks about the connections between various trends, arguments, and structures that are undermining university education, and yet, what I am most struck by in walking around most universities are the disjunctions: students disconnected from professors by time and attention spans, the generation gap between the few remaining tenured profs who are fifteen years older than myself and the great numbers of grad student instructors who are fifteen years younger, the cultural gaps between what academics believe about the liberal arts and what universities espouse, and so on.
We started talking, though, about the part of the book that I found connected with me the most, which was how strange it was to move into the world of higher education coming from a working class background and how the cultural capital that gets traded in the academic departments can make that daunting.
Henry Giroux: …They're not taking you seriously because your body's connected to your mind. They hate emotion. They hate any display of emotion. Or that you're angry if you display any passion.
Rufus: "Uncivil" I think is the term.
Uncivil, yes, which is actually worse. The capital works in really odd ways in that there is a presupposition that if you're from the upper class that's the ruling class or the upper middle class and you have certain linguistic skills and you have a certain manner of dressing and talking that that automatically conveys certain types of privileges, one being that you are, by default "smart". And I find myself often surrounded by kids who have all of those attributes who have a hard time making connections and thinking politically. Whereas my working class students, for the most part, without drawing any rigid divisions here, are often smart in ways that don't register in terms of the value of cultural capital.
I found when I was teaching working class students in the university that the hardest thing was just to get them over that fear that, if you're in any sort of position of authority, that you're going to be condescending or use your power-
But that's a pedagogical issue. They have every right to be fearful of authority and power because it doesn't work for them; it works against them. I think, for me, the issue has always been to be able to speak to them in a way that is meaningful to them as it would be to other students that automatically assume that the university is no different than their neighborhood and the places they grew up. I really go out of my way with the working class students to connect because I know the kind of struggles that in some ways they're experiencing. For me, to make something meaningful, to make it critical and transformative often works very differently in terms of how I deal with them than how I deal with middle class students.
I value their passion. It's not something where I say "Wow, you're angry! Keep your mouth shut!" I encourage them to talk because often they're silenced. They don't want to talk. They don't feel as if they're smart enough. They don't have the linguistic skills to speak. I just cut right through that.
For me, the undergraduate years, I drank a lot of espresso and sat in the library and had imposter syndrome. When reading your book, however, I wondered about the students. As the university goes through this transformation, or maybe deformation, how aware are they that it's not just increasing tuition, but that someone who is running around teaching four courses as an adjunct just to pay rent just can't offer the same sort of time and quality in teaching?
I think that, as the university gets corporatized and students are seen as clients and a source of profit, there is clearly a diminishment in the quality of education, particularly for undergraduates. That's for sure. I mean, they're being taught primarily by TAs, who are overworked and underpaid, they often find themselves in a world where the subjects are often utterly disconnected from anything meaningful in the real world, they're incredibly insecure about getting credentials, as opposed to learning something, and they're being told they're being trained, not educated. That what really matters is getting a job, which is not unimportant, but at the same time you should be able to think critically and expand your capacity to be a social and historical agent in some fundamental way.
But, I also think there are an enormous number of distractions now that bear down in their lives that make it difficult for them to really sustain the kind of focus and attention my generation had. My generation was a print culture. It wasn't a visual culture. Now, in the classroom everyone is on their laptop. I find with students that there is a lot of information in bits and pieces that they're aware of, but they have enormous trouble connecting it and with questions of historical and public memory. A lot of this stuff is on the surface. We're not talking about students mimicking Edward Said, Stanley Aronowitz and Paolo Fraere and Adorno that generation was enormously well read with both breadth and depth, that's something I very rarely see. That's a generational issue.
I think I was lucky that my grandparents, who essentially raised us (and did not have college degrees) had the Great Books series and had us reading them at an early age.
It was interesting- even my parents used to get those encyclopedias with the coupons in the back so you could get one book a week. And I remember reading Stendahl at age 12 because they put them in some room with the plastic slipcovers on the furniture in the apartment because you never had a house, everyone rented an apartment back them. And I remember finding these books and staying home from school because the books were far more interesting than school.
Oh, I nearly flunked out and I was in the library reading Kant, although I have no idea what I could have possibly gotten out of Kant at that age. So I assigned a lot of books like Robinson Crusoe, which the students enjoyed.
So, when we talk about bringing the university back to its senses in some way, it seems like the students know about the tuition going up and that it hasn't resulted in better education, but that gives the administrators a leverage point- "we're saving money by getting rid of the Classics dept." How do you get the students to come along?
You make sure that those issues are related. You say that it's a bad compromise to say that we'll lower tuition but we'll hire more sessionals. And I think that raises fundamental questions about what the purpose of a university is in the first place and how it's changing structurally and ideologically. And you can't separate those questions. If it wants to define itself as a factory, structurally, even if it gives in to the students, it's still functioning as a factory and it's still implementing reforms in the name of that particular kind of project.
I mean you have students now who see this. The classic example that uprooted this was Quebec. The student's struggle in Quebec over tuition was like nothing I had ever seen. Very different from the Occupy Movement, which was a single base movement, which was about inequality.
But what the students did in Quebec was they said: Hey look, this isn't about tuition; this is about an attack on the social state. This is about your pensions. They'll do it here and they'll take your pensions away. They'll privatize your healthcare. And so, all of a sudden, they had all of this support from outside the university.
I think where students will fail with the sort of student resistance that we see emerging now is if it's only about tuition, and not about calling the very nature of the university, in its corporatization and its militarization and its surveillance techniques, into question- I think it's going to fail. But, secondly, it has to raise not only fundamental questions about the university, but also about how they can mobilize people outside of the university to see how those issues are related to them.
You know, for me, I spent my university years studying French Romanticism. I was not particularly politicized. But, I just remember seeing what was happening all around me and thinking that… you know, there's capitalism and there's something different. What people call neoliberalism is something different. What is the bible of this ideology? What is its argument?
I think that what you see as neoliberalism in the 70s and 80s, and clearly it was going on long before that, but then it crystallizes into what might be seen as a historical formation. You know, Stuart Hall uses this term of a "historical conjuncture" to argue that certain things start to come into play, which actually suggest a break from a previous historical moment. In the 70s and the 80s all of the forces that might have been associated with, for instance, classical liberalism, classical economics, something happens, something gets intensified and changes its form and becomes more ruthless. It becomes an ideology, a mode of governance, and it becomes a mode of policy. It begins to break down and come together in a way that it almost seems like it's sutured.
You remember the great line in the Matrix: Morpheus is talking to Neo and he says "look. You can choose the red or the blue pill. If you choose the blue, you're going to be inside and you'll never be able to see this from the outside."
Where we begin to see neoliberalism become very powerful is when all of a sudden people in power now claim, through a whole range of apparatuses, that here's what it is, they lay it out, and say that there's no alternative to it, no alternative whatsoever. I mean Margaret Thatcher's argument: That's all there is. There is no alternative.
I think you can really see it with Milton Friedman in Chicago. They go to Chile and all of a sudden they've got Pinochet, who is absolutely willing to implement neoliberal policies. So, they see what works and what doesn't work. Then, in New York, there's that moment when you have the terrible recession and it's implemented there. Then you have finally the merging rise of Reagan and Thatcher in that historical moment. And then you can lay out the elements of neoliberal ideology from there, as I do in my books: Profit is the essence of democracy. Public wealth should be transferred into private hands. It goes on and on.
Well, the reasoning is also that there's some sort of crisis. And the reasoning in universities is that there's always a "crisis in education". Workers like me get replaced by contract hires and the claim is that there's not enough money and we have to save the precious resources, even as capital expenditures are through the roof. How do you talk to people worried about the crisis in funding?
You flip the script. When people in power talk about crisis, it's always a crisis that they defined in a way that serves their interests. It's their crisis. They named the crisis so they could say they're going to fire all of the workers and replace them with contract people.
I think the real issue here is to rename the problem. The problem isn't with workers. It's really with an administration that now outnumbers faculty and that refuses to fight politically with a government that does everything it can to continuously defund universities so they can fail. So they can break them up into training schools with a few at the top.
My argument always is that the terms by which they define what the crisis is must be made problematic. Not just how the crisis is solved or how to solve it, but what basically it is and where it comes from and how it's fabricated and whose interests it serves and what that means.
I mean, it's really ironic to talk today about a crisis of funding in the university when, in fact, labor has been completely eviscerated. That's a crisis of labor. That's not a crisis of funding. So, if we're going to rank the crises, I'm not going to begin with their interests. Except to expose the contradictions.
[In Part 2, we start with my big question: Shouldn't conservatives be on board to defend the liberal arts?]