Great Summer Recipes: Jerk Chicken with Banana Mango Ketchup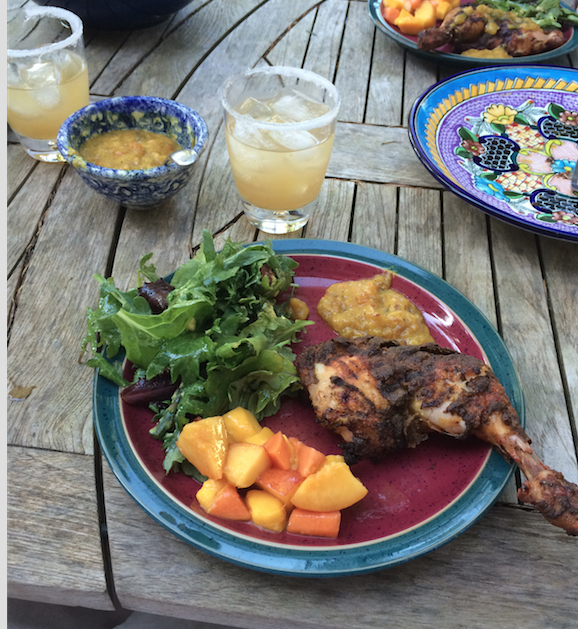 [Note: This post is part of a series on summer dishes that stemmed from a rather ambitious dinner party I wrote about here. It's also one of The Cheap-Ass Gourmet posts, an on-going series on making healthy and delicious food on a budget.]
This is one of those rare recipes that falls somewhere in between grilling and barbecuing. You'll really be grilling, but you'll be doing it at a fairly low temp (for grilling, anyway) over a long period of time (again, for grilling) in a way that somewhat mimics what we do when we barbecue.
Because of this, I recommend using whole chicken legs rather than breasts because not only are they a fraction of the cost, the fats in the legs are better served by the longer, lower-heat grilling. If a whole chicken leg feels like too much meat for you to eat in one serving or if you are cooking for a crowd, do this: Once the chicken is done, simply use a heavy knife or cleaver to cut the drumstick from the thigh prior to serving. And don't worry if you make more than you need for your meal. This chicken is actually just as good served cold as leftovers as it is hot off the grill.
The version of jerk I use here is a variation on a traditional wet rub, which historically is a paste that uses pureed scotch bonnet peppers to provide its heat. In this recipe, which was heavily adapted from one by The Thrill of the Grill's Chris Schlesinger and John Willoughby, the pureed chiles have been replaced by a quarter cup of hot sauce. You can use whatever hot sauce you prefer, though I actually use Valentina's picante sauce.
Initially I used Valentina's for two reasons: The first is that unlike most hot sauces, it contains no garlic — which was a requirement for the menu I mentioned earlier this week.  The second is that my wife doesn't like things that are too hot, and Valentina's fits that bill. However, I will probably use it from here on out regardless of who I make it for and simply make sure I have a very hot hot sauce on the table for those that want their jerk to buuuuuurn. This is because Valentina's adds a unique tangy accent that is otherwise missing, and that accent is divine. The resulting flavor of the cooked jerk sauce was something of  surprise the first time I made it, and it was a surprise that I absolutely adored. Added bonus: it's probably one of the least expensive hot sauces I've ever come across. A quart of the stuff costs as less than most of the high-end stuff that's packaged in those tiny bottles. However, if you want a jerk rub more similar to the stuff you get in most U.S. restaurants, feel free to use a more traditional hot sauce. (The Aardvark is pretty damn yummy, if you want to go that route.)
Regardless of which hot sauce you use, however, you absolutely need to serve it with the banana mango ketchup, which will act as a complimenting counterpoint to the spicy chicken.
Mind you, you might not want to tell people that it's a ketchup until after they've tasted it, because I find that the combination of the words "banana" and "ketchup" makes people somewhat wary of it. (Until they taste it, that is. Then they have a tendency to keep piling more on their plate.)  The word "ketchup" here is simply used to mean a sauce with relatively high viscosity served unheated. Other than these characteristics of temperature and viscosity, it really has no relation at all to Heinz. If you want, you can do what my younger son does and tell your friends it's called "awesome sauce" in order to get them to try it.
The traditional banana ketchup recipe usually calls for guava nectar, which contains a natural pectin that gives the sauce extra viscosity as well as a tropical flavor. In most places in the United States, however, guava nectar is hard to find. I have therefore replaced it with a cup of mango jam, which you should be able to find at almost any supermarket.  (Of course, you can use a similar flavor of jam if you wish. I actually used mango-peach jam in my last batch.) The pectin in the jam will give the ketchup it's desired consistency, and the mango adds a flavor that I prefer to guava anyway.
Another change from the traditional banana ketchup here is the replacement of raisins with dried cranberries or dried sour cherries. There's enough sweetness going on in the ketchup to my taste, and I like the occasional hint of tartness that cranberries or sour cherries bring to the table. If you prefer, though, feel free to use raisins in yours.
You can make the jerk paste and the ketchup in advance, and in fact if you make them a day prior they will taste better.  Stored in the fridge the ketchup can last 8-10 weeks, and the jerk paste will last indefinitely.
Here's the recipe:
INGREDIENTS
Jerk Paste
1/4 Cup Hot Sauce
1/4 cup yellow mustard
2 Tbls rosemary (chopped if fresh, as is if dried)
2 Tbls parsley, chopped — or — 2 Tbls cilantro, chopped
2 Tbls Fresh Basil, chopped
2 Tbls Dried Thyme
2 Tbls Mustard Seeds
3 Scallions, chopped thin
1/2 – 1 tsp Salt
1/2 – 1 tsp Pepper
Juice of two limes
2 Tbls OJ
2 Tbls Cider Vinegar (you can substitute white)
Ketchup
1 Onion, diced
2 Tbls Coconut Oil (you can substitute corn, canola, or vegetable oil)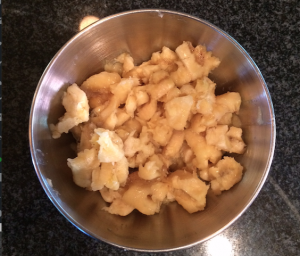 4-5 Ripe Bananas (either heavily spotted or fly brown), broken into small pieces
1 Cup Mango jelly (or similar)
1 Cup OJ
2 Tbls Brown Sugar
2 Tbls White Vinegar
1/4 Tsp each of ground Turmeric, Coriander, Cumin, Paprika, Ginger, Cinnamon, and pinch of cloves — or — 1 Tbls Curry Powder
2 Tbls dried cranberries or dried tart cherries, roughly chopped
Juice of 2 limes
1/2 – 1 tsp Salt
1/2 – 1 tsp Pepper
6 – 8 Whole Chicken Legs
INSTRUCTIONS
Jerk Sauce
1. Combine all of the jerk ingredients in a blender, and blend on high until smooth. This might take a minute or two.
2. Refrigerate for at least 4 hours before to let the flavors fully combine.
Ketchup
1. Heat oil in a dutch oven (or similar thick bottomed pan), and sauté onions until translucent and just beginning to brown.
2. Add the banana pieces, and cook over medium heat for about 5 minutes. Stir frequently, so as not to burn them.
3. Add the rest of the ingredients, stir to fully mix, and bring to boil. Once it begins to boil, reduce the heat and let simmer for 15 minutes.
4. Allow a short while to cool prior to serving, or simply refrigerate until you wish to use it.
Chicken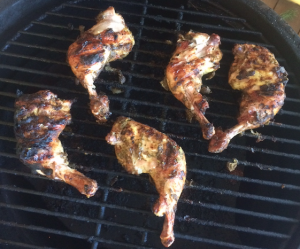 1. Heat grill to low heat.  (see note below)
2. About 20-30 minutes prior to cooking, remove the chicken legs from fridge and rub jerk sauce over them. Let sit at room temperature.
3. Put legs on grill and cover. Cook for one hour, turning once around the 45-50 minute mark. (If you do not have a cover to your grill, it will take closer to 1 1/2 hour.)
4. Serve with the banana mango ketchup, and also probably a daiquiri, a Dark & Stormy, or any other drink with rum and lime in it.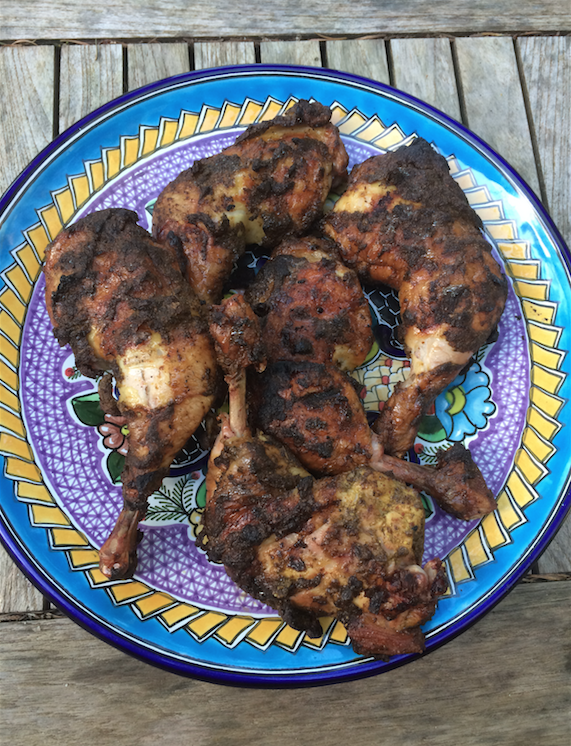 Note: When we say "low heat" for a grill, what we really mean is somewhere in the neighborhood of 300 degrees. However, if your grill does not have a thermometer you'll want to heat the coals (or have the fire from the gas) to a point where you can hold your hand a few inches over the grate for about 8-10 seconds before it gets too hot. Ideally, if you have room, you'll want to to have the coals/flame on one side and the chicken on the other, using the method known as "indirect heat." If you are using a small grill and don't have room, however, don't worry too much. So long as the temperature remains that low it will still turn out pretty damn yummy.