Cricket for Americans – a primer
I take requests. In this case, it was to explain the basics of cricket. Indifference to cricket is a defining characteristic of the American sports fan.. Our devotion to soccer is rabid by comparison. This is odd, in that cricket is a team sport with a broad presence across the world and is a close cousin to baseball. Furthermore, American cricket was once a genuine thing. Not recently, but still… This is our loss. Cricket is a great game. We are missing out.
I was, for most of my life, completely typical in my indifference. Then I got interested in early baseball. I soon realized that to understand what was going on in antebellum baseball, I had to know something about cricket. Partly this was abstract stuff: how clubs were organized and interacted with one another, and the like. But the game itself influenced the rules of baseball. Cricket was more the more mature and prestigious game, and many baseball players also played cricket. Whenever a problem arose in baseball, they naturally looked to see how cricket dealt with a similar problem.
It clearly behooved me to learn something about the game. I started with book learning, but this only takes you so far. Fortunately, there turned out to be ample opportunities to watch local amateur matches. Who knew? American cricket is still (or, more accurately, once again) a thing, but only among certain immigrant groups. In practice this means there are your Indian clubs, your Pakistani clubs, and your occasional West Indies club. I started showing up to matches of a local (Indian) club. They were initially startled by my presence, but once they figured out I was there to learn about cricket, and wasn't interested in debating its relative merits with baseball, they were very welcoming, and even shared subcontinental snacks with me. I started out trying to simply figure out what was going on, mentally translating everything in terms of baseball. Once I got past that, I came to appreciate the game in its own right.
With these preliminaries out of the way, how is the game played? There is a notion that cricket is a deeply mysterious and ridiculously complicated game. This idea arises partly out of American laziness (and I write this as a lazy American myself). If the game is ridiculously complicated, we can't be blamed for not bothering. A certain sort of cricket enthusiast is flattered by the idea that he has mastered such a mystery, and a slightly different sort of cricket fan who enjoys dismissing Americans as unable to understand an adult game, playing the child's game of baseball instead. These are all misguided, both ideologically and factually. Cricket is no more complicated or difficult to understand than is baseball. Neither is it any less. Both can be enjoyed with just a basic understanding, and both have depths (and specialized vocabulary) to explore. Today I am just going for the basics.
Its underlying structure is familiar: the game is divided into innings, with the two teams alternating between fielding and batting. The batting side tries to score as many runs as possible, while the fielding side tries to put them out. A specially designated player delivers the ball to the player at bat, who attempts to hit the ball. If we hits it well, runs can result. If he hits it poorly, he can be put out. Cricket is, in short, a simple game. You throw the ball, you catch the ball, you hit the ball. Sometimes you win, sometimes you lose, sometimes it rains.
The basic template allows for a lot of differences, starting with the field. Baseball and cricket are played on fields roughly the same size, but the layouts are different. A baseball field is more or less square, with the most important bits in one corner. This is because the field is divided into fair and foul territory, with foul territory relatively unimportant. The field is laid out to maximize the more important fair territory. A cricket field is oval, with the most important bits in the middle. This is because there is no foul territory. Every direction is fair. Hitting a ball directly backwards is a legitimate tactic, and there needs to be space allocated for this.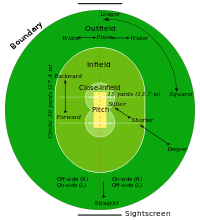 Players don't run a circuit of bases, but back and forth between two lines (charmingly denominated the "popping creases") about 58 feet apart. There are always two offensive players on the field, the active batsman and his partner, and they crisscross back and forth when running, each time scoring one run. If they end the play on the opposite side from where they started, which player is the active batsman switches. They don't have "at bats" in the baseball sense. They play until they are put out. The inning lasts until ten of the eleven batsmen are out, leaving the lone man "not out" but without a partner.
An additional feature is that bowling (the analog to pitching) is broken up into "overs" of six balls each. At the end of each over a new bowler comes in from elsewhere in the field, bowing in the opposite direction.
The plate umpire in baseball keeps the pitcher and batter honest by calling balls and strikes. Cricket doesn't have these. The batsman is charged with defending his wicket: three upright stakes, the "stumps," with two cross-pieces, the "bails," laid atop them. If the bowler can hit the wicket and knock the bails off, the batsman is "bowled out." This is pleasingly objective compared with the amazing variable strike zone, and there is a visceral satisfaction to the bails going flying. The kicker is that the bowler can bounce the ball off the ground. Baseball's curve ball relies on subtle aerodynamic force to deflect the path of the ball. People were arguing as late as the mid-20th century whether this is real or an illusion. This question never arose about a cricket "spinner."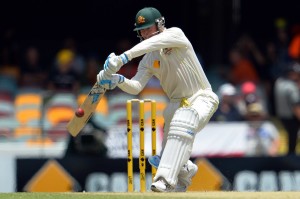 There are various other ways to put a player out. A fielder catching a fly ball results in an out, just like in baseball (but a more difficult accomplishment: there is more effective territory to defend, and no gloves). The final way is to knock the bails of the wicket with the ball while the runner is between the popping creases, in which case he is "run out." Or the wicketkeeper (analog to the catcher) can do this on a bowled ball should the batsman step in front of the popping crease, in which case he is "stumped."
The final key is that the batsman is not required to run. Once a baseball batter hits a fair ball, he is committed. He can't stand at the plate and say he wants a redo. A cricket batsman can (and does) do just this. This won't help him if he hit a fly ball that is caught, but if he hits a ground ball toward a fielder, and isn't sure he can safely run on it, he can hold tight and try again. Much of the difference in strategy between the two games derives from this difference.
This should be enough to figure out what is going on. The cricket cognoscenti out there are howling in anguish at that claim. There are lots of things I haven't mentioned: wides, no balls, the mysteries of the leg before wicket, and so on. I have barely scratched the surface of cricket vocabulary. (There really is something called a "googly," roughly analogous to a screwball.) And so on and so forth, endlessly. Those are those depths to explore. I am just trying to help people watch a YouTube video.
Which brings us to what to do with this newfound information. Cricket is available on cable, but probably not to you, or not without paying extra. ESPN3 is an online possibility, but YouTube is the quickest and easiest (and freest) route. But first a word about different cricket formats. The traditional form is nearly open ended: two innings and as long as it takes. This mostly survives as international "test match" cricket, but limited to five days, at which point they will call it quits. This is considered the highest level of cricket, and favored on principle by the purists, but the excessive length limits it potential, but as a spectator and as a participatory sport. Nowadays most cricket is "one day." It is only one inning, and that is capped with a maximum number of overs. At first this was fifty overs, which took pretty much all afternoon. A newer format is "Twenty20" (or "T20"), with one inning of twenty overs. This lasts about the same as a baseball game. The strategy is very different, as the cost-benefit analysis of batting strategies are changed. The purists harrumph their disapproval, but actually being able to play or watch an entire game without a major life commitment has made the format popular. My suggestion is to go to YouTube and punch in "IPL" (India Premier League) for some T20. You can choose between highlights and full matches.
Best of all, however, is to see a game live. Cricket, like baseball, is best viewed in person. Many parts of the country have amateur leagues. The tradeoff is that the level of play is much lower, but you can also ask questions. If you don't mind being the only white person present, this is the best way to appreciate the game.