Using Jerry Seinfeld to Explore the Five Basic Elements of the PC Culture Debates™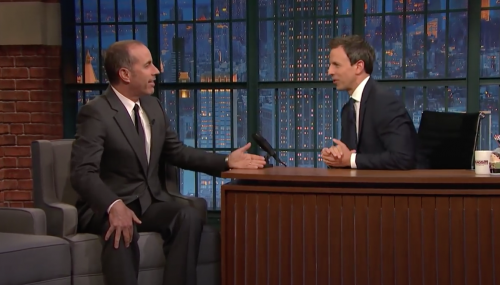 I have been pondering the so-called PC Culture Debate™ these past few days in the wake of Jerry Seinfeld's recent comments and Amanda Marcotte's backlash against them. For a variety of reasons, not the least of which is my affection and respect for everyone involved, I find that this small teapot tempest acts as a perfect microcosm for why I hate these debates, and why I almost always find myself bristling at the notion of having to choose any side whenever they boil up.
First, though, I should probably bring in those who are still outside the loop.
Last week during an interview on ESPN, Jerry Seinfeld said he believes that today's college campuses are too politically correct and that kids today sometimes pull out the word "racism" and "sexism" without really understanding what they mean. Prompted by the ESPN host's noting that Chris Rock and Larry the Cable Guy won't play college campuses for this very reason, Seinfeld replied:
"I hear that all the time. I don't play colleges, but I hear a lot of people tell me, 'Don't go near colleges. They're so PC.' I'll give you an example: My daughter's 14. My wife says to her, 'Well, you know, in the next couple years, I think maybe you're going to want to be hanging around the city more on the weekends, so you can see boys.' You know what my daughter says? She says, 'That's sexist.' They just want to use these words: 'That's racist'; 'That's sexist'; 'That's prejudice.' They don't know what they're talking about."
Afterwards, Seinfeld doubled down in an interview on Seth Meyers. When Meyers said that there are more people today than ever before who will "let you know you went over the line," Seinfeld agreed and discussed a one-liner he uses in his standup bit that links people using overly dramatic hand flourishes while using their cell phones with a "gay French king." Apparently, that joke doesn't always kill:
"Are you kidding me?" he asked. "I could imagine a time where people say, 'Well, that's offensive to suggest that a gay person moves their hands in a flourishing motion and you now need to apologize.' I mean, there's a creepy PC thing out there that really bothers me."
All of this prompted Amanda Marcotte to post a rather scathing takedown of Seinfeld on Josh Marshall's TPM.
And that, at least for the purposes of this post, pretty much brings us all up to speed.
Jerry Seinfeld Does Not Want to Be Here - Late Night with Seth Meyers
As I said, one of the reasons I think this kerfuffle works so well as a microcosm for me is that I have no real enemies (or even frenemies!) in this story. I like Seinfeld a lot — or perhaps more to the point, I loved both the show he and Larry David created and his work on it, as well as that weird car thing he did for a while online. (I've never actually seen him do standup.) I like Marcotte as well, both as a writer and a thinker who forces me to approach things from points of view I might not have otherwise considered. I'm a big fan of Josh Marshall's TPM, as longtime readers have likely kenned by now. And in the instance of the "gay French king" joke, the PC backlash comes from the pro-LGBT-rights camp, which is one for which I consider myself a card-carding member.
Despite this one-man hugfest in which I have just engaged, however, it's till hard for me to pick a side because I think to different degrees everyone involved is as wrong as they are right. More to the point, everyone is as wrong as they are right in the exact same way that everyone always is whenever we have these debates. Indeed, every PC Culture Debate™ has become almost exactly identical, to the point that each follows a kind of formula. This formula has a universal series of five elements which have made me come to hate all of these discussions.
Allow me then to use the Seinfeld kerfuffle to illustrate these elements one by one.
PC Culture Debate™ Element #1: Someone Chooses to Die On Hills They Really Shouldn't Be Choosing to Die On
PC Culture Debates™ generally center on those who choose to live their lives in the public spotlight. This makes sense, and is as it should be. (After all, no one in Tallahassee cares that my friend Diane's co-worker Ted at Portland General Electric doesn't really like using the phrase "African-American.") I bring this up because being in the public spotlight is normally something you choose to do; this is certainly the case with Seinfeld. And when you are in the public eye, you need to know that occasionally you will say things that won't go over as well as you thought. Because of the inevitability of this, it's wise to maintain a sense of perspective. If you are unable to do this, you risk becoming a candidate for a PC Culture Debate™ villain.
The example that Seinfeld chooses to use as his hill to die on is a small throw-away line that not many people find funny. He believes that people find it unfunny because audiences are becoming too PC, but I think a more likely reason is that the line relies heavily on people finding the words "gay," "French," and "king" inherently giggle-worthy in a way I don't think most people today do. Maybe this is a sign of changing times, but maybe not. (I don't know that I would have found it funny in 1985, frankly; not because I find it offensive, but because I don't think it's a very funny line.)
A year ago, Seinfeld noted on This Morning that he thought trying to base judgements about what was or wasn't funny on the race or gender of a comedian was ridiculous. "Who cares?" he shrugged at the time.  "Funny is the world that I live in. You're funny, I'm interested. You're not funny, I'm not interested." As edgy as he might have felt saying that at the time, the truth is what he's describing is the way most of us react to jokes we hear. We find them funny and we laugh, even when we think we shouldn't; or we don't and we don't, even when we think we should. If audiences aren't laughing at a line in his routine, it's probably less of a portent of the coming Great Cleansing than it is a sign he should probably just scrap the joke and see if he can write a funnier one.
If the PC police were coming to stop the show Seinfeld from being syndicated because it was full of Incorrect Ideology, then I would understand Seinfeld — or anyone else, really — sounding the alarms. But the fact that audiences don't think the phrase "gay French king" is particularly funny is a terrible place to draw a line in the sand.
PC Culture Debate™ Element #2: We Must Now Read Everything the Offender's Has Ever Said in the Most Uncharitable Light Possible
Once someone in the public eye puts their foot in it and refuses to walk it back, it's not enough to focus on that one thing they said. Instead, we must gather as many instances of transgression as we can find, and because there usually aren't that many to be found we must allow for interpretations of anything and everything in order to better make them sound like a monster.
In the case of the Seinfeld kerfuffle, the best example of Element #2 is Marcotte's reaction to Jerry's eye-rolling at his daughter calling her mom sexist for suggesting at some point she might want to go flirt with boys. I confess, I find that remark on its face to be fairly void of the sexism ascribed to it. This is because I have two teenage boys, and when they were in there teens they wanted to go to places where girls were to flirt; all of their friends did too. Flirting with other kids of the opposite sex (or in some cases the same sex) isn't something that, to use Marcotte's words, "boy-crazy" girls do, it's something that kids do. In order for us to ascribe to Seinfeld and his wife's parenting the condoning of "a sexist stereotype of the boy-crazy teenage girl that doesn't accurately capture the complex feelings adolescents have about self-identity and sexual desire," we have to be willing to write a lot of fictional backstory to the whole family.
In PC Culture Debates™, however, writing fictional backstories for others is encouraged, because otherwise we can't keep on having PC Culture Debates™.
PC Culture Debate™ Element #3: We Must Void All Previous Accomplishments of Those Who Have Transgressed
If this kerfuffle were not part of the PC Culture Debate™, of course, we could all agree that Seinfeld's gay French king line is a clunker and be done with it. But because it is part of that debate, this is not enough. Now we must rewrite Seinfeld's entire history.
Seinfeld, you see, was never funny. Ever. You may have thought you remembered him and his show as having been funny, wildly popular, and even critically acclaimed. Buts as Marcotte helpfully points out, we were only collectively "pretending" he was funny. Back then, she notes, we all thought he was a "second rate hack."
It's a good thing Marcotte has our story lined up for us, or we'd all feel a little silly having ever liked — sorry, pretended to have liked — that episode where the gang bet who could go the longest without masturbating so much. I remember pretending to laugh at that one particularly hard.
PC Culture Debate™ Element #4: We Must All Wave Away Data That Does Not Conform to The Narrative
This Shocking News Just In: Even though minstrel shows used to be all the rage, no one thinks they're funny any more! 
That Seinfeld doesn't get why jokes about gays may not go over as well now as they did in the 1980s takes an almost willful level of cluelessness. After all, there are probably a whole lot of jokes stand up comics made in the 40s, 50s, and 60s that Seinfeld wouldn't have been caught dead making in the 80s and 90s. In particular, I can imagine all kinds of jokes about Jews and money that Seinfeld as a young comedian would have thought were trite, hackneyed, and based on old stereotypes that had become unfashionable to hold. That he throws away all of that data just so he he can stand more firmly on his side of the PC Culture Debate™ fence is something I find a little sad.
Likewise, I find Marcotte to be a little hackneyed (not to mention chickens**t) herself for willfully pretending that the ESPN interview hadn't started with something Chris Rock has previously declared about campuses. In fact, it's a comment I've seen Rock make several times in various public forums. Despite this, Marcotte writing about what Rock says seems to be either Google-proof or have never occurred.
Don't get me wrong; I really do love Amanda Marcotte. Still, there's something about a white person ignoring a possibly valid point a black person is making over and over, because that white person is waiting for another white person to make that same point so they can rake that person over the coals for having made it that I find emblematic of those bits of the so-called social justice warrior movement that I really dislike.
PC Culture Debate™ Element #5: At the End of the Day, It's All About Page Clicks
The last — and most important — element of the PC Culture Debate™ is that it exists to be its own cottage industry.
This isn't to say that those with causes the PC Culture Debate™ attaches itself to aren't important and necessary. They absolutely are. Racism still eats away at the very foundation of this country. I believe that sexism in our workplaces and media culture continue to make both life and career paths for most women (and to a lesser extent, quite a few men) an unnecessarily uphill battle. Every victory in the gay and lesbian rights battle just underscores how much further we still need to go. And don't even get me started on people who are transgendered; it feels like we still have a million miles to go to even get to square one on that civil rights battlefront. These causes are important, and they must be attended to if we are to become the society we like to pretend that we already are.
The PC Culture Debate™, however, is a separate thing that largely exists to feed itself. And feed itself it does. The big winner of the Seinfeld kerfuffle? Basically, everyone involved in the Seinfeld kerfuffle.
Seinfeld is a winner, because it has instantly made him relevant as a celebrity again, even if as a villain. Marcotte is a winner as well, as is everyone who writes for either side of the The PC Culture Debate™. So too is Josh Marshall. And Tucker Carlson. Hell, if this kerfuffle gets big enough, Fox News will probably hire Seinfeld on as an analyst. And then over time whenever he says anything Christopher Hayes can generate ratings talking about the outrageous things he'll no doubt say, and then Glenn Beck can generate his own ratings by bringing on Sarah Plain to condemn the things Hayes will say about what Seinfeld will say, and then Josh Marshall will be able to make click-bait heaven out of what Palin says on Beck's show about what Hayes says on his show about what Seinfeld says on Fox about what (fingers crossed!) Marcotte says about something on TPM.
And thus does the great Circle of PC Culture Debate™ continue to turn.
[Picture: Screenshot taken from the posted YouTube interview.]
Follow Tod on Twitter, view his archive, view his work at the Daily Beast, or email him.