Why I Am A Secularist: Icky Scandal Edition

Before I even begin, I should probably emphasize that this post is more of a confessional than it is apologetics. 
If you're a religious person you will no doubt come to a point in the paragraphs below, find a reasoned chink in my armor, and announce my hubris. Know in advance that I expect and welcome this. My spiritual journey, such that it is, has never been evangelical so much as it has been one of self-discovery. A writer long departed from these pages used to tell me that such was solipsism; I used to think the same of his unyielding drive to bend other's beliefs to more closely match his own. Where you fall along that spectrum, dear reader, is ultimately a discussion between you and your God — but I very much hope that you choose to let us in on that particular conversation in the threads below.
Peace.
     *     *     *
As I've noted before on these very pages, I've spent most of my adult life very much wanting to experience what others do when they have a spiritual religious experience. Indeed, I've actively attempted to create such an experience in any number of ways: reading religious texts, diving into theology, attending services of any and all creeds that would have me join in, prayer, fasting, meditation, and dozens of other roads others have helpfully pointed me toward. Each time, though, I come up short and walked away feeling to some extent disappointed. But despite this periodic and ongoing quest, I have to confess that I'm just as often likely to find myself content with — and more so, grateful for — my continued secularism.
Two ongoing stories in the news right now are a pretty good illustration of why this is. The first story, surprisingly neglected on these pages this far, is the profoundly tragic story of the fall of the Duggar Dynasty; the second, the Michael LaCour scandal that Chris has done a fabulously job of chronicling.
As everyone reading this no doubt knows by now, TLC has cancelled its hit show 19 Kids and Counting, the reality show chronicling the life of a strongly evangelical Christian family with a lot of kids. (They have nineteen!) The reason for the cancelation is the revelation that one of the show's stars, family son and Family Research Council lobbying firm Executive Director Josh Duggar, had molested numerous underage girls as a teenager. As police reports have shown, these crimes were perpetrated against very young and unwilling victims. Fans of 19 Kids and Counting often point to the unflappable morals of its reality stars and the Duggars' ability to seemingly effortlessly raise a brood of 19 children with God's help as being the key driver to the show's attraction. So it wasn't much of a surprise that TLC decided to give the show the axe as quickly as they did.
As terrible as Josh Duggar's crime is, it is far more commonplace than we might like to pretend. We know, for example, that people who commit the crimes Josh committed are found in every religious denomination, every race, every income bracket, and every part of the world. Pedophilia has no political ties; the faulty wiring that produces it seems to pop up randomly across the entire spectrum of humanity. That someone like Josh was born of into a family of evangelicals says nothing, really, about evangelicals at all.
Likewise, the fraud perpetrated by Michael LaCour says nothing specific about science or academics, other than each is a vehicle driven by human beings and as such must deal with all of humanity's foibles and imperfections  being cooked into it. Just as some non-evangelicals will surely point at Josh's sins as being indicative of "his kind," so too will a certain stripe of culture warrior lay LaCour's sins upon all of science and academia. Each of these groups of culture warriors is entirely wrong.
And yet…
Even though the sins of Josh Duggar and Michael LaCour are theirs and theirs alone, I cannot help but note the difference in how the community that championed each has responded to their respective scandals. To me, the difference between the two is somewhat emblematic of the differences that separate scene and religion, and I find that at times like this I am glad for my secularism.
In the former scandal, 19 Kids and Counting's collective family, friends, church members, supporters, and political hangers-on have pulled off the rather impressive trick of almost making me think that Josh Duggar is the least icky person involved. In retrospect, the action's of Duggar's most immediate community after his crimes were discovered has been… well, perhaps bizarre is the most kind word that comes to mind.
There has been talk by many that the Duggar's parents turned him into the police and took him to get professional counseling once they knew, but according to the police reports that's not actually the case. The police officer they chose to proactively talk to regarding Josh was a friend of the family, and the conversation was not held in a professional capacity. This was especially puzzling action for the parents to take, as it seems that it Josh's victims included their own daughters. Stranger still, that police officer turned out to be a child pornographer who would later be sentenced 56 years for his crimes. Duggar's church community apparently balked at sending him to a legitimate counseling facility, essentially to avoid dangerous outside influences. They chose instead to send him to the Institute In Basic Life Principles in Little Rock, whose mission was closer in religious dogma to their own. Bill Gothard, the man who founded and ran the Institute, was forced to resign last year when he was accused of a longterm pattern molestation.
It's somewhat easy to write all of these people off as part of some wing nut fringe (and they may be, I don't know), but the ripples they have created have encompassed quite a chunk of the mainstream faithful. Mike Huckabee has publicly tied his presidential bid for evangelical votes to a vocal support for Duggar. (His Facebook statement of support had garnered no less than 70,000 likes as of yesterday.) Fox News, not one to usually shy from the sensational, has all but refused to report on the crimes at all.
And if this sounds like I'm trying to single out Christian conservatives, know that I'm not. All of this is an entirely human response, and for every evangelical Christian out there who isn't bothering to wonder about the ethics or efficacy of a type of alternative lifestyle they have been promoting for years, there is at least a hundred liberals and secularists who are happy to pretend that their own team's sex crimes never happened. Because that's the thing about most collective human endeavors: they have no mechanism that corrects for the human failures of hubris, corruption, and folly. For most of the country's faithful, religion is an organized thing — and like all organized things, it has hierarchies big and small. Josh's father Jim Bob might well be a morally damaged fame-whore (and for the record I believe that he is), but he is also a religious authority. You and I are not. Our sexual crimes, therefore, are punishable by complete exile. Jim Bob's and Josh's are not, and never will be. That's just the way it is.
There may or may not be a lesson to be learned from the Duggar's downfall. That lesson may (or may not) have to do with extreme cultural isolation, dogmatic fundamentalism, eschewing any discipline outside your chosen favorite, or the ultimate folly of trusting anyone who treats their claimed moral superiority as a commodity to be merchandised. But it's doubtful that anyone who counted themselves as part of the Duggar faithful prior to the scandal's revelation will learn that lesson. Dogma first, dogma last, dogma forever and such.
Despite what many secularists I know insist, science is no less susceptible to errors than religion, and those errors are born of the same sins that ultimately doomed the Duggars. And this absolutely includes the error of argument from authority. Science, after all, is a wholly human endeavor — even Evangelista Torricelli didn't exist in his own vacuum. Much of the history of science is littered with the corpses of terrible ideas that were believed longer than they should have been due to arrogance, dogma, corruption, or the lowly status of a challenger's position. Plus, it's frustratingly slow. An evangelical pastor can come up with a new textual interpretation of scripture on a Sunday morning and have his entire flock believe it to be the uttering of God's will by lunchtime. Science achingly takes a mother fishing time to get right. But it always gets there, eventually. (It still needs the wholly human intervention of ethics to be forced upon it, however. It really ain't perfect.)
This is why the reaction to LaCour's manufacturing of data to support a hypothesis reminds me why I so love the church of science. LaCour wasn't taken down by a bunch of anti-science muckrakers. He was taken down by other scientists, and he was taken down with data. And although LaCour was just a graduate student, his co-author Donald Green is actually kind of a big deal in his chosen discipline. At the end of the day, however, all of Green's well-banked authority meant absolutely zero.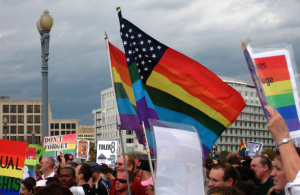 It's fashionable among a certain kind of political advocate these day to declare science to be little but a golem directed by the hand of the liberal academy, slowly using the power of its name to reshape the world in the Ivory Tower's own socialist image. Because of this, it's worth noting that LaCour's faked data sang a left-wing Kumbaya ditty that declared how awesome right wingers would find same-sex marriage, if they could just open their minds and talk to someone about it honestly for twenty minutes. If science really were the religion that the religious believe, social scientists would be circling their politically correct wagons (Prius minivans, I assume) around LaCour, Green, and a beatific dream of future sermons on Adam and Steve on the 700 Club. Instead, science spit them all out like Kentucky Fried Rat. LaCour is toast in Science World, and always will be from this point on. Green might end up being toast as well, and if so that might or might not be entirely unfair — but science won't give a s**t. It isn't there to make Green famous.
And that's why I'm a science guy, and a secularist. Not because I expect science to always be right, and not because I expect it to never again lead us astray. But because, at the end of the day, I trust science to ultimately admit when it was wrong.
I don't trust the Duggars or their evangelical followers to do the same.
[Picture: Still from Inherit the Wind, via Wikipedia. If you haven't seen it and are unsure of why I would chose this still, you should go rent the movie and watch it. Or better yet, read Edward Larson's Summer for the Gods instead.]