In Defense of World Governance
by James Vonder Haar
Here, then, is the problem which we present to you, stark and dreadful and inescapable: Shall we put an end to the human race; or shall mankind renounce war? – Russell-Einstein manifesto, 1955.
Despite being endorsed by such luminaries as Immanuel Kant, the entire Bahá'í faith, Bertrand Russell, Albert Einstein, and Harry Truman, world governance remains so far outside the Overton Window as to be non-existent. This fact opens up humanity to considerable existential risk, or as Russell-Einstein put it more starkly, we either unite or we die.
Though most political scientists would not admit it, world governance is justified and often necessary based on their own justifications for national government. This should not surprise us since national anarchy and international anarchy are not, in principle, different from each other, so any argument applying to one applies to the other.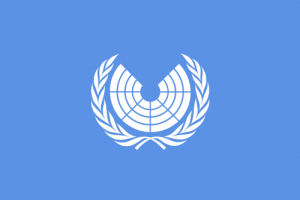 Hobbes, for example, contended that humanity before government was miserable: they existed in a state of nature, a war of all against all, where no one was safe and property often stolen. Ultimately the people of this world get fed up and decide to place a supreme power – a monopoly on the legitimate use of force, in modern parlance – above them, allowing this power to adjudicate disputes and enforce the peace. While our international anarchy may not be quite as nasty, brutish, and short as the original state of nature, it still falls prey to the same problems: Nations are at liberty to go to war whenever they want to, often do, and the results are humanitarian catastrophes (we are fortunate to live in an era mostly free of war; best establish an international sovereign before that changes). World governance, while not putting an end to war (civil wars exist, after all), would largely end interstate armed conflict. From the other side of the aisle, put the society of the world behind Rawls' veil of ignorance and ask them what system they'd prefer, and I'm guessing they're going to choose the option where nuclear annihilation is not a going concern.
So why, precisely, is an international sovereign so desperately needed? To answer that question, we need to examine the traits of governance.
It has a monopoly on the legitimate use of force: Police keep people from murdering each other, through the criminal justice system. An international sovereign, with the only legal standing army in the world, can monitor countries for military buildups and punish them if they actually use them. This is nice in a world pre-1945, but is absolutely crucial in the nuclear age. It's not much of a going concern right now: the Cold War is over, so most aren't too concerned about it. This is myopia. The gears of history will turn, great powers will come into conflict with each other eventually, except this time they'll have weapons worse than nukes. We avoided nuclear annihilation on several occasions only because the right person happened to be the one making decisions at that moment. Let's not roll the dice again.
It prevents arms races: Okay, this is a stretch for national governments, though one supposes that in the state of nature one is spending a lot of money and time on barbed wire and shotguns. Nevertheless, it remains an indispensable feature of international governance, allowing nations to completely abandon their military budgets and put them into infrastructure. Swords into plowshares indeed.
More importantly, an arms race is, or could be, coming that poses a significant existential risk to humanity. The most optimistic (pessimistic?) of AI researchers think we might get a bootstrapped superintelligent AI within the century – that is, an AI that is capable of improving its own intelligence, which allows it to improve its intelligence further, ad infinitum until we have something far, far superior to anything based on biological hardware. Calling something into being significantly more powerful than you is always dangerous, and those same AI researchers believe that an AI with even a minutely incorrectly programmed goal structure would destroy the world. (Not exactly Skynet. More like "the researchers gave it a task to produce as many paperclips as possible, it improved its intelligence as a means to that end, underwent an intelligence explosion, then set about turning the solar system into paperclips." AI research is subject to a lot of misconceptions, most of which I can't address here. If you're interested, check out Nick Bostrom's Superintelligence). It's research that demands patience, and the highest degree of caution, switching the thing on only when you are very, very certain you have done everything right.
And if that turns into an arms race, and the optimistic researchers are right, that is a huge, huge, problem. America wants their superintelligence to be safely deployed, but they also absolutely need to be the first to get it – whoever has a superintelligence first has a decisive strategic advantage. China faces the same incentive structure. It's obvious that safety is going to start getting cut in favor of speed – and it could get us all killed.
It solves tragedies of the commons: For those unfamiliar with the term: imagine a lake that only has so many fish. The human population has been growing in the area, so there are more and more fishermen. Eventually, overfishing occurs. Every fisherman wishes they could come to an agreement to only fish a certain amount to keep the fish population stable, but from the individual perspective, they know abstaining themselves won't make a difference so they fish anyway.
The paradigmatic international tragedy of the commons is, of course, global warming. Everyone wishes for an agreement that would fairly limit carbon emissions in every country, but for lack of an enforcement mechanism, such an agreement never takes place. Sure, America can cut its emissions in half, but China's still chugging along and eventually America still gets all the bad parts of global warming, only they also spent a lot of money. An international sovereign could enforce regulations that would fix global warming.
With the arguments in favor of it stated, I'd like to clear up some misconceptions. World governance doesn't mean turning everything into a bland monoculture. It doesn't mean your patriotism towards your own country will be suppressed by blue-helmet wearing thugs. It doesn't mean open borders. As empires in the past have attested to, governance structures can work perfectly well while having distinct ethnic or national groups. Moreover, the constitutional authority of a world government could be quite limited. Give them a monopoly on the use of force, a mandate to act in the event of an existential crisis, and some limited authority of taxation, and that's all you would need. This isn't the United States, united by culture and language. It's something weaker than the articles of confederation.
I'm well aware of the numerous problems of such a proposal. You've probably got two or three swirling around your head, and, doubtless, every last one of them will be voiced in the comments. I can only say, before you find these objections sufficient, that they have a very, very high bar to clear. In order for establishing world governance to not be a good idea, each of these objections, individually or collectively, has to be worse than the annihilation of the human species.
A disunited world is living on borrowed time. For the first time, in 1945, humanity developed the technological ability to annihilate itself. It was the first existential crisis humanity faced, but it will not be the last. Technology continues apace, and between AI, nanotechnology, and bio-engineering, we'll have a kaleidoscope of ways to put the gun in our mouths and pull the trigger. It is frankly suicidal of the human race that world governance is not even on the table.
There lies before us, if we choose, continual progress in happiness, knowledge, and wisdom. Shall we, instead, choose death, because we cannot forget our quarrels? We appeal as human beings to human beings: Remember your humanity, and forget the rest. If you can do so, the way lies open to a new Paradise; if you cannot, there lies before you the risk of universal death. – Russell-Einstein Manifesto