Punk Rock History's Not Where I Wanna Be
May you never pass into history while you still feel young.
This "passing into history" business actually happened to me a few years ago in very literal terms when I was still a grad student in the Department of History and met another, younger grad student who was writing a historical dissertation on people I grew up with, former roommates in some cases, and things they were doing when I was a teenager; things, in fact, that I remembered first hand and probably took part in. Naturally, I was happy to help him, after having a very stiff drink. He said they- we- were all very inspiring people who had done important works of political activism that had a strong impact on him as a kid. Oh, goody.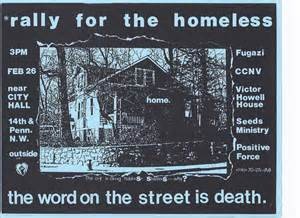 This year, it happened again: the DC punk scene was further historicized. Dave Grohl's HBO program Sonic Highways ran an episode on DC music and its inspiring, politically engaged scene and interviewed people like Ian MacKaye of Dischord Records and Mark Andersen of Positive Force DC. This was soon followed by two documentaries: Salad Days: A Decade of Punk in Washington, DC (1980-1990) and Positive Force: More than a Witness, both of which cover the inspiring, politically engaged DC punk scene of the 80s and 90s and, naturally, interview Ian MacKaye and Mark Andersen, who both say inspiring, politically engaging things. Some of us, I would say, remember them before they were talking heads.
The City Paper has asked if nostalgia is really punk, which is not a bad question. Certainly, it can be a form of complacency. I'm not even sure if the feelings evoked for me by that time qualify as nostalgia or just bewilderment. At a certain age, you start looking back and wondering "Did that really happen?" There's a myth that Proust's narrator eats that Madeleine and remembers everything that ever happened to him with crystal clarity. But instead the greatest novel of them all is really about the ways we create art from our misremembered lives.
I still haven't worked through my memories of living in the Positive Force communal house in the early 90s. They come in small chunks floating down a raging river of ever busy thoughts. [This photostream is invaluable.] I do remember the night I first moved into the house, after my parents kicked me out, permanently as it turned out, following my High School graduation. It was late and pitch black, but there were young people running in and out- to volunteer at the homeless shelter's night shift, to pick up food for morning deliveries, to read through a new zine- an analog version of what the kids call blogs now. I remember the front hall of this old, somewhat dilapidated Arlington house papered with Xeroxed fliers for punk shows and a sense of urgency that seemed to hover in the room and cling to the walls too.
I also remember the meetings in the living room and passionate discussions about upcoming shows and events the group was staging. Positive Force, or PF as it's called, specialized in staging punk shows that were also benefits and quasi-teach-ins. Members tended to be roughly college-aged with a few older hangers on and Mark Andersen was a sort of de facto but very unofficial leader. Mark grew up in Montana and still had a persona a bit like an earnest Midwestern Mennonite. He came to DC in the 1980s for university and was energized by a punk scene that was just starting to become politicized itself during what would be referred to as "Revolution Summer". Mark was forever after engaged and, while PF was a democracy, people tended to defer to him. I think it made him uncomfortable. He seemed to aim to be a mentor, or an example of what could be done, more than a leader. Punk was never about leaders. And yet, plenty of us deferred.
Mark's done a better job than I could in describing Revolution Summer in his book Dance of Days, but the short summary is that the punk shows in DC were getting fairly violent by the mid-80s, fueled by the testosterone twaddle of hard-core punk and an uncomfortable number of racists and thugs who saw an arena for blood sports, and so DC punks, some of them anyway, began having discussions, staging protests, doing teach-ins, and in general bringing back a social conscience that punk music had perhaps lost. In juxtaposition with this, the DC band Rites of Spring played about a dozen shows and, in the process, changed the sound of "punk" music entirely. The singing was emotive, the lyrics read like Camus, and there was nothing macho about the music, which people eventually called "emo". Two of the members of that band formed a band the next year called Fugazi that became the biggest "underground" group in the United States for a time and sufficiently influential that I have to tell incoming members of my current garage punk band "don't play like Fugazi!"
I was too young for Revolution Summer and remember the nostalgia already getting a bit thick by the late 80s when I started going to punk shows. I remember there being a lot of Positive Force shows, often with Fugazi headlining, that seem, in retrospect, a bit like religious revivals, in which a PF member, usually Mark, would deliver the sermon and the band would deliver the gospel. Audiences were ecstatic in those days before cell phones (they're much more static now, when they show up). The music had fire and conviction and they responded accordingly. It was cathartic. In the back of the room, there was an information table where, sweaty and dazed, they could carry home various left-wing radical scriptures. All of the money went to charity.
Which was all good and well, but sometimes I just wanted to listen to music and dance. That was okay, provided you didn't dance aggressively, in which case the bands would stop the show, or there were insufficient numbers of women at the front of the stage for a riot grrrl band, in which case the show would be stopped until the dudes stepped back. Sometimes, I also wanted to drink beer, which was a problem in a straight-edge house. Heck, sometimes, I wanted to meet someone at a show and get laid, which was never explicitly a problem, but this was the early 90s and people were very mindful of the myriad ways that women are forced to consent to sex against their will in a patriarchal society. So, sex was best proceeded with a good long dialogue about sexual consent. I didn't get laid often. I kept the Camille Pagila book under my bed.
I remember a teach-in about pornography at one of the local universities where a frat had decided to screen John Wayne Bobbit's post-emasculation porno movie. In response, PF showed the documentary "Not a Love Story" about the horrors of the sex trade and afterwards young feminists and Catholics discussed ways to end the distribution of pornography forever. Oh, things were different before the Internet! Someone said I should come as the "resident libertarian". I wasn't actually a libertarian, but I guess they saw me reading Susie Bright and that was enough for them. I remember during the discussion a cute young woman with a pixie haircut and breasts practically exploding out of her tight tee-shirt asking us all, if Hitler had a weapon to use against the Jews, wouldn't you want to take it from him?
Feminism was on everyone's mind because a group of young women from Olympia Washington had been hanging out in DC and playing in some amazing bands, making some bracing zines, and finally staging a "convention" of "riot grrrls". They also met at the PF house once a week and, perhaps for this reason, I remember taking calls from outlets like MTV and Sally Jesse Raphael and having to tell them all, "I can let them know you called, but trust me- they are not interested in talking with you." Riot Grrrl is a whole other story though and not mine to tell.
The dangers of prolonged exposure to the rays of mass media were also on everyone's mind as another group of Pacific Northeasterners were in the process of succumbing to that exposure and I also seem to recall there being serious talk about Nirvana playing a PF benefit, which led to huge arguments among people about "selling out" versus "making an impact" before Kurt Cobain cancelled the event in the most permanent sense.
There were plenty of fights. The "circular firing squad" on the left that people have written about eloquently as of late is nothing new. The radical left took up the McCarthyite mantle of persecuting the radical left in the 60s and has made it a key project ever since. I remember people asking if Anglos writing songs in Spanish wasn't racist cultural appropriation, what sort of toothpaste was politically acceptable to brush with, if a male band wrote a song against catcalling wasn't that capitalizing off of women's suffering, and whether feminists should be associating with men at all. Were people driven away by all of this? Most certainly. Was I? Sure was, but to be fair, I was going through a teenage rebellious phase that never ended and it wasn't PFs fault that they were a club that would have me for a member. I could be a pain in the ass.
What eventually wore me down wasn't the debates as much as the mood of fatalism that often reigns on the radical left. There was a prevalent sense that we were fighting the good fight even though we were going to lose that got to be too much. It's strange to look back on the time before 9/11 and the War on Terror and remember that level of despair over what was happening in the country, but I knew people who believed with utter conviction that, of course, abortion would be illegal in a year or two, homosexuality would be further criminalized, corporations would run our lives, the Republicans would rule forever, and things would just get worse and worse. But, at least, when the cops came for us, we'd be serving the cause. It was stifling. I needed air. Not that I can say my own optimism has served me particularly well in the years since.
What I did get from PF and what I remember with great fondness was a conviction that "it can be done"- that YOU the individual can stand up against seemingly overwhelming power and be heard with meager resources and a few friends- get some milk crates, sheets of plywood, and a gas powered generator and you've got an outdoor stage for music. Grab some empty buckets and some friends and you can make a huge racket in front of the Supreme Court. And through your music and art you can share your convictions with the rising generation and create a constituency for what you believe in. Mark might have been a de facto leader, but his argument has always been that we don't need leaders if we realize our own strength. (In fact, it's the star-worship aspect of Positive Force: More than a Witness that turned me off to that documentary) In an era of passive pseudo activism (actingvism?)- forwarding posts on Facebook or "liking" Women's Rights and seeing what's on television- that example remains in my memory as a meaningful counter-example to the present.
Just, hopefully, not a historical one.